'Who can turn skies back and begin again?' sings Peter Grimes in Act 1 of Britten's opera. Sadly, as we'll discover in Act 3, the answer is nobody, which is a shame as a quick spin back to the rehearsal room for a few words with director David Alden could have made this production of Peter Grimes pretty much perfect. The words would have been, "Ditch the quirky-jerky, expressionist dancing and quit sexually assaulting granny."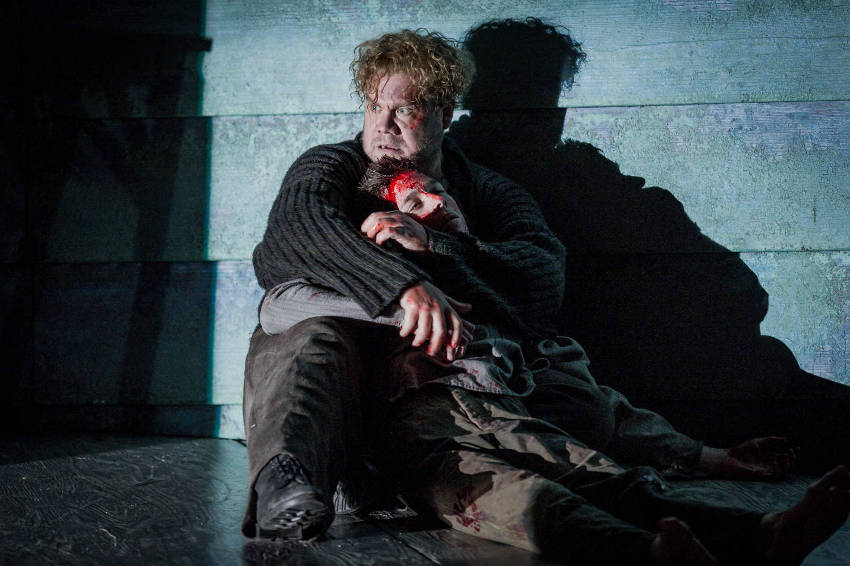 Thankfully, the core of this production is so solid the damage is limited to distraction rather than detraction. The ENO orchestra, conducted wonderfully by Edward Gardner, wring every last ounce of colour and texture out of Britten's score and I don't think I've ever heard the ENO chorus sound better.
The real success of this production, however, is its cast. Grimes is a proper ensemble piece and there's not a weak link here. Elza van den Heever is a particularly fine Ellen Orford but, wherever you look, there's an equally strong performance in support.
Australian tenor Stuart Skelton's Grimes is nothing short of stunning. I don't mean 'very, very good' – I mean stunning, both vocally and dramatically. His portrayal of Peter as an angry, bewildered figure rather than a thuggish brute is, by turns, terrifying and heart-breaking. He chooses to give Grimes a physical, awkward naivety, casting him almost as an overgrown child himself, turning the screws even tighter in an opera where cruelty towards children is at the heart of the drama.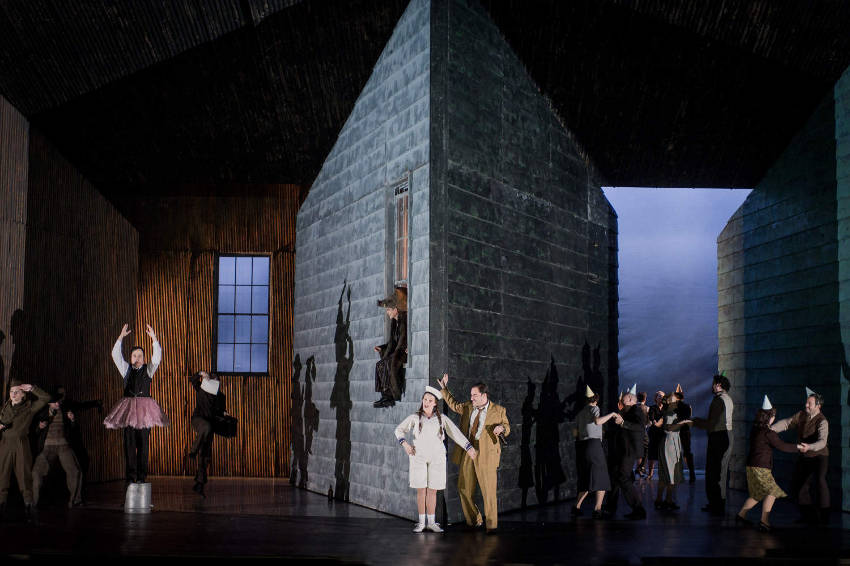 The direction, thankfully, isn't all bad – far from it. The death of Peter's new apprentice is handled skilfully, treating it as an appalling accident, which tears Peter apart. The storytelling throughout is sharp and sensitive, letting Britten's score and Montagu Slater's libretto breathe and shift around the action.
It's the odd choreography and wholly unnecessary choice to go for cheap laughs by having everyone grope Mrs. Sedley – even when she's trying to report a murder – that grate. The net effect is of drinking a glass of exquisite, complex wine while, every now and then, a small plastic ice cube shaped like a poodle bumps into your teeth, lights up and plays Autobahn by Kraftwerk. Pointless, random and, after a while, extremely irritating.
It would take more than a plastic krautrock poodle to ruin this production of Peter Grimes though. Ignore the dancing, spare a thought for the poor assaulted granny but otherwise immerse yourself in possibly the finest thing you'll see on a London stage this year.
Peter Grimes at the ENO is booking until 27th February 2014. For more information, visit the website.