Referring to Porgy and Bess as a 'musical' is a great disservice. Conceived by George Gershwin as an American folk opera, it's a masterly and theatrical mix of jazz, blues and gospel. Based on DuBose Heyward's 1925 book and first performed as an opera nine years later, it presents two most unlikely companions – a cocaine-addicted prostitute and the village cripple – in a small Charleston fishing town, and their battles with the law, social prejudices and individual moral fibres. It is amusing, sobering and heartbreaking all in one, and the current production at Regent's Park Open Air Theatre lights up every possible spark of this tale – big or small, smoldering or blinding. Together, this Porgy and Bess make a rich ensemble, their voices combining handsomely in duets but their respective inner demons still emerging loud and clear. They are devoted but at odds, and they may both end up scuppered.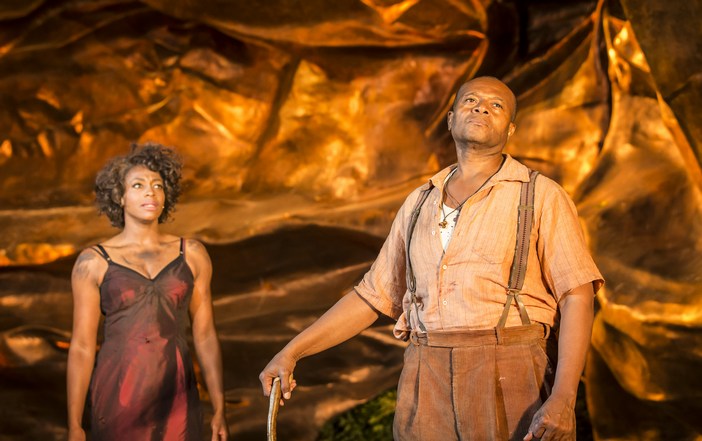 Plonked onstage as the only immobile piece of set is a great, crumpled bronze concoction, designed to emulate I know not what. Perhaps a giant shell from the sea? I'm still a little confused, but the sculpture makes for a beautiful prospect when the warm summer sun majestically sets down behind it. And, for better or worse, you could be anywhere – inner city, midtown or, as we are, on the coast – meaning that the story becomes universal. Given that Porgy and Bess is a work of such cultural significance, many may consider this location a bad thing because the audience is not shown the community in its natural habitat, on its home soil (quite literally). But the effect is rather absorbing.
The tragic Bess, unable to resist temptation, no matter how much she wishes to fit into good society, becomes a clear example of a weakness of will and, more poignantly, how a lack of self-worth can overpower any genuine desire to reform. Nicola Hughes was nominated for an Olivier Award for her Bess in Trevor Nunn's 2006 production and she reprises the role here with sensuality, vulnerability and maniacal desperation.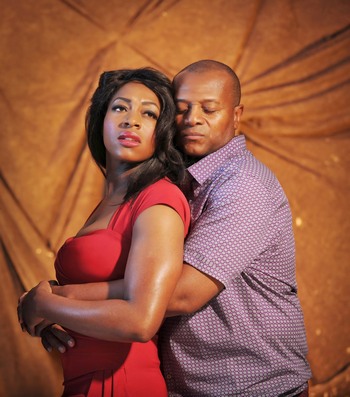 Over from the States, Rufus Bonds Jr's Porgy is devastatingly noble, dignified in his affliction and a tiny bit gruff. You gun for his odd moments of glee at having won Bess' affections, and his doomed quest to bring her back to him triggers an intense feeling for him simply to find happiness, whilst knowing that to be wildly improbable. He is one of three heavyweight actors here from across the pond, along with Cedric Neal and Philip Boykin (who is violent and chilling as Bess' former flame, Crown, with just a hint of the pantomime villain).
The comical gusto of Mariah (Sharon D. Clarke) and the Puck-like presence of Sporting Life (Cedric Neal) bring a touch of light relief to the otherwise dark proceedings. The latter saunters around dressed up to the nines, his sartorial splendour giving him pride and swagger as he causes mischief. But, as the incarnation of temptation itself, with 'happy dust' constantly ready in his pocket, he is the threat which the whole God-fairing town – especially Bess – need rid of. Neal's 'Ain't Necessarily So' is practically effervescent it is so entertaining (with some handy cane-twirling skills) and, like everyone else in this production, he brings the show's sentiments blazing into life.
This effect is much aided by the orchestra conducted by Simon Lee. I have no idea where they play from (they are well hidden from view and only emerge, quite rightly, to take their thunderous applause at the end) but the 14-piece band manages a sumptuous sound, with an exceedingly zingy brass section. The final refrain, as Porgy embarks on his journey to recover Bess from the big bad city of New York, is big, bold and as gut-wrenching as those wonderful Gershwin sounds can be.
To all those who don't 'do' musicals or opera: put this in your pipe and smoke it.
The Gershwins' Porgy and Bess at the Regent's Park Open Air Theatre, London, until 23rd August 2014. For more information and tickets visit the website.