Cecilia Stinton's new production of Rigoletto for Opera Holland Park updates its setting from Renaissance Mantua to the Bullingdon Club in the 1920s. And, while I was a little uncertain about this device at first – how would the dark power plays pan out, the roles of Duke and Jester make sense – it soon became clear that it was going to work.
The Duke is still, well, a Duke and his jester becomes a veteran of the Great War, medals pinned to his chest, with a gammy leg and, wearing a bowler hat, presumably the college porter. The Bullingdon boys half drown a new boy in an absurd initiation rite, the opening party is full of cricket whites and rowers' blazers and the music begins as a jazzed-up version of Verdi played on a scratchy 78.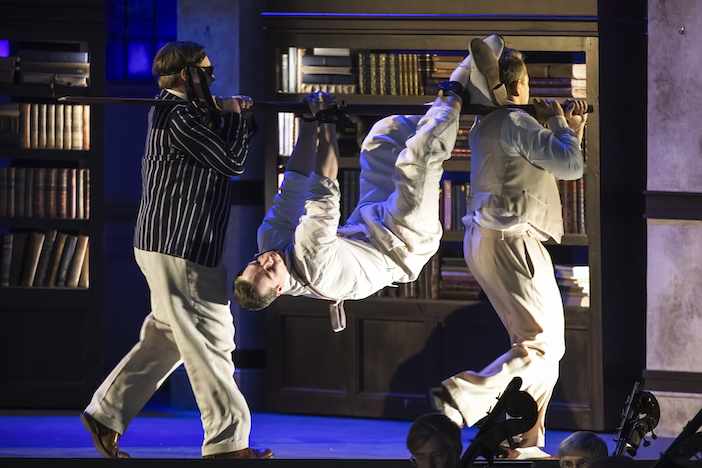 Rigoletto has more than a touch of grand guignol and it has to be said that some of this is lost in its translation to a more modern era. When Monterone lays his curse on Rigoletto, for instance, it is hard to grasp why this makes him so fearful. And even 100 years ago, it would surely have been impossible for Rigoletto to keep his daughter so closeted from the world – not to mention his hiring of a casual assassin in leafy Oxford.
Opera, though, is surely the art form in which the most disbelief must be suspended. It is the music that carries the plot (energetically and excellently played by the City of London Sinfonietta under Lee Reynolds) and the characters who enfold us in their individual dramas. In this case, the tragic tale of the father who loses a daughter and the daughter who, broken hearted, makes the ultimate sacrifice.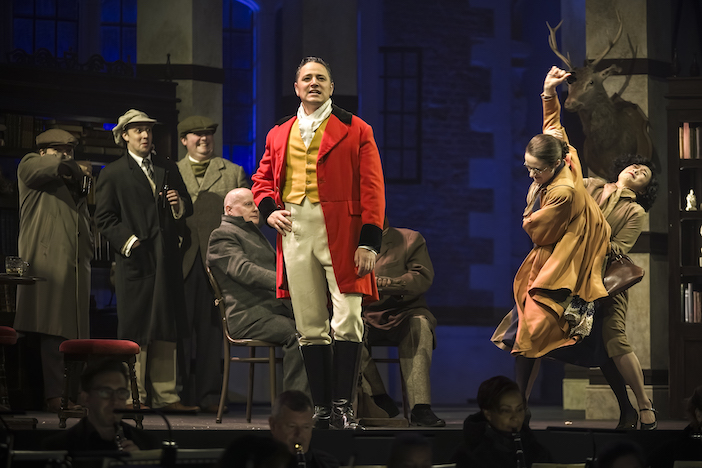 All of this is played out with absolute conviction. Alessandro Scotto di Luzio strutted magnificently as the over-privileged, licentious aristocrat (though there was a bit of wavering on the top notes). As Rigoletto, Stephen Gadd was suffering from a cold so his voice sadly faded a number of times. His characterisation of Rigoletto, though, was utterly compelling and by the next performance his voice will hopefully be restored.
The undisputed star of the evening was Alison Langer as Gilda, Rigoletto's daughter, who not only glittered even through the most difficult coloratura moments she stole hearts in a sensitive portrayal of innocence betrayed. A former OHP Young Artist, she's been seen here before as Violetta in La Traviata and last year as Micaela in Carmen. We will certainly see more of her as, indeed, we will see many of the singers in smaller roles, notably Georgia Mae Bishop as Giovanna and Jacob Phillips as Marullo.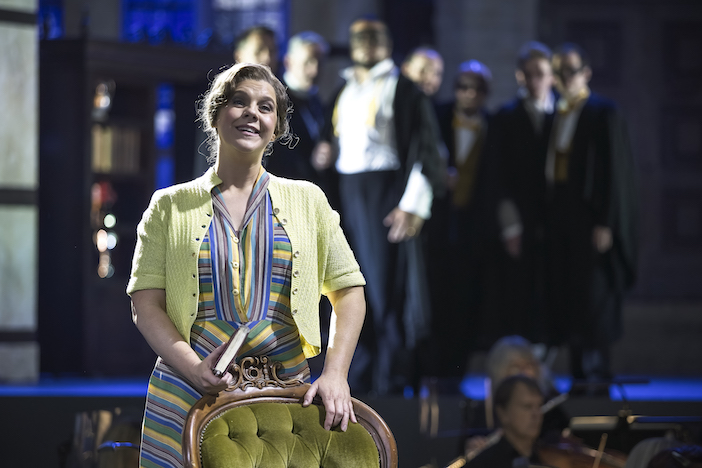 Neil Irish's bookish interiors are dramatically lit by Jake Wiltshire who also throws in some wonderful storm effects for the last act. There are abductions, seductions and comic moments (think half-dressed guests emerging from beneath tables after the night before). And there is, too, a real sense of tragedy, beautifully evoked in Gilda's leaving of the stage and this world. OPH has a hit on its hands.
Rigoletto runs at Opera Holland Park until 24 June. For more information, and for tickets, please visit www.operahollandpark.com.