They've got everything crossed in Salzburg right now hoping against hope that this year's festival will go ahead. It's due to start on 18 July, so they're in with a fighting chance and, if it does happen, what is arguably the world's best musical festival will be even more special than usual because this is the 100th anniversary of the Salzburg Festival.
It was in 1920 that Max Reinhardt (at the time, the most famous theatre director in Europe) joined up with the poet and playwright Hugo von Hofmannsthal and the composer Richard Strauss to put on that first festival. In fact, Reinhardt had been putting on his own theatre productions at Schloss Leopoldskron, the home he had bought in 1918 – then in a state of total disrepair. He had already created there his own "garden theatre" in the park with a beautiful lake and the Untersberg Mountain as a pretty impressive.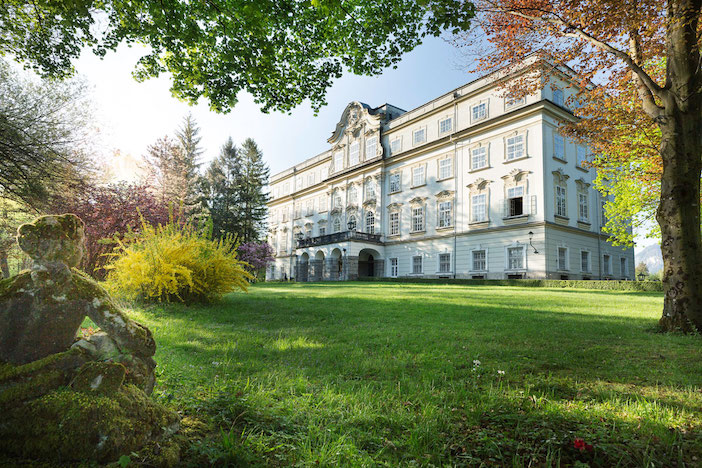 From this, it was a relatively small step to setting up an outdoor theatre in Salzburg itself. Reinhardt produced the first performance – Hofmannsthal's Jedermann (Everyman) –on 22 August 1920 in front of Salzburg Cathedral. And the play has been performed at every festival since.
The founders saw the festival as "one of the first deeds of peace" as Europe emerged from the First World War. From comparatively small beginnings, it has grown in a way that would have doubtless surprised them. This year (hopefully!) there will be over 200 performances over 44 days in 15 venues around Salzburg.
Max Reinhardt's Leopoldskron has had its own renaissance. Reinhardt himself restored it over 18 years but – after he had fled to the United States – it was taken over by the Nazi government as "Jewish property". More recently, it has undergone a further restoration to bring it back in line with Reinhardt's vision and it reopened in 2014 as a hotel as well as the home of Salzburg Global Seminar. One of the last rooms currently being restored is the Red Room, the place where Reinhardt, Strauss and Hofmannsthal planned the festival.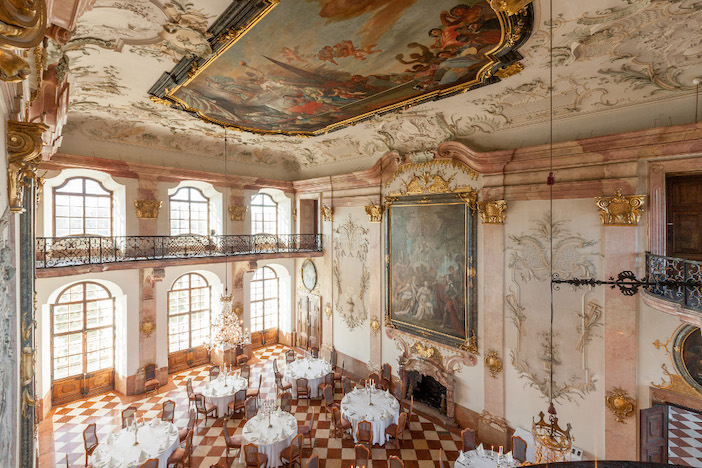 It is a remarkable building (and a truly fascinating place to stay for guests who have the run of the place including Reinhardt's wonderful two-tiered library complete with secret passage). It was originally built in 1736 by the Prince Archbishop of Salzburg, Leopold von Firmian and his heart is buried in the chapel here. Leopoldskron's more recent history includes being one of the locations of The Sound of Music – the film rights having been bought by Max Reinhardt's son. Wolfgang.
It is an utterly tranquil place to stay with its park, lake and mountain views and it's just outside the city – you can walk in in 20 minutes. Salzburg can become pretty hectic during festival time. Let's just hope it will be again this anniversary year.
For more information about Schloss Leopoldskron, including its history and involvement in The Sound of Music, visit www.schloss-leopoldskron.com.
For more information about the Salzburg Festival 2020, including full programme, performers and current updates, visit www.salzburgerfestspiele.at.
SUMMER HIGHLIGHTS include Richard Strauss ELEKTRA, Mozart DON GIOVANNI, Puccini Tosca, Mozart Magic Flute, Luigi Nono INTOLLERANZA, Donizetti DON PASQUALE, Verdi VESPERS, Mussorgski BORIS GODUNOV, and concerts by the Vienna Philharmonic, Mozart matinees and a Beethoven cycle.