The Marriage of Figaro is set on the estate of the Count Almaviva, just outside Seville. In this glorious revival of the original 2006 David McVicar production, though, it looks more like a French palace in the days just before the revolution – very much the time when the original play was written by Beaumarchais and promptly banned by Louis XVI. It is, after all, based on a concept unthinkable at this point in the eighteenth century – the tale of a master constantly outwitted by his servant.
The curtain rises on the Covent Garden stage to reveal lofty ceilings, huge shuttered windows, and an army of servants cleaning and arranging the elegant furniture. In contrast, the room that will become the bedroom of Figaro and Susanna is more like a storage cupboard, windowless and dark. Figaro, on his wedding day, is nonetheless delighted with it and happily measuring up where he will put the bed until Susanna tells him the Count is planning to revive his droit du seigneur and seduce her.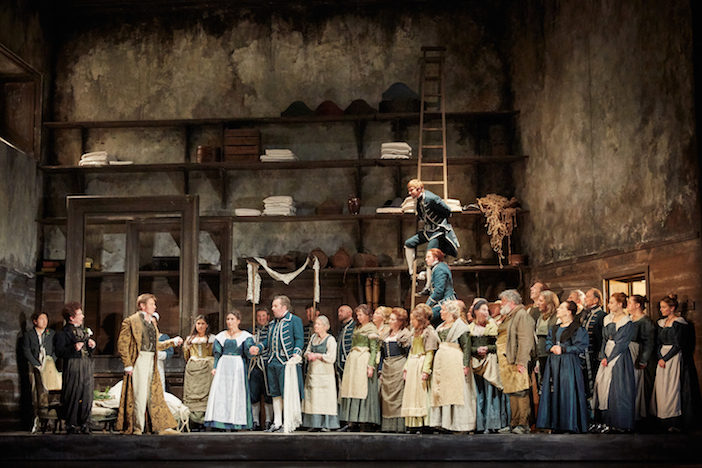 From this point on, it is war. Figaro constructs a confection of plots and disguises to bring about his marriage and foil the Count's skulduggery, while the Count brings in lawyers and old marriage contracts to prevent the wedding taking place at all. Susanna is as adept as Figaro in plotting and helping her mistress, the neglected Countess, achieve a scheme to bring her errant husband back to her. There are long lost families reunited, secret messages, girls dressed as boys dressed as girls, deceptions uncovered and, of course, a marriage. In the end Figaro – and love – conquer all.
It's a glorious evening, uplifting, funny and performed by a cast at the top of their game. As the Count, Simon Keenlyside is a convincing seducer and, as his abandoned Countess, the German soprano Julia Kleiter gave a sorrowful 'Dove sono' in Act II then became increasingly girlish in her flirtation with Cherubino. And here was the surprise of the evening. Cherubino, the love-struck page, is sung usually by a girl – the basis of delicious cross-dressing when he/she pretends to be a girl and is dressed up accordingly. In this performance – and this is a first at Covent Garden – the role was sung by the Korean-American countertenor, Kangmin Justin Kim. His tone was beautiful, even when bounding across beds and shinning up ladders, and he has a real gift for comic timing, too.
The German baritone, Christian Gerhaher, is best known as a lieder singer so he may seem an unlikely Figaro. In fact, he's an engaging and convincing one while his Susanna, American soprano Joelie Harvey is a joy, and for me the star of the show. Diana Montague was a Marcellina you could warm to and, as Bartolo, Maurizio Murano became rather charming when his bombast was deflated and his deception – just like everyone else's – was revealed. Yaritza Veliz is a delightful Barbarina.
This is a flawlessly beautiful production and what a relief it is when the music is allowed to speak for itself. Tanya McCallin's designs look as wonderful as ever. The cast is stellar and perform Mozart's greatest comedy with the lightest of touches. The Orchestra of the Royal Opera House under John Eliot Gardiner are on top form, as is the Chorus – not averse to a bit of comic business of their own. If you see one opera in London this summer – make sure it's this one.
Further performances of The Marriage of Figaro are on 4th, 6th, 9th, 12th, 17th and 19th July. For more information and tickets, visit www.roh.org.uk.
Photos by Mark Douet