The Merry Widowis set in Paris but it's an operetta that's as Viennese as sachertorte – sweet, frivolous and utterly addictive. English National Opera's new production has all of those ingredients, plus generous dollops of wit and naughtiness (not to mention a few Brexit gags).
The plot itself is gossamer-thin. Hanna Glawari is young, beautiful and, due to the recent death of her much older husband, mind-bogglingly rich. She arrives in Paris eager to spend and perhaps to find herself a new husband. However, if she marries someone who is not, as she is, a native Pontevedrin (a tiny country not dissimilar to Montenegro and very much on its financial uppers), the money will leave the country and it will go broke. The Pontevedrin Ambassador to Paris (Baron Zeta) is determined that she must marry a Pontevedrin and hosts a ball where he hopes to find her a suitable husband.
Enter the dazzling Sarah Tynan who takes the ball (and the audience) by storm flinging off her black widow's coat to reveal a shocking pink, diamond covered dress slit to the thigh – very much Marilyn Monroe in Gentlemen Prefer Blondes. She has the same haircut too – so is something of an anachronism against the 1900s style of the rest of the cast. This matters not one jot and indeed she reappears later in an outfit not unlike Madonna's corset.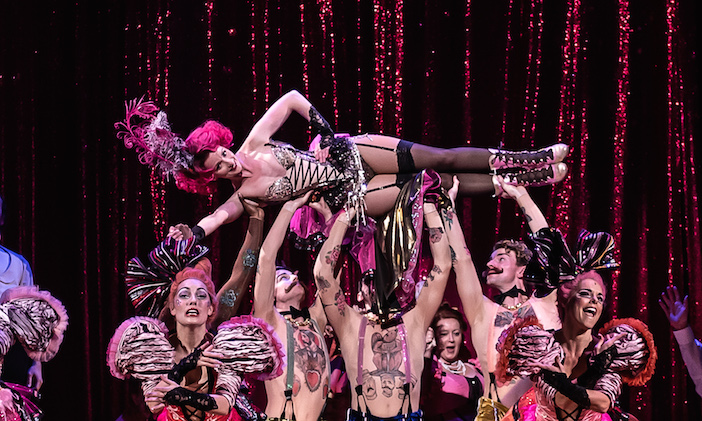 Not many singers could carry this off but Tynan not only looks the part and sings divinely – she can even dance. And dancing is a big part of The Merry Widow– they may be in Paris but it's Viennese waltzing all the way. Of course, the Baron's plans go awry but true love saves the day, in the shape of Count Danilo though only after plenty of Beatrice and Benedick-type squabbling (they had been lovers before Hanna's marriage). Nathan Gunn is quite the matinee idol in his cavalry officer uniform and a perfect foil for Tynan.
There's a sub-plot too with Valencienne (a fine comic turn from Rhian Lois), wife of the Baron (a similarly droll Andrew Shore). She is having an affair with Camille de Rosillon (Robert Murray). Their encounters take place in cupboards and under tables (much to the glee of the audience). And there's plenty more naughtiness with Count Danilo's visits to Chez Maxim's Night Club and its infamous grisettes.
The night is full of surreal moments – a line of men having a pissing competition at their urinals while they try to understand women; Hanna descending on a crescent moon to sing her big number, Vilja; a host of Marilyns (Hannas) descending on Danilo. There's slapstick (nice timing from Gerard Carey), comedy, some brilliant designs (particularly Hanna's costumes from Esther Bialas) and great music performed by the orchestra with suitably frothy delight under the baton of Kristina Poska. This is surely the most fun show in town. I loved it.
The Merry Widow at the ENO in rep until 13th April 2019. For more information, and box office, call 020 7845 9300 or visit www.eno.org.
I just have to give a plug for ENO's great scheme for children and young people to see an opera for free. Every under-18 can pick up a free balcony seat for a Saturday performance of any ENO opera. The uptake has been greater than expected but there are still seats available for some performances.