Director Rodula Gaitanou's production of Verdi's Un Ballo in Maschera opened a couple of weeks ago in Opera Holland Park's summer season to reviews that were on the rapturous side of positive. On Friday, the same opera appeared with a completely different cast in the Young Artists Performance. So, identical production but a new cast, a new conductor and a new assistant director.
This has been a regular scheme since 2011 and has been a launching pad for many young artists. The performances have been sell-outs in recent years and many of the artists return to Holland Park – this year, for instance, the Oscar in Un Ballo in Maschera's main cast, Alison Langer, is an ex-OHP Young Artist.
In the Young Artist version, Oscar is played by Claire Lees, with a puckish charm as the factotum to Duke Gustavo, who will be stabbed to death at a masked ball. The story is a true one, based on the assassination of King Gustavo III of Sweden in 1792 but Verdi was forced by the censors to change (albeit ever so slightly) the identities of his characters. While the assassination is certainly true, Verdi puts a fictional love story at the heart of his opera.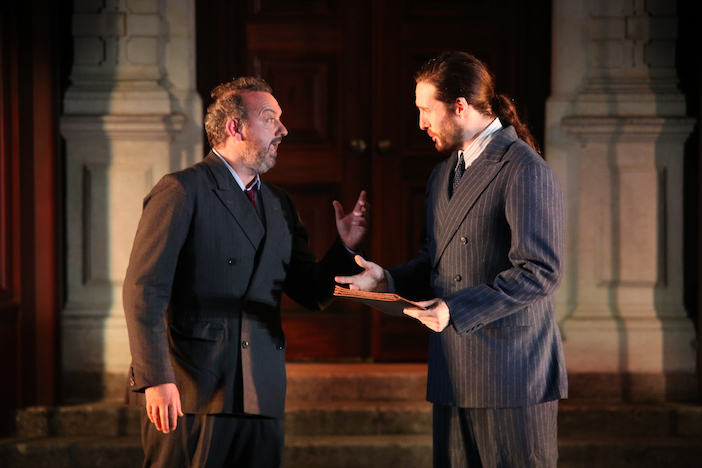 So, Gustavo (Adriano Graziani, in fine voice and charmingly feckless as the duke) falls for the wife of his best friend, Anckarstrom (Jack Holton – definitely one to watch, maybe a future Figaro?). Amelia (Nadine Benjamin whose beautifully lyric soprano grows ever stronger as the evening goes on) rebuffs these attentions though she is secretly drawn to Gustavo.
In the meantime, a plot is hatching – Anckarstrom warns Gustavo of the threat to his life but Gustavo laughs it off as ridiculous and goes instead to see the fortune-teller Madame Arvidson (Georgia Mae Bishop as an appropriately OTT psychic). Gustavo is in disguise but Madame Arvidson nevertheless prophesies that he will soon die – and his killer will be the first to shake his hand. Everyone backs away but Anckastrom arrives and, unaware of the prophecy, shakes his hand. This merely confirms Gustavo's belief that the idea is nonsense – Anckastrom is his dearest friend. The plotters, Horn and Ribbing (Blaise Malaba and Tom Mole), look on and regret a missed opportunity.
In the meantime, Amelia has also consulted Madame Arvidson asking for advice on overcoming her illicit longing for Gustavo. Arvidson recommends her a drug that will help her forget – and Gustavo, eavesdropping, vows to follow her. This is the pivot point for the whole plot.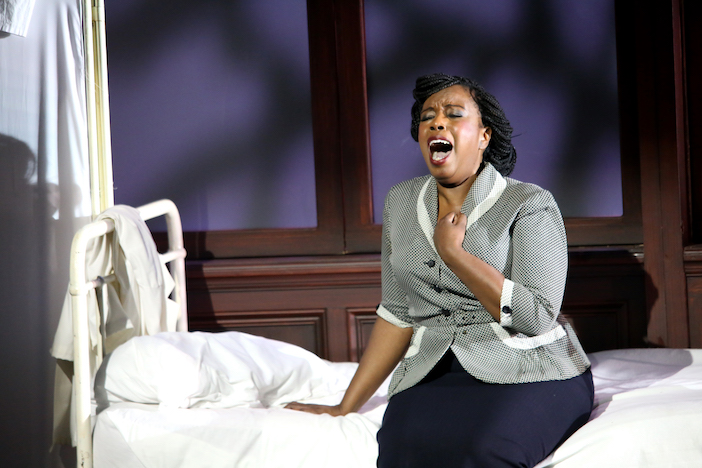 So far, the setting has been a fencing club, the Anckastrom's home and Arvidson's rooms using a flexible wood panelled set by designer takis, all of which work well. The costumes suggest the 1940s and these, too, have not jarred but in Act II, it's a little harder to suspend your disbelief. In the original setting, Amelia heads off for the public gallows where her herb is to be picked. Now, she's in a creepy clinic with white coats and hypodermics.
When Gustavo appears, soon followed by Anckastrom, her "veil" is a surgical mask and Gustavo urges Ancakstrom to take Amelia back to the town in this disguise. But the conspirators appear, Amelia loses her veil and Anckastrom is appalled to see his wife. The plotters mock (a marvellously cruel moment for the chorus), Amelia despairs and Anckastrom, no longer Gustavo's closest friend, decides to join Horn and Ribbing in the assassination.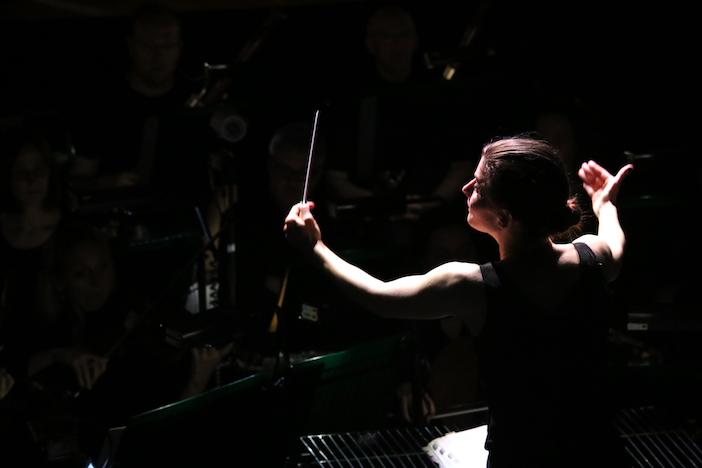 The City of London Sinfonia are clearly right behind conductor Sonia Ben-Santamaria and play beautifully. The chorus are as outstanding as ever. The young singers are all full of potential, though in some cases not quite at ease on the stage yet – a bit more help from the movement director next year, maybe? But this was a great evening with extra fun for talent spotters. This particular production is over for this season but watch this space. The 2020 Young Artists opera is Eugene Onegin. In the meantime, there's plenty more to come at London's mini-Glyndebourne, running till early August, including L'Arlesiana, Il segreto di Susanna and Iolanta.
Un Ballo in Maschera featured as part of OHP's 2019 season. For full details of the programme and future performances, visit www.operahollandpark.com.