New theatre, old production. Nick Hammond finds Verdi's La Traviata anything but tired…
I'd love to have a painting of the Welsh National Opera's performance at Milton Keynes Theatre. As the curtain raises for the first Act, I want to freeze-frame it and hang it on my office wall; a riotous Parisian party in full swing. Great swishing skirts, saucy glances, red-faced geezers puffing cigars and louche living everywhere the eye can see. From now until the opera's tumultuous closing nearly three hours later, this is a runaway train of a show.
Linda Richardson as the fallen Violetta is mesmerising. A voice of stunning bel canto in Act 1, complete with explosive and immaculately executed coloratura runs, gives way to a warm, lyrical romanticism in Act 2. And as our heroine falls into the despair and ill health of Act 3, Richardson's voice echoes the descent. And she can act, too, which doesn't half help.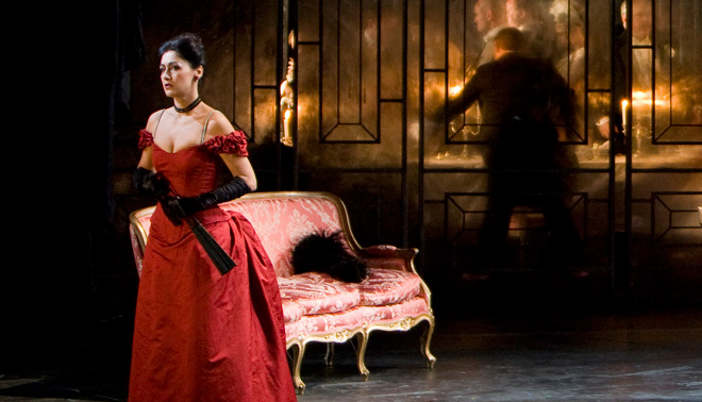 For the uninitiated, La Traviata recounts the tale of a good-time girl in 19th Century Paris – an upmarket call girl with a heart of gold. When the opera opens, she's in full swing, partying hard with the two-faced society 'gentlemen' who want frilly-knickered frolics at night and a strict moral code for their wives and daughters by day.
Here, Violetta is introduced to the handsome young socialite Alfredo and a passion is kindled that only death can usurp. Ji-Min Park in the lead role begins a little hesitantly, his best work coming during the orchestra's quieter moments when his warm tones shine. But he is soon in his stride and by the end, Park turns in a blistering performance. He's visibly drained by the end of the night, as are we all.
There's a late change to the line-up, with Alfredo's well-meaning but obdurate father being played brilliantly by stand-in Charles Johnston. It's a role he fills with aplomb, his warm, strident voice matched by his seemingly effortless acting. Every inch the father of the bride in his top hat and tails, he'll never see his son at the altar thanks to his infernal meddling. His beautifully crafted duet with Violetta in Act II is a highlight.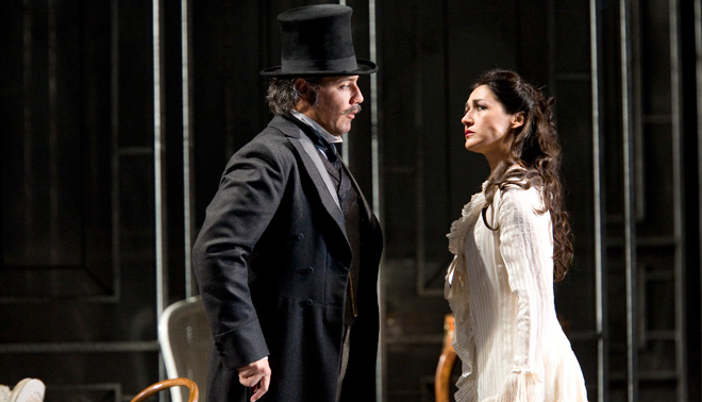 Sumptuously recreated by WNO, this Trav was always going to be easy on the eye, but you need a strong vocal cast to take this to a higher plain and thank the Lord, we have it with aplomb. Believable acting ability is the icing on this particularly moreish cake. The orchestra, conducted by Simon Phillippo keeps pace with the sometimes frantic on-stage action and gives Verdi's quiet, tender moments the space and respect they deserve.
A triumph, then, and just one side of the equilateral triangle that forms WNO's Fallen Women season. Both Puccini's Manon Lescaut and Henze's Boulevard Solitude are also currently on tour along with this wonderful rendering of La Traviata. Catch them at a theatre near you.
For more information about the Welsh National Opera, tour dates and tickets, visit the website.