It's beyond belief that some musicals I avoid like the proverbial plague, remain a fixture of the West End for years if not decades, while other treasures, such as Lerner & Loewe's My Fair Lady, haven't had a major revival for 21 years. Not before time, the Lincoln Center Theater's critically acclaimed production directed by Bartlett Sher has glided into the ostentatiously grand London Coliseum to remind us exactly what we've been missing – but hurry, it will only be here for 16 weeks before heading off on a UK tour. First premiered in 2018 at Lincoln Center's Vivian Beaumont Theater, this My Fair Lady has a raft of prestigious awards under her hat, including the Tony Award for Best Costume Design, 5 Outer Critics' Circle Awards including Best Musical Revival, the Drama League Award for Outstanding Musical Revival, and the Drama Desk Awards for Best Musical Revival and Costume Design.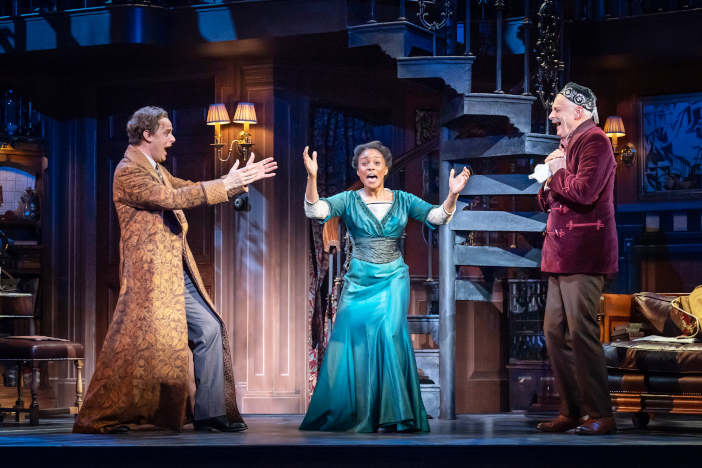 Telling the story of the beautiful but hopelessly ungrammatical Cockney flower-seller, Eliza Doolittle – a role ever to be associated with Audrey Hepburn who starred in the 1964 film version – and Henry Higgins (Harry Hadden-Paton), a professor of linguistics who accepts a bet with his associate, Colonel Pickering (Malcolm Sinclair), to transform Miss Doolittle, played by the full-voiced Amara Okereke, into their idea of the perfect lady, but will life in the professor's Wimpole Street household ever be the same?
Exasperated housekeeper Mrs Pearce (Maureen Beattie) certainly doesn't think so when Professor Higgins insists that she march Eliza – who announces that it's her usual habit to sleep with her clothes on – to the fully equipped, all-mod-cons bathroom, which is akin to a chamber of horrors to Eliza judging from her horrendous squeals of protest. The humour is maximised throughout, with strong direction from Sher, and from the moment the show starts to the (presumably nightly) standing ovation, you'll be grinning from ear to ear at the sheer – or should that be 'Sher' charm. A huge element of the charm are the magnificent, Cecil-Beaton-inspired costumes by Catherine Zuber and the revolving set by Michael Yeargan, encompassing the Professor's library/drawing room, along with additional and easily transportable set pieces which resemble the old Pollock's toy theatres and lend a real enchantment to proceedings.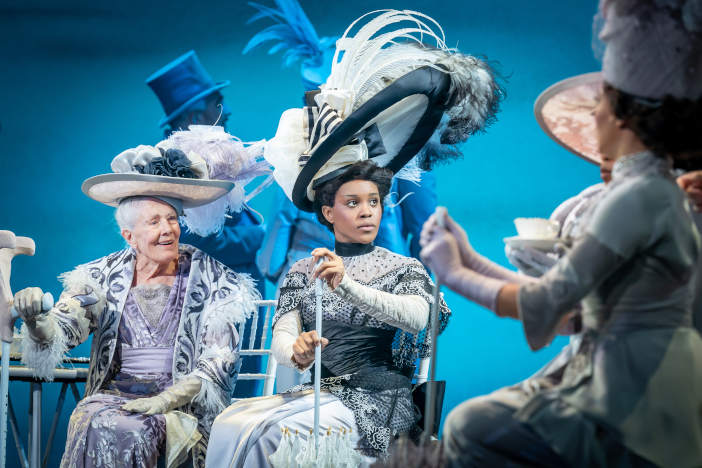 Based on the 1913 stage play, Pygmalion by George Bernard Shaw, the musical version of My Fair Lady is every inch an American classic regardless of the fact that it is entirely set in Edwardian London and makes fun of the often preposterous English class system which is to be approached with kid gloves and impeccable etiquette and deportment. Can Higgins really pass Eliza off as a duchess by the end of the Season? His student understandably gets into a little difficulty on being advised by the professor to only embark on small talk about the weather and, oh dear, health. Frederick Loewe's ravishing score, with book and lyrics by Alan Lerner, has remained as fresh and witty as when it was first heard on stage in 1956, while the 36-musician English National Opera orchestra (music direction by Ted Sperling) during this run clearly appreciates how much joy they are imparting to the receptive audience as the familiar music soars throughout the impressively ornate and gilded auditorium. The score includes the classic songs 'I Could Have Danced All Night', 'Get Me to the Church on Time', 'Wouldn't It Be Loverly', 'On the Street Where You Live' and 'The Rain in Spain'. Naturally, this is where Christopher Gatelli's vibrant choreography comes into its own, with highlights being the Royal Ascot and Embassy Ball scenes.
Harry Hadden-Paton (The Crown and Downton Abbey) gives a highly physical performance that fairly steals the show from his leading lady, Okereke, who, despite possessing powerful vocals and being delightfully watchable throughout, is not as charismatic as Eliza ought to be to make this an unsurpassed production of My Fair Lady. It is also true that if Okereke conveyed more refinement in Eliza's later movements, following her extensive elocution and deportment training from Higgins, the transformation would feel more dramatic and pronounced. Hadden-Paton, who received a Tony Award nomination for his performance on Broadway, has the audience eating out of the palm of his hand – as effortlessly as he bribes Eliza with chocolates during his tortuous lessons. He brings all the charm, arrogance and bachelor gruffness we recall from Rex Harrison's film performance, whilst his own effervescence and vocal talent (far superior to Harrison's) offers the audience an emotional undercurrent and deeply moving renditions of songs such as 'I've Grown Accustomed to Her Face'. If the character of Eliza teaches us to be more flexible in our ways, Henry shows us the downfall of stubbornness and the inability to identify, admit and tackle one's faults and bad habits, whether it be swearing or treating Eliza with the same remissness as if she were still a common flower girl and didn't have any feelings.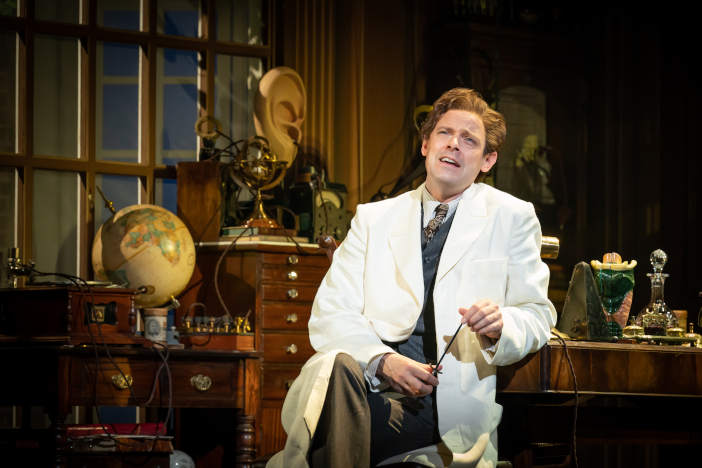 Talking of feelings, the cast clearly have a good rapport which gives the overall performance a consistent, upbeat level of energy which this musical demands – albeit some members have more or less acting/vocal talent than others. Stephen K Amos as Eliza's public-house frequenting, dustman father is amusing if rather wooden, while Sharif Afifi is a strong singer who puts in a convincing performance as the foppish Freddie Eynesford-Hill who develops feelings for Eliza as soon as he sets eyes on her during her first 'outing' in society – the famous Ascot scene, with comic slip-ups galore. This is soon followed by Freddie becoming a dandified Wimpole Street stalker swinging on a lamppost and breaking into, 'On The Street Where You Live' whilst hoping to catch a glimpse of Eliza. Alas, we didn't get to see the top-billed Dame Vanessa Redgrave as the professor's mother, Mrs Higgins, on our night – not something that took anything away (you can't miss what you never had) from my enjoyment of this terrifically joyful dose of old-fashioned musical theatre magic.
My Fair Lady at the London Coliseum until 27th August 2022. Running time approximately 3 hours including one interval. For more information and tickets please visit the website.
Photography (c) Marc Brenner