By some extraordinary oversight, I have never made it to the Old Vic's highly superior panto even though it's been running every Christmas (there was an online pandemic version) since 2017. This is not because it hasn't come highly recommended. I know one family where three generations go every year for their big festive outing.
I say panto – but of course it isn't really a panto, more the definitive Christmas classic. Everyone knows the tale of the bah-humbug miser Scrooge and his haunting on Christmas Eve by the ghosts of Christmas Past, Present and Yet-to-Come. In this version by Jack Thorne, while you do get a certain amount of misanthropy (Stephen Mangan, all wild grey hair and tattered dressing gown, does indeed say "Bah humbug" once), really this is an evening that's all about redemption. Scrooge is more pitiful than cruel and there's a lot about his horrible father (Andrew Langtree who also plays Scrooge's recently deceased partner Marley hauling a staggering amount of chains behind him) that gets you rooting for him.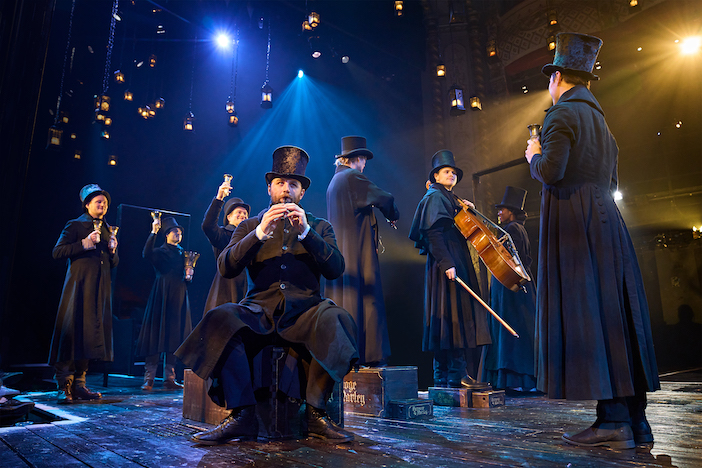 The theatre itself looks lovely. With much of the stalls area removed to make a T-shaped stage, some of the audience sit behind the action and it's a very cosy in-the-round kind of space. Even before we get going, the company, top-hatted and great-coated, mingles and chats with the audience supplying them with mince pies, oranges and banter. Musicians play centre-stage, wonderful lanterns of all shapes and sizes hang down and we're all bathed in a soft golden glow.
I have to take my hat off to the company. They sing, they dance, they narrate the story, they slip into different characters and, perhaps best of all, they ring hand bells at various stages. At the very end, this is quite magical.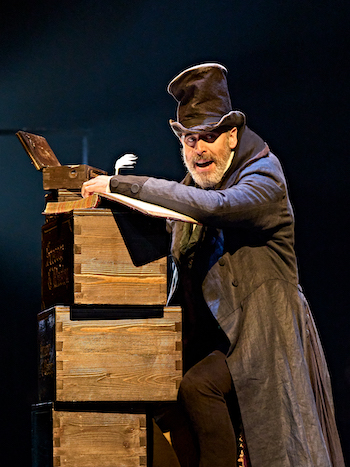 In fact, the music plays a big part throughout, though, and the musicians (Katharine Woolley, Justin Pearson, Clare Taylor, Martin Robertson) are splendid.
Jack Shalloo made a particularly convincing Bob Cratchit and the part of Tiny Tim is played on different nights by four young disabled actors. Karen Fishwick was a feisty Belle – easy to see why the young Scrooge fell for her. The three ghosts – Amanda Hadigue (Past), Rachel John (Present) and Nicola Espallardo as Scrooge's sister Jess and the Ghost of Christmas Yet-to-Come – all soon have Scrooge in their power, too.
In the end, though, it has to be Scrooge's night and Mangan is especially good when he becomes the exuberant lover of the festive season, bounding around the stage delivering turkeys, money and good will in equal measure. So, it's definitely a feel-good night with the most warm-hearted of Victorian moral messages. There are Christmas carols, audience participation and snow (twice) thrown in. Maybe not a panto then but surely London's most superior family Christmas show.
A Christmas Carol runs at The Old Vic until 8th January 2022. For more information, and bookings, please visit www.oldvictheatre.com.