Christmas is coming – it must be because the Old Vic has brought back its favourite panto, A Christmas Carol. No, not really a panto, I know, but such an uplifting celebration of the festive season, it's sure to get you in the mood. Even before the show starts, the actors mingle with the audience, offering mince pies, oranges and general good cheer.
While the production remains essentially the same each year (it's now into its sixth outing), the cast changes each time bringing differences in the tone and atmosphere. And there is plenty of atmosphere – snow falls, bells ring, lanterns twinkle and carols are sung by the actors or played by the musicians seated in a box just above the stage. The stage itself is as in-the-round as you can get in a traditional proscenium arch theatre with a section of the audience at the back of the stage while the front is elongated into a long T-shape – down which Marley enters dramatically dragging yards of chains behind him. It's as if the stage, the players and the audience embrace each other in a warm hug.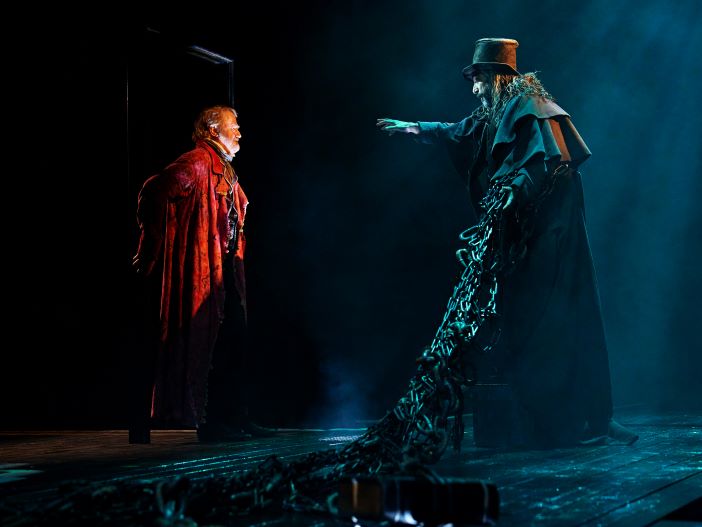 Marley is played by Sebastien Torkia who doubles up as Scrooge's cruel father, too – his loveless childhood making the adult Scrooge not just understandable but pitiable. It also makes sense of his final joyful conversion becoming the great lover of Christmas, making up for all those lost Christmases past. These are conjured by Julie Jupp as the surprisingly cuddly and matter-of-fact ghost of that name who reminds him not only of his beloved sister but also his lost love Belle, touchingly played respectively by Merryl Ansah and Lydia White.
Roger Dipper makes a suitably downtrodden Bob Cratchit and Samuel Townsend is an optimistic, idealistic young Scrooge – who makes the fatal mistake that takes him down the road to bitterness and loneliness. As the older version, Owen Teale is very different from last year's Stephen Mangan who exploded with joy after his conversion, bounding ebulliently across the stage. Teale is a more thoughtful, contrite convert to Christmas, reflecting on what he has lost through his own folly.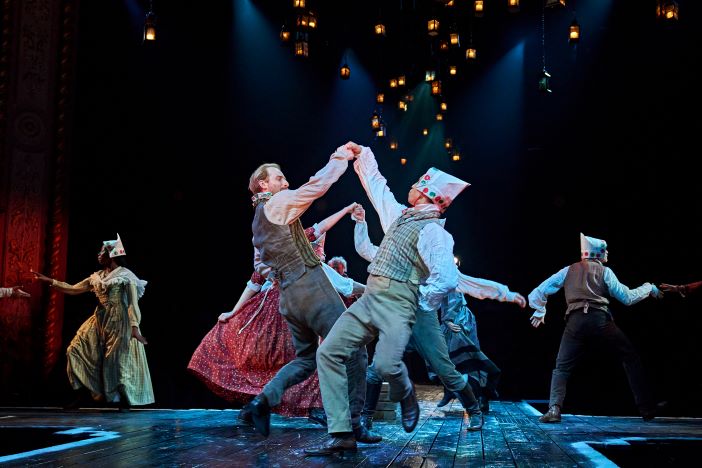 The music is key (as it were) to this production. The carols, whether sung or played, bring extra joy or stark contrast to the action. And they're all there – God Rest Ye Merry, Gentlemen, In the Bleak Midwinter, Silent Night. And, accompanied by the onstage bell-ringers, pretty much guaranteed to bring a sentimental tear to the eye. You'd have to be a cynic not to love this show. And I dare you to say Bah Humbug to that!
A Christmas Carol runs at the Old Vic until 7th January 2023. For more information, and for bookings, please visit