One of Noel Coward's later stage plays, A Song at Twilight, as the title might lead you to expect, is far less frenetically-paced than his earlier and more often revived hits such as Hay Fever. First premiered in 1966 at the Queen's Theatre, in which Coward made his final stage appearance as the pompous lead, Sir Hugo Latymer, it's a worthy composition even if it doesn't possess the sparkle of his better known, more frothy, works.
With a four-part ensemble, staged entirely in the luxury Swiss hotel suite of successful writer Hugo Latymer (Simon Callow) and his German wife Hilde (Jessica Turner) the drama, rippled with Coward's trademark repartee, is an altogether more whimsical piece reliant upon fine casting and performances adept at making silk purses. Considered by Coward, the gay icon of stage, screen and literature, to be his most serious play, it's a challenge for any of today's directors to convey to modern audiences his bravery in writing about homosexuality when it was still a criminal offence, with jail sentences for those who were openly flaunting the law.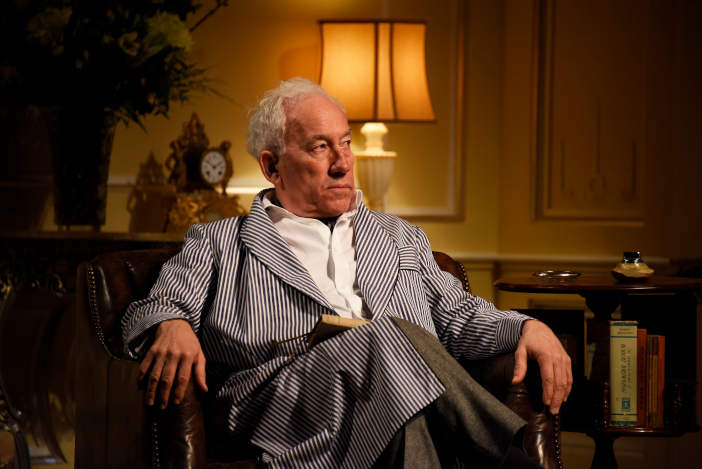 This Theatre Royal Bath production is confidently directed by Stephen Unwin who has previously directed four other Coward plays Hay Fever, The Vortex, and This Happy Breed, with his 2016 Theatre Royal Bath production of Present Laughter, starring Samuel West and Phyllis Logan, well received. Uniting Unwin with designer Simon Higlett, who sets the scene of the couple's contained existence perfectly, it's a mellow affair reflecting Coward's own twilight years.
Purportedly inspired by the memoirs of W. Somerset Maugham, who failed to mention a 30-year liaison with his secretary, Gerald Haxton, in his memoirs, this sedate, though charming and witty production leans heavily upon the talents of Callow, whose innate ability to engage audiences by unfurling the layers of a character is showcased through Latymer's closet homosexuality, something you are soon alerted to when he compliments the broad shoulders of the swarthy young waiter Felix (Ash Rizi). Time hasn't been kind to a play that once surprised conservative audiences with themes of sexuality, however, nor is the appearance of Latymer's old female flame Carlotta (Jane Asher) enough to offer much intrigue.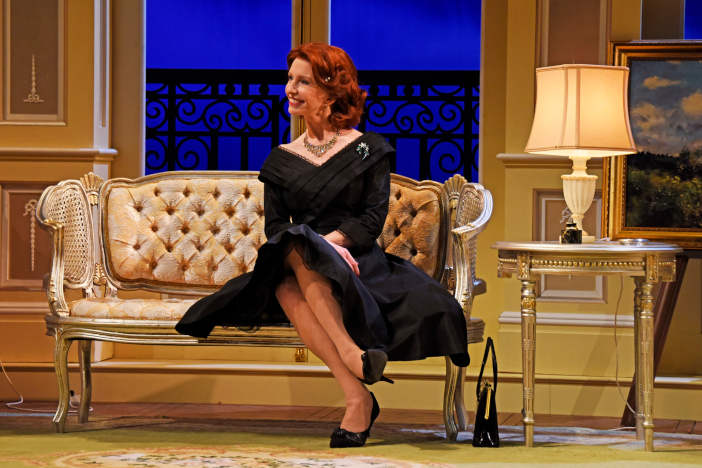 Unsure as to why the ageing actress has looked him up after so many years, Latymer's curiosity is nonetheless piqued, with Hilde, his wife-come-personal-assistant, having prepared a re-run of his very first dinner with Carlotta, complete with pink champagne, caviar, steak Bernaise and chocolate souffle. It's a less than easy reunion when Hilde makes herself scarce, however, with the glamorous, flirtatious Carlotta teasing Latymer with her real agenda.
Despite being an average actress who has never reached superstardom, Carlotta is about to publish her memoirs and seeks permission to use extracts from the florid love letters she once received from Latymer. But if Callow highlights Coward's oft-glorious dialogue, Asher's rather stiff performance emphasises its tendency to become tedious. It's a thin plot, and the revelation that Carlotta also has in her possession love letters between Latymer and another man is gently amusing rather than suspenseful in these days of British sexual liberalism and legalised same-sex marriages.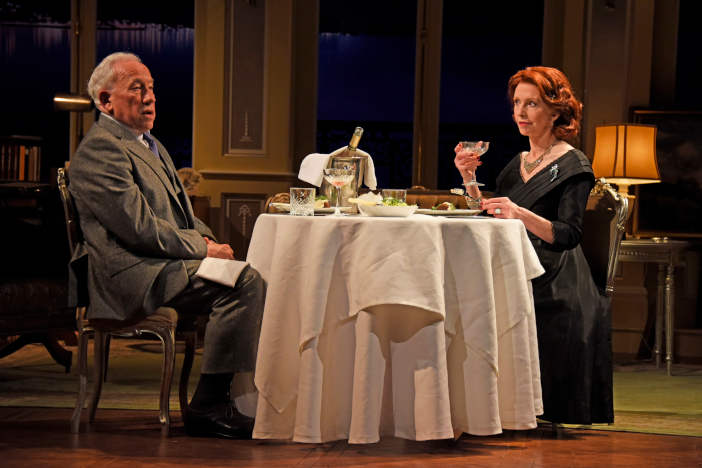 When Latymer asks her to leave and then later recalls her, we're pleased to see Hilde returning tipsy from a night out with a girlfriend. Turner delivers a tour de force performance in the second half, revealing that she has always known about her husband's homosexuality with a ferocity and loyalty which defies Carlotta's vengeful motivations to publicly embarrass him. Hilde's own defiance sums up Coward's own feelings in writing A Song at Twilight, while this enjoyable production pays tribute to a master who played his own important part in changing the attitudes of society.
A Song at Twilight at Theatre Royal Bath until 23rd February 2019. Running time approximately 2 hours 15 minutes including an interval. Production images by Nobby Clark. For more information and tickets please visit the website.