The poisoning in 2006 of the Russian secret agent, Alexander Litvinenko, with a rare radioactive metal, polonium-210, does not sound like the vehicle for an evening of tender emotions, musical numbers and a giant golden phallus. Those who saw Lucy Prebble's best-known play, Enron, though, will know she's a dab hand at turning apparently dry factual subject matter into thrilling theatre.
Freely adapted from Luke Harding's book, the first half of the play lays out the bizarre facts, starting with the Litvinenkos at A&E trying to find out just what is wrong with Alexander. Marina Litvinenko recounts their strange story, with Tom Scutt's set-within-a-set morphing from Moscow flat to hospital bed to London café in a series of flashbacks that bring us up to speed.
So, in a nutshell, ex-FSB (previously known as the KGB) agent, Litvinenko, is that rare thing in a corrupt kleptocracy – an honest man. In conflict with his superiors, he escapes to London with the help of Moscow's most significant oligarch, Boris Bereszovsky – a man he had previously been instructed to murder.
Marina, though, is not the only narrator. A seemingly shadowy figure starts to take shape in the back rooms of the FSB, one who – Bereszovsky promises Marina – will be Russia's saviour. In fact, it is Putin (a quite brilliant Reece Shearsmith) who soon relinquishes his place on the stage and instead perches in a box to deliver a breathtakingly cynical commentary on the proceedings, like a grim Statler or Waldorf, wearing the bland insouciant mask of Kevin Spacey in House of Cards.
It all gathers pace in the second half, with songs about oligarchs having fun in Mayfair, Russian fairy tales about nuclear power plants, louche nightclubs and, above all, a pair of FSB goons (a hilarious Lloyd Hutchinson and Michael Shaeffer) – archetypal useful idiots – blundering around London trying to poison Litvinenko and leaving a luminous trail of evidence in their wake.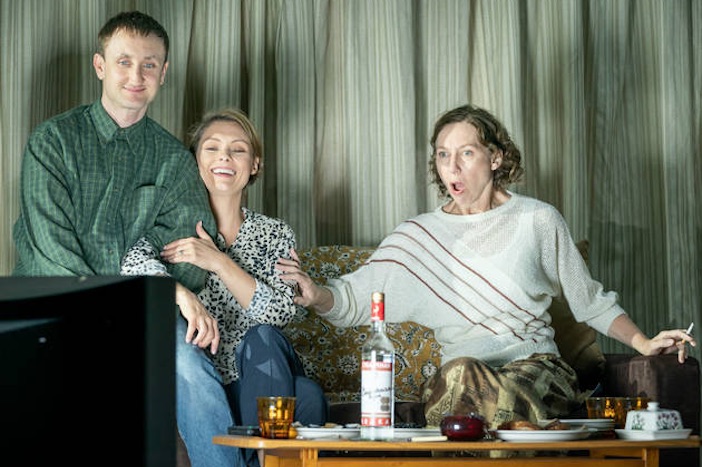 Alongside the knockabout, though, there are chilling retellings of the Chechen theatre massacre, Russia's loss of 25 million soldiers in World War II and pointed criticism of the British government's reluctance to upset the Russians about Litvinenko. In the Litvinenkos' story, Prebble is challenging us to find our way through a maze of post-truth and false news, cover-ups and human tragedy. Director John Crowley keeps the show on the road and manages to juggle the politics with a real emotional punch, courtesy of the two leads.
Tom Brooke as Litvinenko, is the definition of grace under pressure, dished up with a gawky charm. As Marina, MyAnna Buring shines with clarity and passion, her sheer determination quite literally spilling out into the audience at the end when she persuades the people in the stalls to read the long awaited court judgement.
A Very Expensive Poison by Lucy Prebble runs at The Old Vic until 5th October. Tickets start at £12. For more information and tickets, visit www.oldvictheatre.com.