Former Artistic Director of The National Theatre, Richard Eyre directs an all-star cast in the new Robert Fox, Jonathon Church Theatre and Theatre Royal Bath production of John Mortimer's autobiographical A Voyage Round My Father, with Rupert Everett bringing poignancy and humour to the title role of this deeply sentimental and nostalgic family drama and adding his own brand of charisma to a role earlier embodied by Alec Guinness and Laurence Olivier, and more recently Derek Jacobi in the 2006 Donmar Warehouse revival. Opening at Theatre Royal Bath ahead of a UK tour, it's a joy to see the audiences connect with what is Mortimer's most revealing and arguably most important work.
Although the backdrop might be said to capture a lost England, the relationship between child and parent are just as relevant today. Encompassing how a young man perceives his parent throughout childhood and adulthood, craving approval which, when withheld, turns to bitterness and pent-up rage, Jack Bardoe plays the son with tremendous energy, not only acting out the scenes that shape his boyhood and schooldays from the 1920s into post-World War II, but narrating his observations of his demanding barrister pater who refers to him aloofly as 'the boy' and offers up boundless pearls of wisdom in grandiose fashion as he might address a stranger or members of a jury. Rule number one – never be heroic during times of war.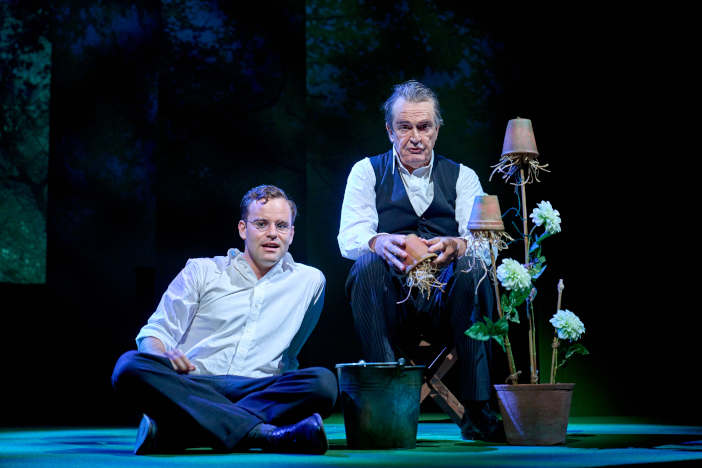 Mortimer's tender depiction of his eccentric father Clifford, the man who inspired his hugely popular courtroom series Rumpole of the Bailey, it's a role Everett was born to play; a successful and egotistical cigar-smoking lawyer specialising in divorces and as careless of money as he is of his wife and son's happiness. Always eager to escape London for his countryside Eden, he detests visitors and immerses himself in gardening; cultivating dahlias on the one hand and ruthlessly culling earwigs on the other, all whilst pontificating to his son on the determination of the creatures who are sure to return the next day.
The father becomes increasingly cantankerous and difficult to live with following a devastating gardening accident which leaves him blind and dependent on his ever-patient wife played by Eleanor David, although his blindness is never mentioned. Bob Crowley's leafy backdrop design and a conveyor belt of properties, rather like the emotions the audience must process, allows for a fluidity which is the cornerstone of this well-paced and beautifully choregraphed production taking the audience from the father's beloved garden, which he loves even more intensely after loosing his sight, to the son's public school.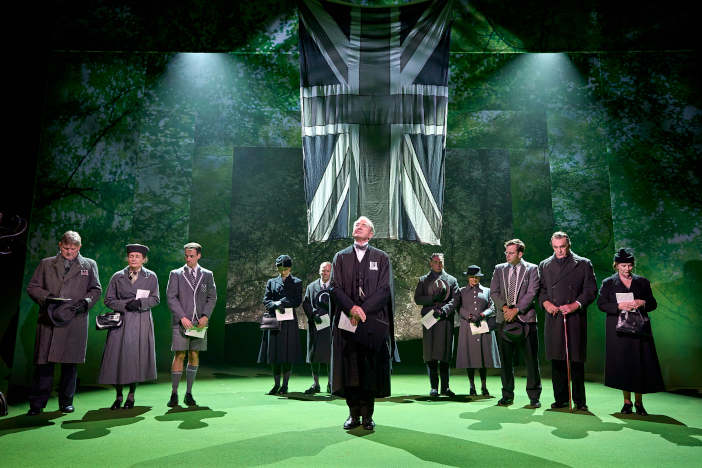 The public school scenes are certainly some of the most entertaining, introducing us to the waffling headmaster played by the magnetic Julian Wadham and WWI-traumatised school master Ham (Richard Hodder) who approaches his classroom armed with chalkboard duster and books as if he's back fighting at Passchendaele. Amusingly, Ham makes amends for his bouts of rage by paying the boys for every book and duster he hurls at them, but like much of the humour in A Voyage Round My Father, the underlying sting in the tail and pitiful nature of the joke makes the audience feel almost guilty for breaking into laughter, and that's the real genius of Mortimer's writing and the entire cast's brilliant and nuanced delivery.
It's no surprise that the son, after a brief dabble in the film industry, decides to follow in his father's footsteps to become a barrister in the futile hope of gaining parental approval. The second half of the play takes on an emotional power driven by the increasing frustrations of the father as he grapples with deteriorating health, with Everett portraying the once-powerful man's decline with compelling brilliance. Allegra Marland is also outstanding in the dual roles of the son's childhood girlfriend Iris and his outspoken wife Elizabeth, whom his father tries (and fails) to dissuade from marrying his son in an outrageously funny scene tinged with angst.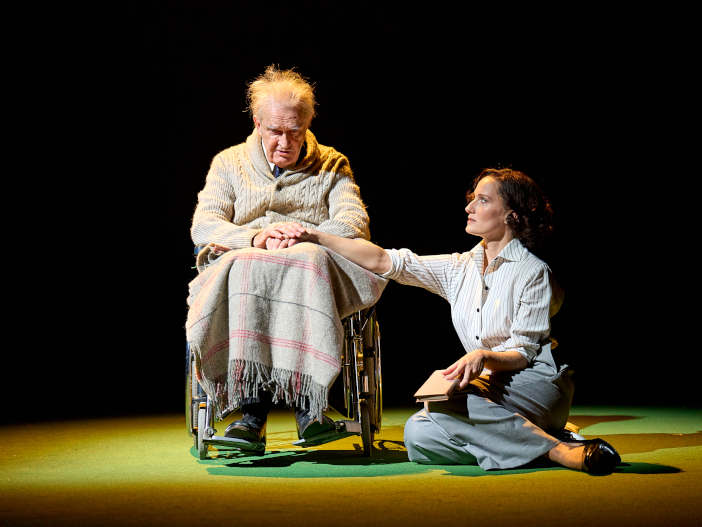 There's an evocative and wistful beauty about Richard Eyre's production and the sheer talent of this ensemble (most of whom take on more than one role) touches the heart and takes the audience on the affectionate 'journey' Mortimer intended. You may even feel your eyes sting during the finale when the son cradles his father in death as he never did in life. "You think of how people tell you it's meant to feel: sudden freedom, the end of dependence. You walk into the sun and no-one is taller than you and you are in no-one else's shadow. But I know how I felt. Lonely."
A Voyage Round My Father at Theatre Royal Bath until Saturday 7th October 2023. For more information and tickets please visit the website. Production images by Manuel Harlan.