Mike Leigh's Abigail's Party is without doubt one of the funniest plays ever written and this production, directed by acclaimed Lindsay Posner, is as good as I have seen. Cleverly combining the tragic with the comic Posner always remembers to add the twinge of pathos required. Recently transferred to Wyndham's Theatre this Theatre Royal Bath and Menier Chocolate Factory production is perfectly pitched. Abigail's Party became an overnight sensation when it was televised in 1977 starring his then wife Alison Steadman as the unforgettable Beverly.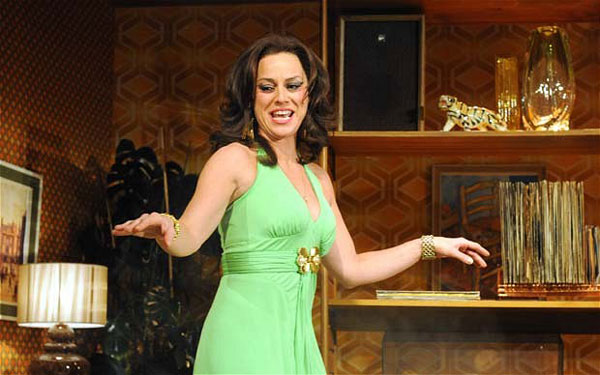 A play which relies entirely on a strong cast, Jill Halfpenny leads by example as the caricature-like Beverley; an aspirational department store beauty consultant with a passion for the music of Demis Roussos. Jill makes the most of showing off the hip-swinging skills she acquired at Strictly Come Dancing, raunchily gyrating around the living room wearing a lime green 1970s floor length dress to Donna Summer's 'Love to Love You Baby.' She certainly hasn't lost it. Alison Steadman has always been a tough act to follow for any actress playing Beverly but Jill combines the familiar with a refreshing new take on the character. Natalie Cassidy is terrific as the gawky and immature nurse Angela – a new resident keen to meet all the neighbours. Joe Absolom, who is making his West End debut, made a very convincing Tony – Angela's quiet and surly husband, who has a roving eye and takes an inordinately long time to check on Abigail's party across the street, leaving Laurence to return home without him before finally re-appearing with an unexplained wet shirt and later flirting with Beverly and mauling her bum whilst slow dancing. Andy Nyman is a brilliant Laurence – Beverly's workaholic estate agent husband and contributed to giving the audience many laughs with his outbursts of rage and frustration as Beverly keeps pushing his buttons.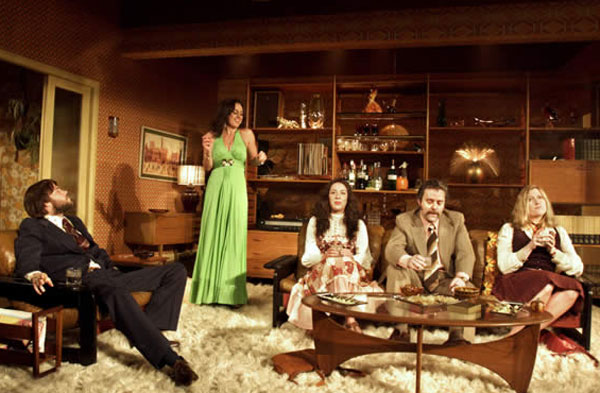 Just like the BBC televised version, the living room set designed by Mike Britton is 70s-tastic complete with fibre optic light, Van Gogh 'chair' painting, heavy cut crystal ashtrays and is dominated by a shelving unit with built in drinks cabinet to which Beverly returns at regular intervals in order to replenish everyone's drink. 'Nibbles' consist of cheese and pineapple on sticks, crisps and 'disgusting' olives. Susannah Harker is magnificent playing inoffensive but dull Susan, Abigail's mother, who is obviously regretting having accepted Beverly's invitation to spend the evening with them whilst her teenage daughter throws a party. You can sense Susan's discomfort when she is interrogated about her previous marriage and divorce and later bewilderment when sprayed with Estee Lauder perfume by Beverly after she throws up in the toilet, quite clearly disappointing Beverly's intention to host a sophisticated drinks party and signalling the beginning of the night's further degeneration with fatal consequences.
Everyone should see Abigail's Party on the stage at least once – it just shows you what you can do when you put five gifted actors on stage and give them a ripping script to work with. The American couple I was sitting next to adored observing what they imagine middle Britain looked like almost 40 years ago; housewives curtain-twitching in their spare time, shopping at Sainsbury's, and competitively comparing lifestyles with their neighbours. Overworked husbands meanwhile struggling with back-breaking mortgages and dreading coming home to teenagers desirous to experience the sex, drug and rock n' roll revolution. Quite frankly it may not be Shakespeare but it is Mike Leigh at his finest and downright theatre gold. Even if you've seen the televised version a hundred times, nothing beats a live performance of it when it's a good as this.
Abigail's Party at Wyndham's Theatre, Charing Cross Road, London WC2H 0DA. Booking until 1st September 2012. For more information and tickets, visit the website.