With Artistic Director David Gilmore at the helm, Bully Boy is the opening production in the first ever season of the new St James Theatre, built on the site of former Westminster Theatre which was destroyed by fire in 2002, just spitting distance from Buck House. The cleverly designed auditorium with its steep seating ensures the audience has a good view of the proceedings, with those lucky enough to be in the first few rows of the stalls getting an even more intimate aspect.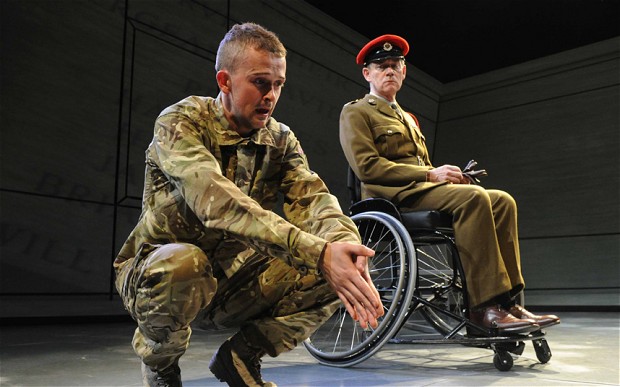 Anthony Andrews, who looks suitably authoritative in military uniform, gives a masterly performance, showing unrivalled complexity as Major Oscar Hadley in broadcaster and comedienne Sandi Toksvig's two-man play; unravelling the psychological impact of war and the relationship between two emotionally scarred soldiers.
Oscar, a middle-aged, wheelchair-bound Falklands veteran and military police officer is investigating gross misconduct resulting from the death of an eight-year-old Afghan boy who was thrown down a well during a military raid. Joshua Miles plays the accused Private Edward Clark, in a highly convincing, energetic and tender performance of a young man from Burnley. Not yet having reached his 21st birthday, he struggles to control his thuggish rage and is later unable to accept the death of four of his fellow comrades; killed outright in a roadside bomb from which he narrowly escapes – rescuing Major Hadley in the process.
It is evident how gripping Bully Boy is when you consider that it's a one act play lasting 100 minutes with no interval; something which only heightens the unfolding drama and the extremely intense atmosphere. With sound by John Leonard, Scott Radnor's projections bring the minimal yet effective set by Simon Higlett to life, giving the audience the freedom to use their own imagination during lengthy descriptive passages relating to past events.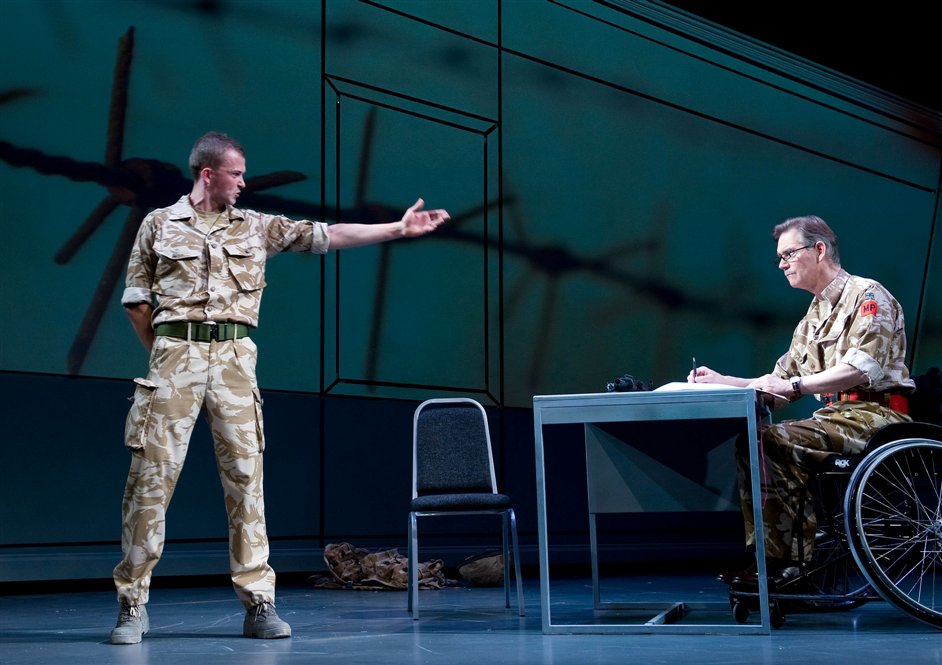 Initially it seems Oscar's physical injuries are meant to contrast with the psychological causalities Eddie is experiencing, namely Post Traumatic Stress Disorder. Eddie is admitted to the famous Priory Clinic for electroconvulsive therapy, where he is visited by Oscar. From his early interrogative stance to later signs of vulnerability, Andrews acts the whole spectrum as it becomes apparent that Oscar is equally as traumatised by his own war time experiences as the younger man, but alas, his kindness is not enough to save Eddie from desperation and an irretrievable breakdown.
Despite occasionally feeling like I was listening to a party political broadcast, complete with the suicide statistics of soldiers who fought in the Falklands, the play is well balanced with many moments of blinding swearing and humour, such as Oscar insisting he and Eddie give the fallen soldiers a proper send off by getting uproariously drunk, and Eddie reaching the top of Pendle Hill with Oscar on his back. We are so absorbed in Eddie's state of mind that by the end of the play we no longer concern ourselves with the crime which initially introduced us to him.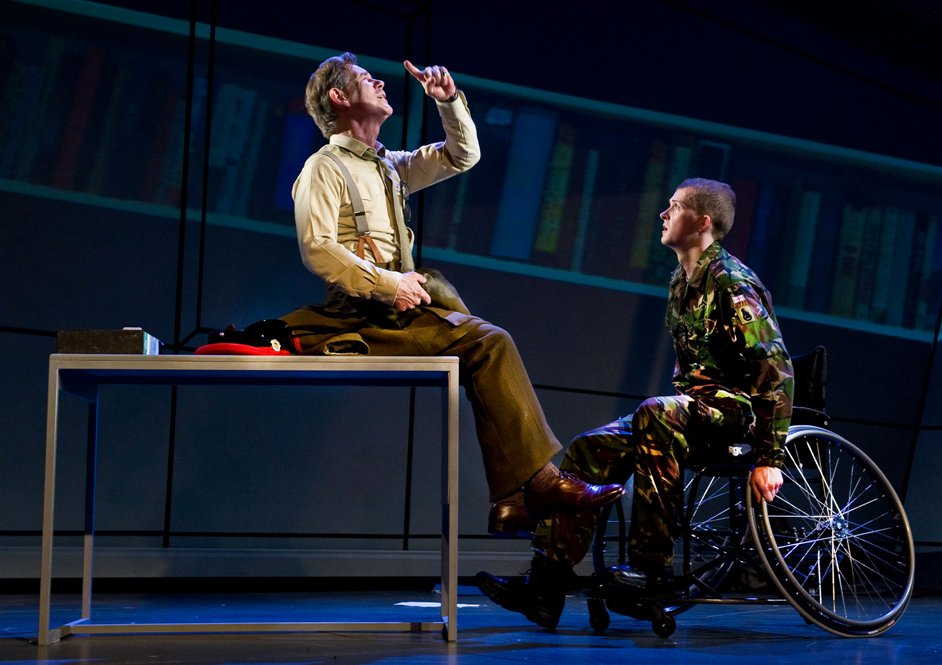 Originally commissioned by Patrick Sandford, artist director of the Nuffield Theatre in Southampton, Sandi Toksvig penned Bully Boy as a personal protest against the circumstances in which British and US forces precipitated war shortly after 9/11. Sandford directs this production which premiered in Southampton last year before being transferred to Northampton ahead of its London release.
As much as the stage is the perfect medium in order to convey the humanity and frailty of these characters, the rawness of Sandi's writing, when performed by two such gifted actors, has a profoundness and power worthy of attention. Unlike many modern playwrights terrified to tackle uncommerical subjects, Toksvig isn't afraid to pose difficult questions.
Bully Boy at St James Theatre, 12 Palace Street, London, SW1E 5JA. Booking until 27th October 2012. Tickets £20-£40. For more information and tickets visit the website.