Bess Wohl's new play at the Old Vic is essentially a coming-of-age love story. It is defined, though, by its very unexpected setting. It is 1938 – we are reminded about this a lot – and the place is a German Jugendcamp (or Youth Camp). It is not, however, in Germany. It's in Long Island, just 40 minutes from New York. But what is most surprising of all, perhaps, is that the idea of such a camp in the US was not dreamed up by Wohl. It existed on Long Island in the run-up to World War II and the people who stayed there lived in bungalows on Hitler Way and Goebbels Street.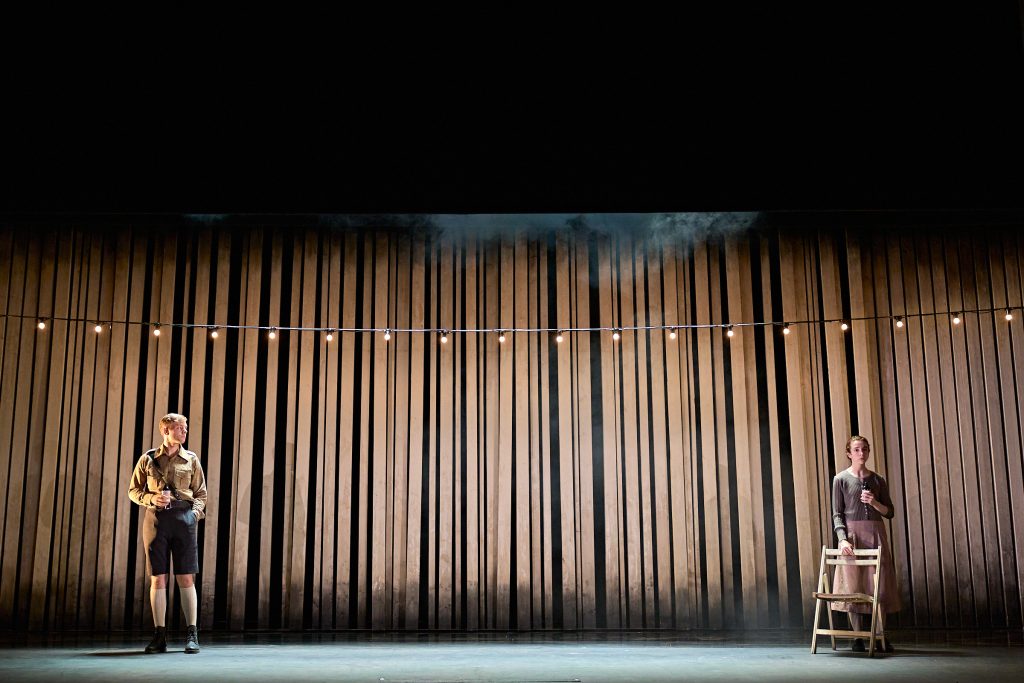 Before we meet the couple (known simply as Him and Her), videos of the camps and blond Aryan teenagers are projected against the simple columns of the set (designed by Rosanna Vize they suggest trees and at times the lakes and wider seas beyond). That outdoorsy spirit seems to be at the very soul of Him (Luke Thallon) – he loves sport and spends a considerable time expertly chopping wood.
He meets Her in a stilted conversation shouted over the sounds of an oompah band. As Her, Patsy Ferran is his polar opposite, nervous, decidedly indoorsy, a devotee of Latin poetry. Opposites, however, inevitably attract and, as they get to know each other, we get to know more about them. He is 17 and, beneath his confident, boisterous exterior is terrified of revealing what he believes is his underlying weakness.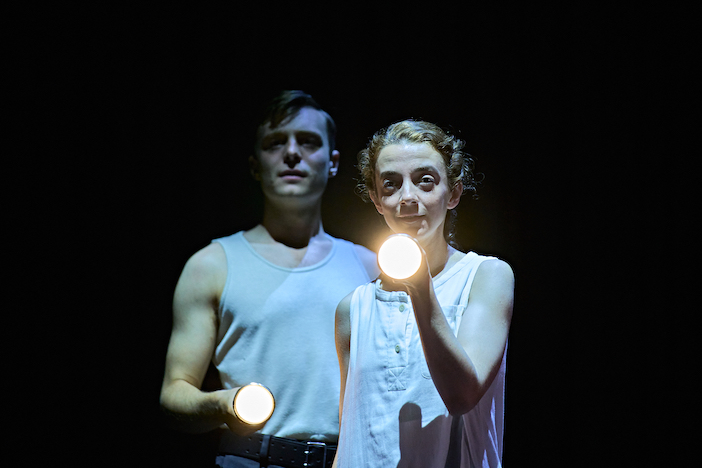 She is 16 and her gaucheness is gradually replaced by growing confidence. When she arrives, she knows little about German politics, is suspicious of Hitler and doesn't speak German (there's a camp/kampf running joke). As she embraces the culture, though, she takes on not just the German language but is quickly indoctrinated with fascist ideology. On Hitler Day, she delivers a frenzied speech, almost worthy of her leader calling, amongst other things, for her fellow German-Americans to make the country great again (accompanied by knowing sniggers in the audience).
There are moments such as these when Wohl tries too hard to make a trite political point. What cannot be faulted, however, is her portrayal of the susceptibility of young minds, apparently distorted with ease by those with a terrifying vision. As the couple, Thallon and Ferran are staggeringly good. They are playing teenagers (far younger than their actual ages) but they are never caricatures. In their slow-growing relationship – they avoid for some time the instruction to be "social" and multiply the master race – they are heart breaking as they reveal their vulnerabilities and search for their identities.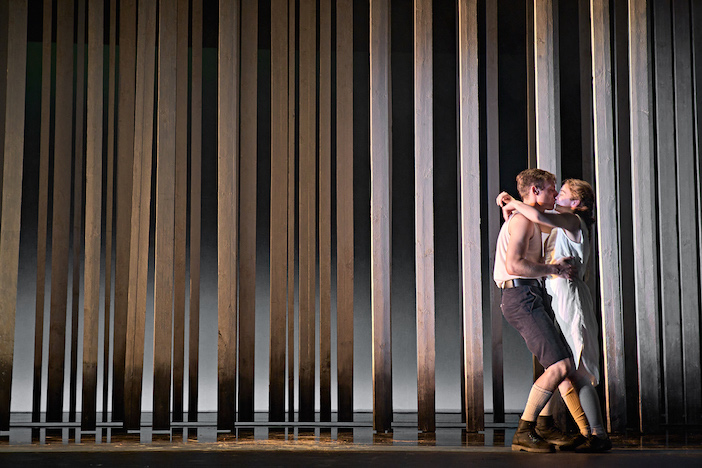 They do, though, clearly ache for each other and there is real chemistry on stage between these two. When they begin the roller coaster of big questions – pregnancy, marriage, fighting for the Fatherland – they are utterly convincing. Deftly directed by Katy Rudd, she wisely focuses less on the politics and more on the turmoil of love and ideology that pulsates through their adolescent relationship.
Camp Siegfried runs at the Old Vic until 30th October. For more information and bookings, please visit www.oldvictheatre.com.