Devoted readers of Louis de Bernières' acclaimed 1994 novel Captain Corelli's Mandolin might well wonder how the medium of theatre might do justice to such a sweeping wartime tale of love and friendship against the odds. For instance, the £4 million Sir Trevor Nunn stage adaptation of Margaret Mitchell's Gone with the Wind, described as a play with music, closed within three months following catastrophically poor reviews. However, fear not with this poetic retelling.
Neil Laidlaw, Church & State Productions, Rose Theatre Kingston and Birmingham Repertory Theatre's impressive interpretation is admirably faithful to the novel, with a comprehensive adaptation by Rona Munro and intuitive, sensitive direction and choreography by Melly Still. Having opened at Rose Theatre Kingston to warm reviews this unmissable, epic staging is currently showing at Theatre Royal Bath during a UK tour.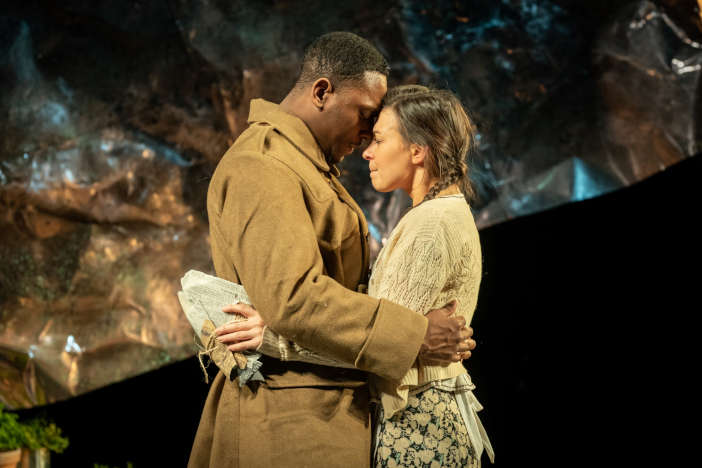 The widowed Dr Iannis (the captivating Joseph Long) and his beautiful, feisty, clever daughter Pelagia (Madison Clare) live quietly on the Greek island of Cephalonia until their sheltered existence – attending to the humble ailments of the villagers and exasperated by their impudent pet goat (comically played by Luisa Guerreiro) – is turned upside down, as is their very idea of community and humanity on the outbreak of World War II when the island is invaded by the Italian army. Pelagia rashly engages herself to a young, poorly educated young fisherman called Mandras (Ashley Gayle) who enlists in order to prove himself worthy of her but ends by achieving the opposite and slowly loses her love when he fails to reply to her countless letters. She has no idea that he's illiterate. The best thing to come out of the connection is Pelagia's growing closeness to Mandras's warm-hearted mother, Drosula (Eve Polycarpou) in whom she finds a much needed mother figure.
Like the book, we are kept waiting for Captain Corelli (Alex Mugnaioni) to enter the story, which initially lingers on the harrowing experiences of homosexual soldier Carlo Piero Guercio (Ryan Donaldson) who is secretly in love with fellow comrade Francesco (Fred Fergus) who dies in battle, extinguishing Carlo's reason for living until Captain Corelli, whose abundant charisma illuminates every scene in which he features, restores his faith. The doctor and Pelagia are reluctantly forced to accommodate the 'mad captain' indefinitely, and much as they both resist offering him anything but the most perfunctory hospitality, they both secretly admire the man who is, in his regular life, a consummate musician, with no interest in fighting and a desire for the war to be over as much as they. Clare and Muganioni have a convincing rapport, while the audience connect deeply with Long's wise and astute portrayal of the doctor who anticipates his daughter's affection for the captain and sagely reminds her of the consequences of falling in love with the enemy.
Even Pelagia'a pet pine marten Psipsina (Elizabeth Mary Williams) loves the captain, as does the precocious village child Lemoni (Kezrena James) with whom Corelli sports, increasingly removed from fascist politics as he gets to know the islanders over the two summers when the war rages on elsewhere. The rest of Europe feels a very long way away, until the orders trickling down from on high eventually impact on Cephalonia.
Music, as it should be, is integral to this production, with composer Harry Blake successfully creating the impression that Antonio Corelli's beloved mandolin 'Antonia', with a language all its own, has the potential to break the social, religious and cultural barriers set by war, so to the army's opera group which Corelli conducts, with German officer Gunter (Kate Spencer) persuaded to join them during the period when Germans and Italians were allies. The second half brings home the realities of war, fear and loss in vivid, adeptly choreographed scenes, not least the horror of a firing squad in which Carlo nobly seeks to save his friend Corelli whom he hopes will go on to marry Pelagia after the war.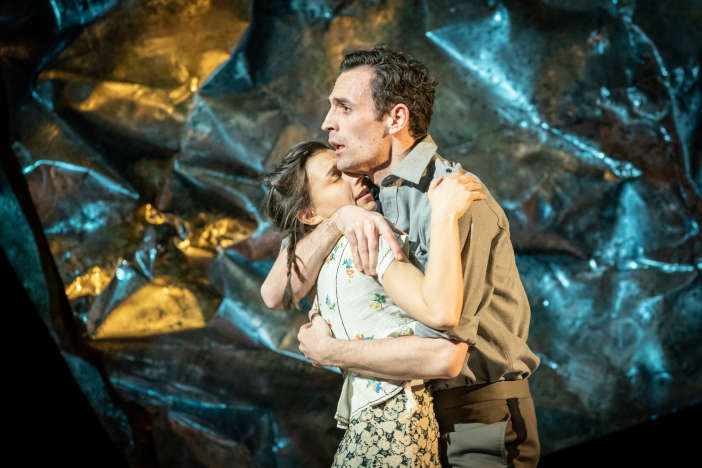 Mayou Trikerioti's fairly sparse set is brought to life with projections illustrating a series of powerful images throughout the play, from the Dolphin-inhabited waters surrounding the island, soldiers arriving by parachute, to an imposing tank, a shower of bullets and explosives, a sea of blood, and finally, in the years following the end of the war, a devastating earthquake which forces the islanders to rebuild both their dwellings and lives with new, stronger roots. This sublime production, contrasting brutality and resentment, humour and compassion to bold effect, is a breathtaking work that should be seen by as many theatre goers as possible.
Captain Correlli's Mandolin at Theatre Royal Bath until Saturday 18 May 2019. Production images by Marc Brenner. For more information and tickets please visit the website. For forthcoming tour dates see www.captaincorellismandolin.com