Tom Chambers leads the cast in the absorbing new production of Dial M for Murder directed by Anthony Banks, currently at Theatre Royal Bath during a UK tour. Famed for being one of Alfred Hitchcock's most suspenseful masterpieces, starring Grace Kelly and Ray Milland, a quality theatre revival of the 1952 play by Frederick Knott is long-overdue, a hugely popular work before Hitchcock decided to adapt it for cinema.
Set in 1960s London (a decade on from the 1954 film), with all the action taking place in the stylish Maida Vale apartment of a smart young London couple (set and costumes by David Woodhead.), the Wendices, Margot (Sally Bretton) disappoints old flame Max Halliday (Michael Salami) , a television crime writer just returned from New York, by telling him how happy she has been since her husband, Tony (Tom Chambers) retired from the professional tennis circuit and got a regular job. Although she has been less than faithful in the past, it's clear that she intends to be in future.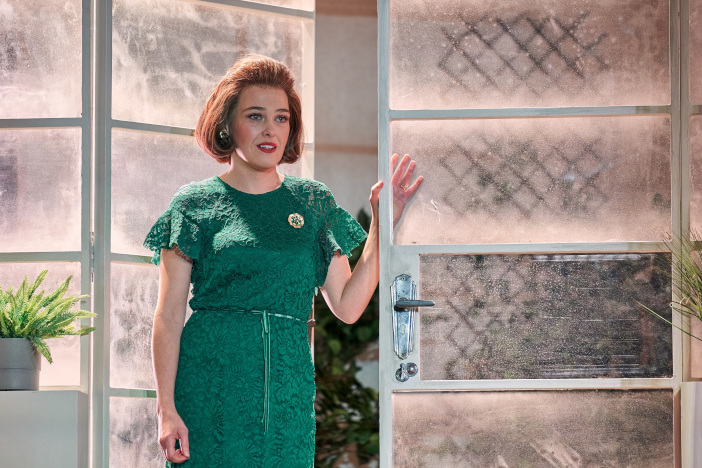 Bretton conveys Margot's fear that Tony should ever find out about their relationship, explaining to Max that she had to stop him writing her love letters when she was blackmailed following the theft of her handbag a year ago – said handbag having contained the one letter from him which she had kept and treasured. Withdrawing the £50 requested in the subsequent ransom note for the safe return of the letter – alas, she never received it. Her husband still knows nothing about the episode she assures Max.
Chambers is a brilliantly shifty Tony and clearly has tremendous fun in letting the audience understand his character's devious nature early on. For example, he clearly has his reasons for not wanting to let on about his wife's dormant fling, and acts the trusting other half to perfection when he returns home from work and insists Margot and Max toddle off to the theatre without him due to his having an urgent business deadline he must attend to. The audience can see this for the ploy it is, even if the former lovers can't. No sooner is the front door closed behind them than Tony telephones a Captain Lesgate (Christopher Harper) on the premise of wanting to buy his car.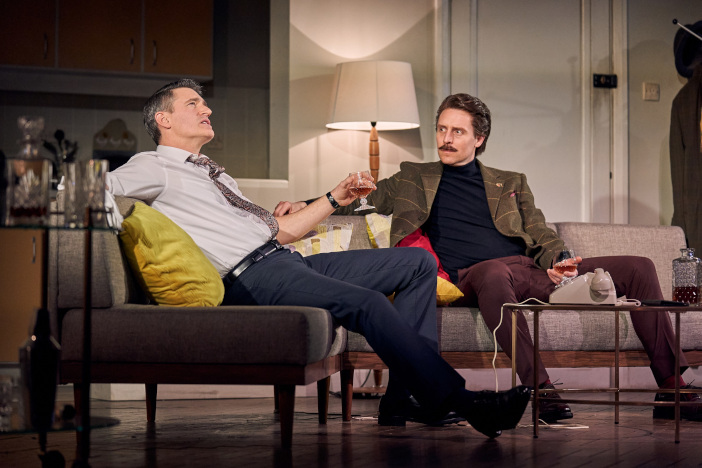 Lesgate, who visits Tony, turns out to be an old public school acquaintance, who, with a criminal past and a need for ready cash, is apparently the perfect candidate for a hit-man. Tony, who almost seems to be flirting with Lesgate, has been following his every move for months, and both blackmails and bribes him into agreeing to Margot the following evening. Tony has everything worked out to ensure that it all seems like a simple bungled burglary – or does he? Chambers is convincing throughout as a washed-up tennis star who has married for money and now ruthlessly plots to get his hands on a substantial inheritance. Things go badly awry when Margot kills Lescate, however, and Tony must think on his feet when he returns home to find a murdered man on the living room floor.
The 'key' to solving the mystery and saving Margot from the hangman's noose is brilliantly unravelled by both crime writer Max and the wily Inspector Hubbard who is also played by Harper – so convincing in both roles that it would be easy to think they were played by two different actors. A fine game of cat-and-mouse, this superb slow-paced thriller is brilliantly acted by the four-part ensemble and will have you following the plot's twists and turns with a wry smile and sweaty palms.
Dial M for Murder at Theatre Royal Bath until Saturday 15th February 2020. For more information and tickets please visit the website. The tour continues in Aberdeen from the 17th February and in cities across the UK until 25th July 2020. For more information, dates and venues, visit www.dialmformurderplay.com.