Educating Rita, immortalised by Michael Caine and Julie Walters in the 1983 film adaptation, Willy Russell's part-autobiographical two-man play still sparkles with wit and poignancy almost thirty years since premiering at The Warehouse, London in 1980 having been commissioned by the Royal Shakespeare Company.
Revived at frequent intervals with varying success, I caught the current Theatre by the Lake production at Theatre Royal Bath (until 8th June 2019) as part of an extensive UK tour. Directed by Max Roberts, Stephen Tompkinson is well cast as Frank, a failed poet-come-university-professor tasked with the seemingly uphill battle of transforming dissatisfied and woefully uneducated Liverpudlian hairdresser, Rita (Jessica Johnson) into an academic who understands E. M. 'bleeding' Forster and Shakespeare.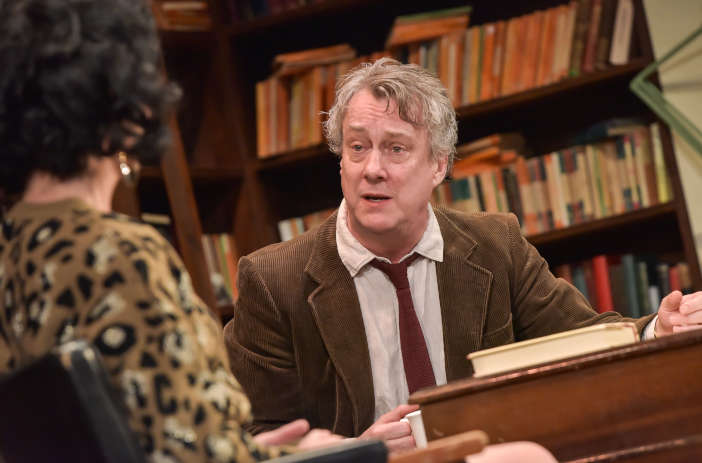 Johnson's portrayal of the outspoken, foul-mouthed Rita, bursting with enthusiasm during her first meeting with Frank, is brilliant in its exhaustive (and exhausting) energy and we can relate to Frank's apprehension at the prospect of trying to reign her in. As she says herself, if it hadn't been for the Open University she would never have stood a chance of gaining a degree and insists on Frank's mentorship when he's ready to throw in the towel and suggest another tutor.
Having left school at fifteen to become a women's hairdresser before returning to education and becoming a teacher, Russell's own experiences inspired both Frank and Rita, while the work as a whole reflects not only the changing attitudes to women, finally encouraged towards professions rather than the servitude of housewifery and motherhood, but also the eduction opportunities open to the working class as a whole, shunned by Rita's husband who considers her Open University course a betrayal and burns her books accordingly.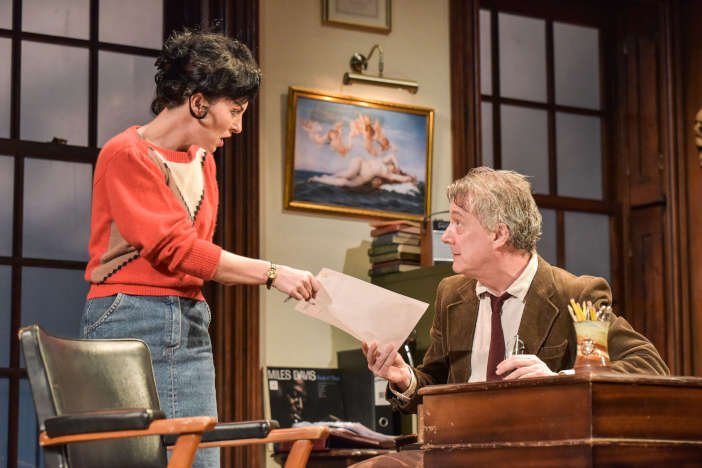 Frank on the other hand is the antithesis of someone who has largely taken for granted the privileges afforded by his university education, and, resigning himself to the dissatisfaction Rita is seeking to overturn, comforts himself with alcohol. Countless bottles of liquor are concealed behind the books lining his room (designed by Patrick Connellan), in which the entire action of the play is set, and we pity the man who could have been so much more. Only Rita can reinvigorate his love of teaching and the literature that once inspired him.
The friendship which develops between the pair is shown in snapshot scenes rippled with humour and reflection. As Frank must choose whether to be swallowed up by his addiction and self-perpetuating despondency, so too Rita (whose real name is actually Susan) must choose whether to break away from her dim-witted, chauvinistic husband and the part of herself she is no longer able to identify with. Frank is meanwhile torn between admiring the courageous Rita and resenting her increasing absence and independence. After all, educating Rita has been about so much more than preparing her for exams.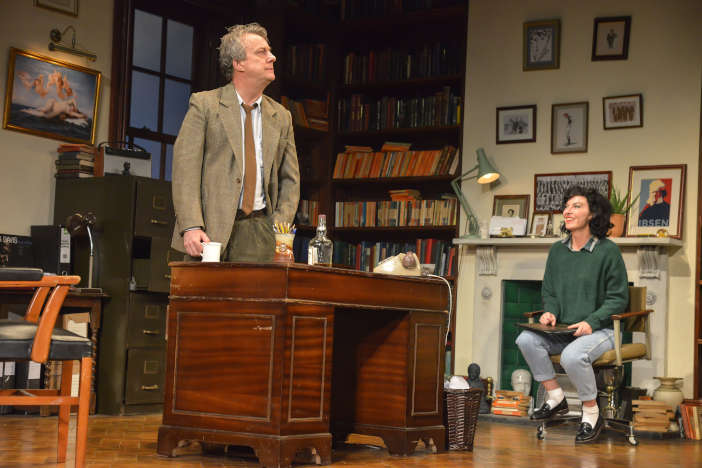 While the direction, choreography and design are in themselves commendable, the strength of this glorious production rests on the talents of Tompkinson and Johnson, their believable chemistry and the absorbing change we are able to witness in Rita who holds our attention and wins our affection. When she returns from summer school – no longer the ignorant, socially inept mature student intimidated by her younger academic counterparts, not to mention Frank's circle of friends whom she once feared would ridicule her – she is a confident and intelligent disciple of English literature equipped to debate and challenge Frank on all manner of subjects, much to his surprise and alarm.
When he goes to introduce Rita to William Blake he is disheartened to discover that she is not only familiar with the poet but can recite Songs of Innocence and of Experience at length. Rita, whose infectious spirit and unique perception captivated him from day one, is no longer solely his muse, he has given her the tools to forge ahead alone, leaving him behind to wallow in self pity and continue to make himself the university laughing stock. Forced to take a sabbatical after falling off the rostrum in drunkenness during a lecture, the once non-judgemental Rita who sought Frank's wisdom, now offers him guidance, although their paths, in the true sense of Shakespearean tragedy, are destined to diverge.
Educating Rita at Theatre Royal Bath until 8th June 2019 before continuing an extensive UK tour. Production images by Robert Day. For more information and tickets please visit the theatre's website. For future venues please see www.educatingrita.co.uk