When bracing oneself to watch Samuel Beckett, I'm reminded of an anecdote from the actor Stephen Rea. During one rehearsal at the Royal Court, the director Bob Kidd turned to Beckett and asked, "So, Sam…happy?" After a moment, Beckett roared with laughter. This question to the world's arch pessimist sets up the enigma that is Samuel Beckett. It is this dichotomy, perhaps, that drives Beckett's appeal. We find solace for our own discontent in others' misfortunes, particularly if we have the relief of laughter to lean on. The sugar to help swallow the bitter pill.
Endgame, Beckett's tragi-comedy first performed, in French, at the Royal Court in 1957, marks perhaps the apotheosis of his bleakness, an entropic take on the human condition. And it's an interesting choice to open the Old Vic's year, and a new decade, with much in the news to be bleak about.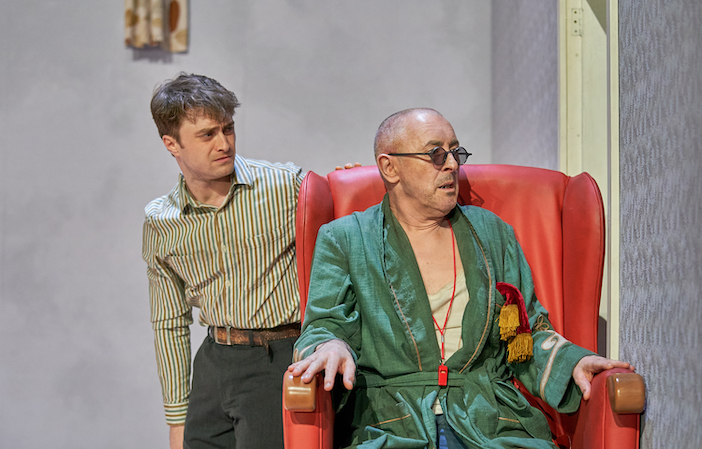 This production, almost Lynchian in execution, opens with a distorted jazz trope for a few beats more than necessary to become uncomfortable, before we're in a bare room, windows out of reach, making it instantly unsettling. It's a two-hander for the most part, between the needy, bitter Hamm, played by Alan Cumming, blind and confined to a makeshift wheelchair, and his downtrodden manservant, Clov, by a physically nimble Daniel Radcliffe. There's little in the way of a storyline, but we feel we've entered the near-end of a long-standing relationship of mutual dependence between the two; Hamm aware that Clov is having thoughts of leaving him and ramping up his acerbic barbs and self-indulgent soliloquys, and the long-suffering Clov, committed to his master but jibing back as he inches his way to his imminent departure.
With Beckett famously prescriptive in his stage directions – once suing a 1986 American rep production; "Any production of Endgame which ignores my stage directions is completely unacceptable to me" – you might think there's little to be added in a production of the play, but director Richard Jones, and his cast, give this as much as they can, and elect to play it for laughs, true to Beckett's adage that "nothing is funnier than unhappiness."
Radcliffe, in another decision to get as far from his Potter legacy as possible, gives a very physical performance, throwing himself about the stage with a speedy limp, hopping up and down his stepladder – at one point eliciting a gasp from the audience as he (seemingly) nearly fell – and Cumming delivers in flamboyant theatrics as befitting the resentment of unrealised potential that inhabits Hamm, in spite of the unnecessary distraction of his emaciated prosthetic legs.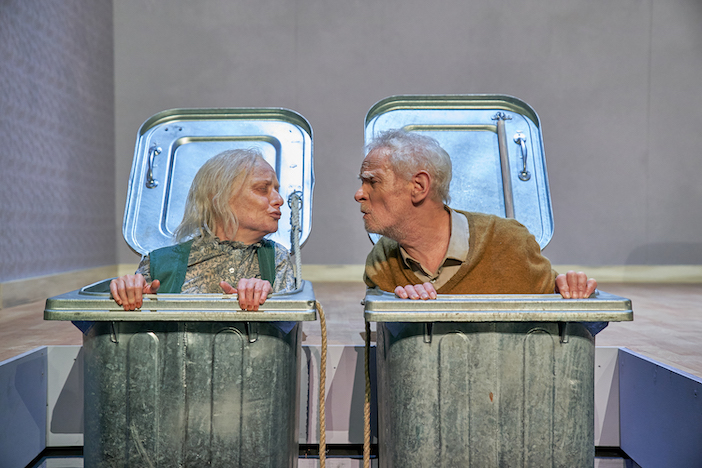 But the high points have to go to Nagg (Karl Johnson) and Nell (Jane Horrocks), Hamm's aged, legless parents. Their scene-stealing turns from their flip-top dustbins at the front of the stage make up a fraction of the run time but provide much of the light relief. An almost unrecognisable Horrocks delivers Nell virtually in slow-mo, but it's Karl Johnson, pitching Nagg somewhere between the Cookie Monster and Albert Steptoe, that proves mesmerising, particularly with the infamous monologue of the tailor and the pair of trousers.
We're eased into this Endgame gently, coming as it does in a double bill with the rarely-seen short 'Rough for Theatre II', a 30-minute two-hander, again featuring Radcliffe and Cumming as bureaucratic angels reviewing a suicidal man's life. It's a further insight into Beckett's mind and his analysis of the human condition. But why just a 'rough'? It's a good premise, so why did he not develop it? One senses he feels it could only go so far and might, in a synonymous moment of 'Oh, what's the point?', have simply decided to end it, so to speak.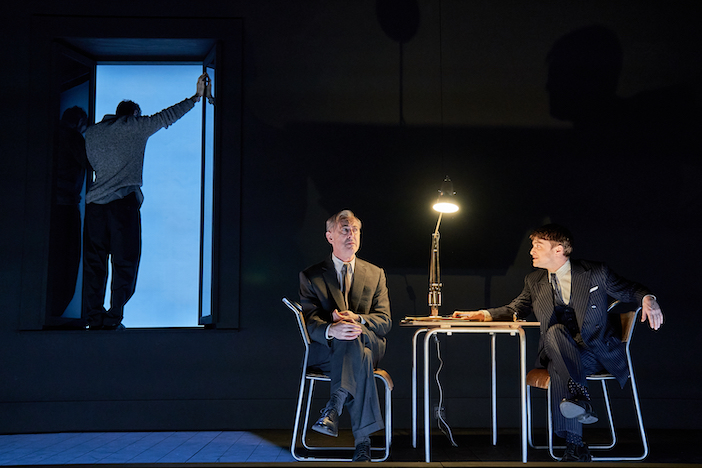 A double dose of Beckett might seem too much for some for an evening. Endgame is unsettlingly bleak, even cruel, in spite of the feeling of schadenfreude that might appeal, and the production does as much as it can to squeeze out the humour. Whether it's funny, however, is completely subjective. There were several in the audience roaring with laughter throughout, nervous or otherwise, as much as there were others remaining stony silent, proving Beckett is, as ever, both as divisive as he is incisive.
One thing's for certain; as my companion, himself a Beckett fan, commented at the curtain, "You don't so much enjoy it, as endure it."
Endgame and Rough for Theatre II runs at The Old Vic until Saturday 28th March 2020. Tickets start at £12. For more information and box office, visit www.oldvictheatre.com.
Photos by Manuel Harlan.