The West End hit, Ghost Stories, is currently at Theatre Royal Bath as part of its first UK Tour. Written by Jeremy Dyson and Andy Nyman, who also directed the play with Sean Holmes, it comes with an advisory to those of a nervous disposition (me!) not to see the show. Meanwhile the plot is a closely guarded secret with producers politely asking critics on a programme cover note to refrain from divulging anything that might spoil the experience for others. A clever device I will of course respect whilst trying to enlighten you as to the overall production and whether Ghost Stories is as spine tingling as it's billing promises.
There is a frame of mind the audience is required to have when seeing this; a lack of scepticism and an openness to being scared – the latter being something I all too easily possess. I wanted the evening's entertainment to make my heart pound with terror, to sit petrified on the edge of my seat, and squeeze my husband's hand to nigh-on breaking point. I was reassured when a gentleman behind me in the audience proudly announced, 'I've seen it four times, and it still makes me jump!'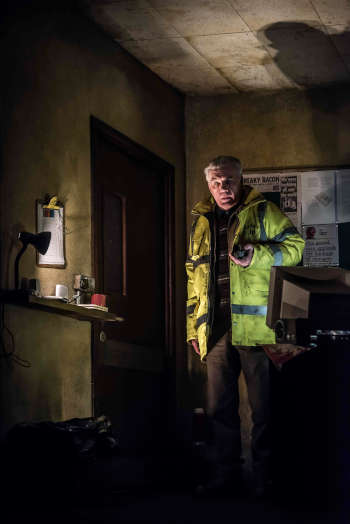 Even as the audience enters the theatre and take their seats, they are greeted by howling wind sound effects (suitable given that Storm Brendan is raging outside) and a low base infrasound akin to a lion's roar, cleverly designed to put everyone on edge, just like the theme music of cult classic Halloween gives us goosebumps before anything remotely scary has happened. Flickering lights strung around the auditorium add to the atmospheric effect and remind me of the stomach churning anticipation of my first ghost train. I was bracing myself.
The four member cast (or should that be five?) is led by Joshua Higgot as Professor Goodman who offers us three 'true life' supernatural tales from men who have contacted him for advice following traumatic events; Tony Matthews (Paul Hawkyard) Mike Priddle (Richard Sutton) and Simon Rifkind (Gus Gordon). Produced by the Lyric Hammersmith, the popularity of the show is due in large part to the sound effects (Nick Manning); channeling our anxieties with the help of loud piercing screams, a child's lullaby and banging doors. Couple this with dark woodlands, claustrophobic spaces, monsters – all interspersed with making the audience sit in a pitch black auditorium when they least expect it – and you begin to get the picture.
Ghost Stories is something of a rickety old ride, packed with humour which allows the audience the joy of escapism through this rather tongue-in-cheek tribute to retro horror films. Truly frightening or disturbing, no (even for one who is easily terrified). Enjoyable? Yes, most certainly. The fact that it runs without an interval increases the suspense brilliantly, for just like a ghost train ride, half the fun is knowing that you have to endure it to the end. I didn't sleep with one eye open, but I did start to get the chills when this review kept freezing when I tried to publish it. Better call Professor Goodman…
Ghost Stories at Theatre Royal Bath until Saturday 18th January 2020. For more information and tickets please visit the website.