David Mamet's Pulitzer-Prize-Winning Glengarry Glen Ross is an electrifying drama thirty-five years since it was first premiered in 1984 at the National Theatre. Adapted into a major Hollywood film starring Jack Lemmon and Al Pacino, it's themes strongly echo Arthur Miller's Death of a Salesman and the tragic tale of washed-up Willy Loman, yet it's a work that stands alone as a study of desperation, and is a strong younger sister to Miller's earlier portrait, complete with masterly dialogue and language that still managed to raise eyebrows among the more conservative members of the audience at Theatre Royal Bath on opening night of a short but sweet week-long run.
Directed by Sam Yates, the impactful, punchy first half introduces us, in separate, intriguing scenes, to the four Chicago salesmen trying to make ends meet by flogging real estate, some with more success than others due to the way 'leads' are dished out. The failing salesmen, Shelly Levene (Mark Benton), Dave Moss (Denis Conway) and George Aaronow (Wil Johnson) find themselves in a frustrating catch 22 situation, with Ricky Roma (Nigel Harman), as top of sales, handed the premium targets to follow up, while the others have the thankless task of pursuing dead-ends day after day.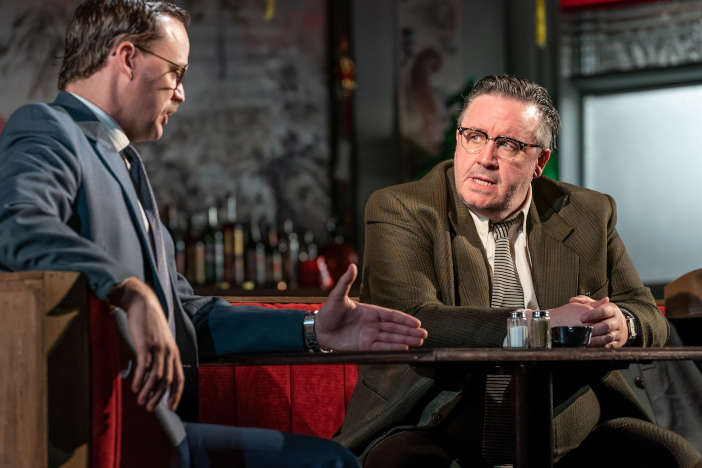 It's a hopeless circle that leaves the despairing Levene floundering and begging uptight sales manager John Williamson (Scott Sparrow) to do the dirty and give him the premium leads in exchange for a cut of the profits and money up front – money he struggles to produce. More corruption comes in the form of Moss harassing the dim-witted and naive George to break into the office and steal the precious contacts in order to sell them to a competitor for a quick buck. Meanwhile Chiara Stevenson's sets, the seedy Chinese restaurant of the first half and the overturned office with its steel blinds of the second, add a great deal to the atmosphere and parochial-nature of this comically-layered capitalist drama; an era-capsule enhanced by the 1980s costumes, complete with a camel coat, over-sized glasses and armbands.
Despite putting in a delivery that is ultimately heart-warming and poignant, Benton needlessly shouts his way through his early scenes, making Harman (who replaces Christian Slater) the stand-out and most natural performer of the night, with a pitch that's flawlessly well-judged throughout. Delivering a confident, sinister portrayal of the ambitious Roma, Harman showcases his character's adept sales skills when persuading a man he meets in a bar, James Lingk (the wonderfully subtle James Staddon) to consider the benefits of land ownership.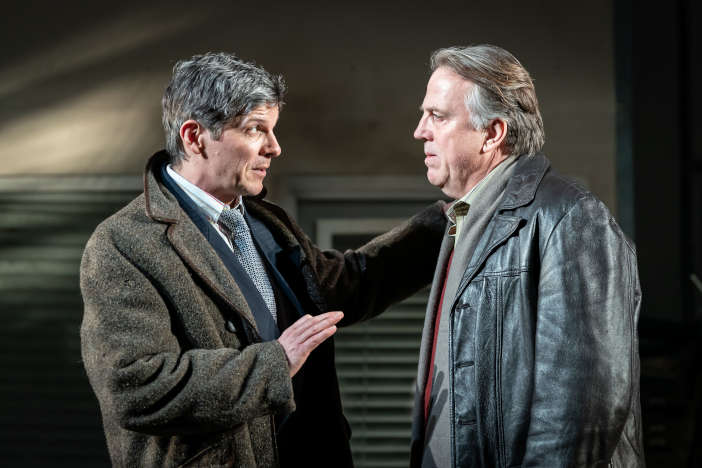 Taking advantage of Lingk's closet homosexuality and obvious unease in an underhand technique that earns him an impressive, if dubious sale, Roma's ruthlessness and arrogance is a thought-provoking look at the young, optimistic salesman oblivious of his own use-by-date – for isn't he just a few short steps from becoming one of the dissolute bunch he currently patronises, clinging to their own glory-days while he edges closer to his bonus and new Cadillac?
Mamet's brilliantly written, expletive-packed insight into the sales see-saw of elation versus catastrophe (illustrated by the chalk-board on which Roma is listed as top-dog), boasts flawed characters who are the victims of a society spurred on towards greed and self-interest, balanced between the chase and intoxication of closing 'the deal' and the depression of sales impotency, crumbling manhood and self-respect. Yates's sensitive direction exposes every angle of the great American downfall, whilst lending this timeless morality-tale human faces we can both relate to and despise.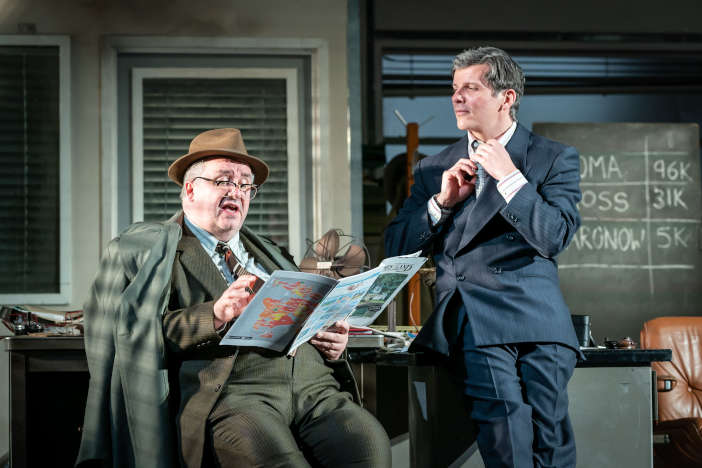 With heavy-handed police officer Baylen (Zephryn Taitte) investigating the stolen leads, contracts and office equipment in a side office during the second half, thereby increasing the overall tension of this claustrophobic environment, our prior knowledge of the plan hatched by George and Moss leaves us dumbfounded when the actual thief is eventually discovered by the callous Williamson. Currently at Theatre Royal Bath as part of a UK tour following a successful West End run, the only thing that's an undisputed success is this enthralling revival of Glengarry Glen Ross which doesn't need any arm-twisting to get audiences to buy into it. Satisfaction guaranteed.
Glengarry Glen Ross at Theatre Royal Bath until Saturday 23rd March 2019. Production images by Marc Brenner. Running time approximately 1 hour 45 minutes including an interval. For more information, including tour dates and venues, and tickets please visit the website.