So the news is all about fakery on the daytime TV sofas. And it concerns a guy named Phil. Sounds familiar? Indeed, but it's not that Phil. But there again, it really should sound familiar because this is the new production of Groundhog Day at the Old Vic.
The idea of repeating your experiences until you get them right is an old one. According, for instance, to Aristotle, by doing good deeds you become good and, of course, the reverse is also true. In the case of cynical, arrogant, self-serving Phil Connors, daytime weatherman, he has certainly gone in the bad deeds direction. Rude, dismissive, at times cruel, he is a nightmare to work with and borderline sociopathic. His learning curve, as everyone will know from the film, is to repeat one day over and over until he starts to get it right.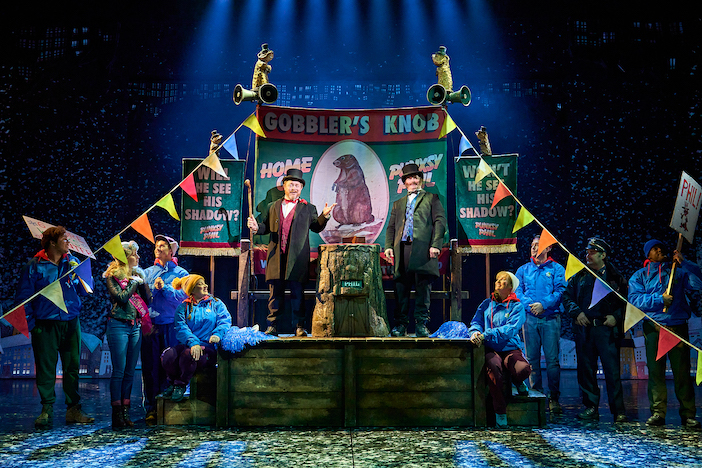 The day is 2 February, known as Groundhog Day, because of a tradition brought by German settlers to Pennsylvania: if the groundhog (we'd say marmot) comes out of his burrow and stays out, spring is coming; if he runs back in, there will be six more weeks of winter. Connors does the report with his producer and cameraman then stays an extra night because of a blizzard. When he wakes up the next morning, it's 2 February all over again.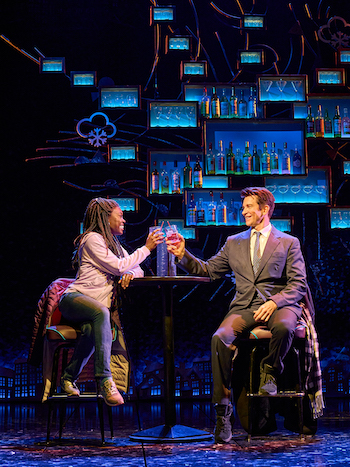 What is very different here from the film is that the Old Vic has put on a musical. And, unusually, this transformation has strengthened the storyline, along with some quite brilliantly funny lyrics by Tim Minchin. The production is as full on as you can get with a team of high-kicking singers/dancers, videos and animation, a great live orchestra, puppetry, "illusions" (how does Connors pop up in two places at once?) and an enema.
The cast is superb. Tanisha Spring, as the downtrodden rookie producer, Rita, has a powerful voice and a vulnerable charm. As the anti-hero Phil Connors, Andy Karl transforms himself from churlish misanthrope to good guy through some hilarious scenes (parties, seductions, drinking, attempted suicides and a car chase over railway tracks) in his trial-and-error journey towards redemption. As the cute girl he initially tries to seduce, Eve Norris reveals another side in her quite lovely solo. And, thank goodness, she hooks up with the nice cameraman at the end. Because this is a show where, finally, all are redeemed in a truly euphorically happy ending.
Groundhog Day is back at the Old Vic, seven years since it premiered here. We can only hope it will keep on repeating…
Groundhog Day runs at the Old Vic until 19th August. For more information, and for bookings, please visit www.oldvictheatre.com.