Sheridan Smith has come one heck of a long way from the days of Two Pints of Lager and a Packet of Crisps. Not only might you struggle to recognise her for the dark wig and nineteenth century get-up she can currently be found sporting, but the steeliness, subtlety and control that she is displaying onstage at The Old Vic must surely elevate her to a new plane altogether.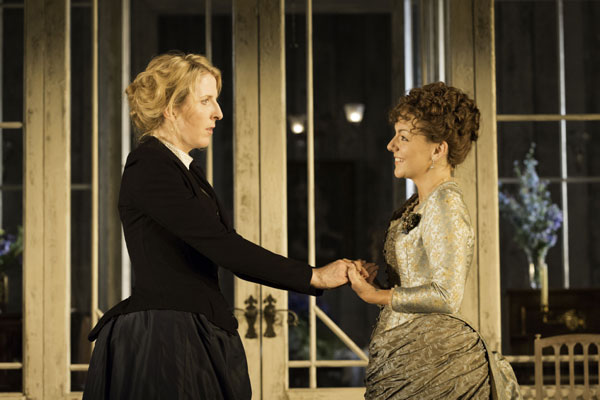 The title role in Ibsen's Hedda Gabler is widely thought of as the fe-male Hamlet – the single greatest challenge for an actress in the theatre – and so, despite Smith's more recent successes on the stage (earning her Olivier Awards for Legally Blonde: The Musical and Terrance Rattigan's Flare Path), it was always going to have been a brave choice to cast her as this complicated, confusing, nigh on terrifying character. She rather refreshingly voiced her nerves to her Twitter followers, admitting that she felt sick at the prospect of taking the part on and, though this is certainly endearing, it meant that my breath was markedly bated as the lights dimmed.
I needn't have worried as Smith prowls the stage sneering and sniping at the poor beings that fall in her way whilst maintaining a stony presence that is genuinely unnerving. Flitting between bitchiness, boredom and coquetry, she manages the most brutal sarcasm with her head held high, her smile stretched over clenched teeth and a wrinkle in her nose whilst speaking that evokes heartless (and yet hilarious) ridicule at the speaker. You are not meant to like Hedda – and believe me I don't – but the comic composure of this one is captivating and particularly effective when such poise gives way to our protagonist's maniacal demise.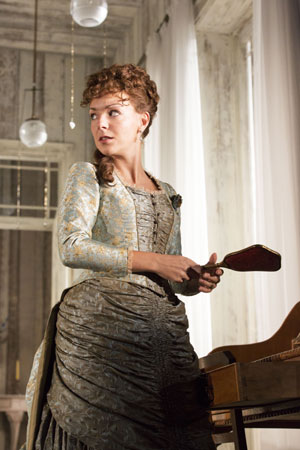 We meet the beautiful, notorious daughter of the late General Gabler returning from honeymoon as the new Mrs George Tesman. The fashionable, wholesome house doesn't seem quite the right place for a woman whose most prized possessions are the guns her father left her (to which she turns for both excitement and solace) and one gets the feeling that this loose cannon will not be contained here. From the get-go we are alerted to the somewhat suffocating presence – for any bride – of George's family: his beloved aunt and an institutional maid called Bertha who is ruddy-faced, stuck in her ways and none too impressed by her glamorous new mistress (this stubbornness is borne out resolutely by the excellent Buffy Davis). It is not surprising that Hedda might feel a tad frustrated and this sets her on a path of utter destruction.
With Anne Reid as the kindly Aunt Ju-Ju, one is undoubtedly in good hands but it is Fenella Woolgar who makes the real difference as the anxious Thea Elvsted. Having just run away from her husband, she is laughed at to begin with but she alone keeps her head when chaos unfolds, and with powerful resolution. Her academic relationship with the brilliant young writer, Eilert Loevborg, is cruelly dissected by Hedda who deliberately tempts Eilert into the vices that once con-trolled him, and her powers of manipulation over these characters leaves your jaw hanging.
George Tesman is a highly respectable young academic, enraptured by his subject and blissfully unaware of how anybody might find it in the least bit dull. A mix of boundless enthusiasm, blinding naivety and a spotless heart make Adrian Scarborough's incarnation comic to the point of sadness. He hops about the stage with terrific energy, blithely unaware of most unfolding tensions and yet sweetly attentive to one and all. Instead of whiny or insensitive, this Mr Tesman is adorable and you end up feeling very protective of him when his wife's sharp tongue is fired in his direction. I do wonder if this buffoonery is a little over zealous but, to be fair, Scarborough does give his moments of solemnity their due and, anyway, George and Hedda play wonderfully off one another – the nicer one is, the nastier the other; as ecstasy takes over one, so insanity consumes the other. Never were chalk and cheese so poignantly combined on stage.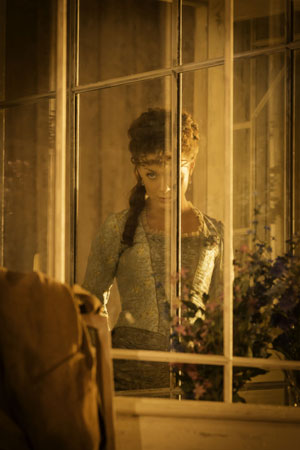 All of this makes for rather a funny show – the sharp quips flying about and conflicting reactions lull you into laughing – but lest you forget that this is a tragedy of Chekhovian might, and when events do escalate to their dark heights the shock comes as quite a blow; also down to the clever staging. The set shows the Tesman's home as a refined dwelling with lots of glass and light, and white voile billowing from the full-length windows. This creates a summery feel, which contrasts the mention of September – pointing to the punishing Nordic winter on its way – that offers an ominous hint to the events that are about to unfold. An inside layer of glass creates a room within a room so that everything can be played out onstage, even when characters would otherwise be out of sight, and not only does this allow for suspicious peering through panes but points to the goldfish bowl that Hedda feels herself to be trapped in. The beauty of the house is ultimately shattered as Hedda's final shot rings out, drenching the pure glass walls with blood. Yes, slightly gruesome.
What is crucial is that Brian Friel's adaptation boldly gives Hedda the one thing you might think would destroy her – vulnerability. In con-fessing that she envies Thea's courage and that she sometimes feels possessed by a force that pushes her mischievousness into cruelty, leaving her with no control over herself or her actions, we see a flash of weakness that lets us understand why she acts as she does (even if it is not forgivable). Such humanity, strangely, makes her wickedness more plausible and when madness really takes over, what you see is a woman on the edge rather than a straightforward monster. And as Smith storms about at this point she has you quivering in your seat.
This haunting production has a life all of its own and if anyone thought the casting was a gimmick to attract the crowds, they severely underestimated the skill of the whole team involved.
Hedda Gabler runs at the Old Vic until 10th November 2012. For more information and tickets, visit the website.