Presented for the first time in the English language, Jean Poiret's play La Cage aux Folles has been a labour of love for artistic director of the Park Theatre, Jez Bond, who first explored its development over ten years ago. The adaptation has been provided by Simon Callow and both were consistent in their vision to keep the original sentiment, setting and time period. However, this doesn't fully allay any discomfort with the views portrayed in the production. Yes, France in the early 70s was a different time – nominally liberated and hedonistic, but with the confines of the past not a distant memory – but a play that asks of its lead characters to deny their sexuality, identity and a vision of themselves that they have had to work hard to be comfortable with, declaring homosexuality as a taboo, still feels politically charged in 2020.
The basic premise of the play remains as in the, perhaps better loved, musical; long term partners Georges (Michael Matus) and Albin (Paul Hunter) run a St Tropez drag club and live in an extravagant riviera style apartment. When son Laurent (Arthur Hughes) declares the imminent arrival of his conservative future in-laws, the couple attempt to transform their boudoir into an altogether more staid place, but it doesn't take long for the cracks to show.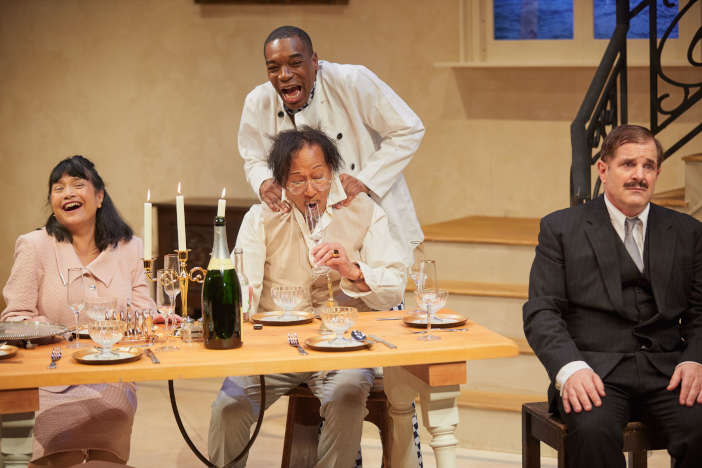 There are some individually very enjoyable performances and moments of great comedic value, notably from Syrus Lowe playing the flamboyantly fabulous male maid whose headgear is a spectacle in itself and his inability to walk in flats very entertaining. Michael Matus as Georges fares better of the two leads with a more measured performance, while Paul Hunter's Albin comes in to his own during a second half impersonation of Mark Cameron's Zorba explaining how to prepare a meal, the tendency towards exaggeration is overwhelming in the first half.
Unfortunately, though, the play lacks consistent and considered pacing. While the first half might be seen to take a while to get going, the second half is a violent rampage on the senses with everybody coming and going, and coming and going again, rising to some sort of unexplained peak, and then abruptly the lights go out. No prior knowledge of any of the various musical productions is required, however they would probably help to give some context that might mean the play makes a tad more sense. Some scenes are awkward and slow, others barely start before they finish and actually the critical tensions between Laurent's future in laws and Georges and Albin are too fleetingly glossed over. The restrictions of the Park's staging means we miss out on a closing razzle dazzle number which one can't help but feel would create a more rounded and complete production.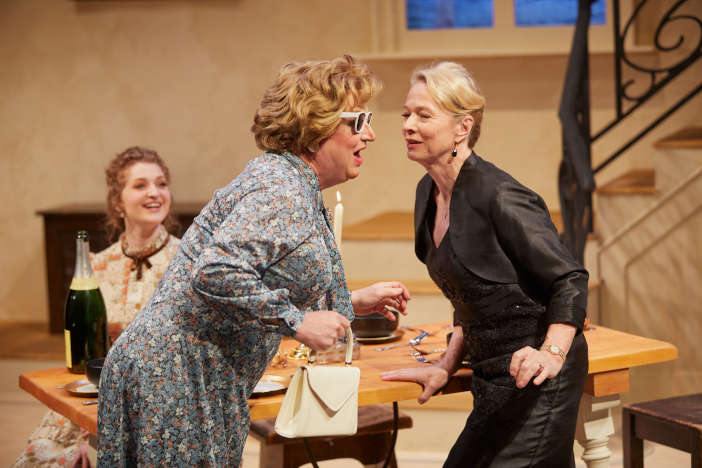 The musical adaptation is a celebration of being true to oneself, of self-acceptance and an 'anything goes' attitude. This production doesn't particularly attempt to channel this, nor to answer any political questions or counter any prejudices. It's not necessarily particularly sophisticated, some of the lines do feel outdated but as a simple farce with some guaranteed laughs you can be sure of an enjoyable evening.
La Cage aux Folles The Play at Park Theatre, Clifton Terrace, Finsbury Park, London N4 3JP, until 21st March 2020. Production images by Mark Douet. For more information and tickets please visit the website.