Much has been made of the climate change issue in Duncan Macmillan's new two-hander at the Old Vic. And it is certainly there. The unnamed couple worry – "We are good people" they reassure themselves – about being responsible for the gigantic carbon footprint (10,000 tons of CO2, like giving birth to the Eiffel Tower) a baby would bring. Maybe they could plant a forest to offset? But this is the background, not the foreground to Lungs. Centre stage is a life story – in fact, two life stories.
This is a play about a couple – let's call them Matt (as in Smith) and Claire (as in Foy) – who face up to the big decisions in a series of monumental, life-changing conversations. Everything else, all the normal everyday stuff, is stripped out. And it all takes place on an equally stripped-down stage – director Matthew Warchus has thrown in a couple of solar panels as the only visual distraction. At first, the pair seem faintly ridiculous virtue signallers, but the warmth and obvious chemistry generated by Foy and Smith overcomes that pretty quickly. You start to care about them.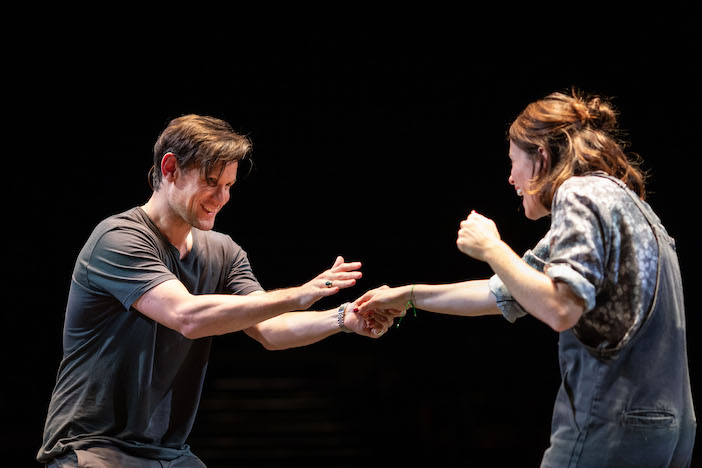 The first big conversation is instigated by Matt – who suggests they should have a baby. This elicits an outpouring of stream-of-consciousness thinking-it-through from Claire – her basic modus operandi – who eventually suggests they should get out of this IKEA queue as everyone is staring at them. It's a very funny moment and one of many. And it's the first time, too, we hear the refrain "we're just having a conversation".
Matt Smith is the quieter partner. His character (an out-of-work musician) spends much of the time standing, his emotions passing unsaid across his face, while Claire pours out thoughts, images, ideas, memories and imaginings. A man out of his depth, he has one outpouring of his own when he soliloquises how he wants to do the right thing but is mostly struck dumb by his partner. Fortunately, he thinks, she somehow takes his silence as a sign of his inner strength.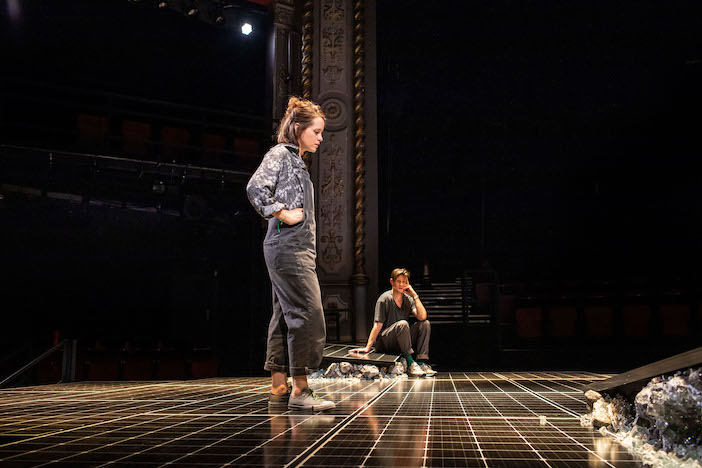 The almost bare stage and the lack of any other characters mean that you only know where the couple are by their own words and actions. So, from IKEA, we skip to a club in a heartbeat. You know time is passing when a devastated Claire, after a miscarriage, sits like a statue gazing into nothingness as Matt marks the days, "Goodnight, morning, goodnight…"
It all takes split-second timing and emotional somersaults from the actors who deliver a pair of tour de force performances, with Claire Foy particularly dazzling. The dialogue is rapid and three are times when they talk over each other, desperate to cram in all of life's turning points. The ending comes quickly – in every sense. The play is just 80 minutes long and you hurtle through without an interval on a journey through all the rollercoaster moments. It's a joy.
Lungs runs at The Old Vic until 9th November. For more information and box office, visit www.oldvictheatre.com.