"I am a man who paints. Nothing more nothing less. I paint what I see. I paint how I feel."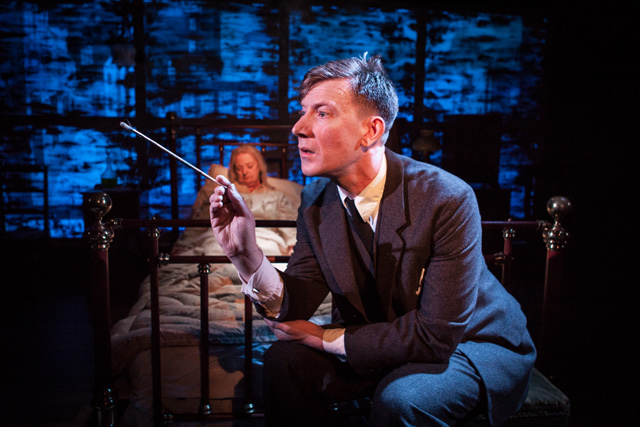 Developed from a  BBC Radio 4 drama first broadcast in 2012, Mrs Lowry and Son imagines the seven years that the painter L.S. Lowry spent caring for his bedridden mother from 1934. Written by BAFTA-nominated Martyn Hesford and starring June Watson and Michael Begley, the play offers a fascinating insight into her perennial disappointment at having had a son rather than a daughter and on being forced to live in Pendlebury as a result of her husband's debts. Mrs Lowry's dissatisfaction with her lot in life is evident.
The space is intimate, bordering on claustrophobic, with the set depicting Mrs Lowry's bedroom where she spends all her time and her beloved Laurie is required to spend most of his – brining food to her and indulging her whims including giving her foot rubs. The single source of light from the window brings the potential for hope but also a continual reminder of both their individual desires for acceptance. The inclusion of the projection of his work behind the bed was a nice touch which also served to indicate the extent to which his painting was integral to both their lives, for better or worse.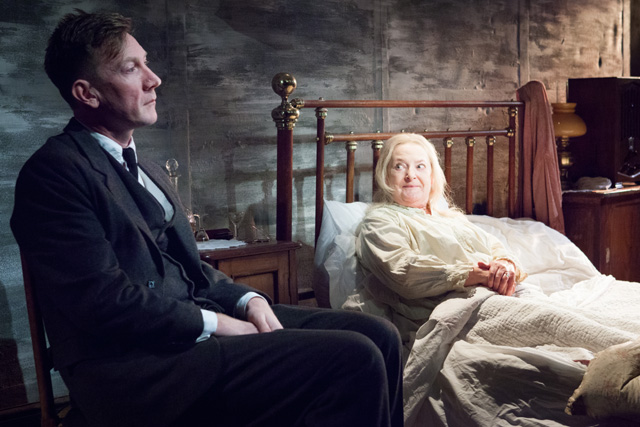 It's not all doom and gloom however; there are moments of genuine comedy but these very quickly turn uncomfortable, with both characters able to elicit genuine sadness. The harsh words of Mrs Lowry are enough to make you shift in your seat and you yearn to console Laurie as he stares out in to the audience, desperately hoping for some recognition and the ability to connect. The skill of both actors is apparent, with the characters incredibly well captured. Lowry's discontent can easily be explained by the isolation he felt and as illustrated by the static movements he conveyed within his art. Art which his mother considered the vulgarity of Pendlebury:
"My paintings are not just pictures of streets, mills and factories. Every stroke of colour is made up of me."
"How self-indulgent, get yourself to a doctor."
In many ways you could argue that not much happens, and certainly the play is a study of character as opposed to one driven by action. This same sentiment also neatly encapsulates the paintings that Lowry created. Just as he normalised the hardships of the lives of those he painted, so did he his own suffering from the fraught relationship with his mother. It is with this outlook that the knowledge that he painted to please her and never achieved widespread acclaim until after her death is even more distressing and poignant.
Mrs Lowry and Son at Trafalgar Studio 2, 14 Whitehall, London, SW1A 2DY, until Saturday 23rd November 2013. For more information and tickets visit the website.