Supposedly inspired by a couple he knew (a likely story), the English playwright Peter Nichols' Passion Play might be the old familiar story of adultery, but the setting, sparkling dialogue, and clever approach of giving the husband (Owen Teale) and wife (Zoë Wanamaker) brilliantly cast alter egos in order to convey their inner thoughts and feelings makes for a gripping piece of theatre. First premièred in 1981, this revival 30 years on proves Passion Play is a timeless and truthful portrayal of the consequences of betrayal and the fragility and importance of trust.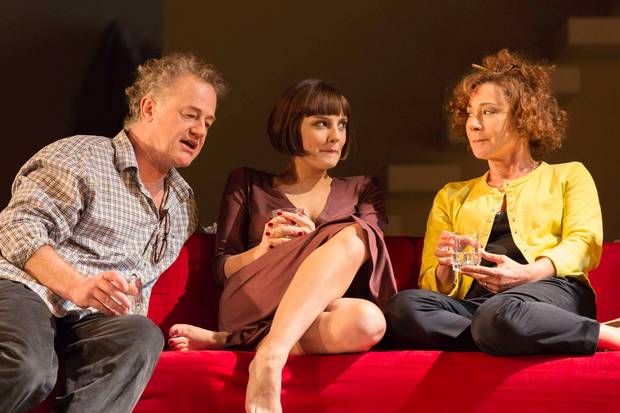 Zoë Wanamaker plays Eleanor, the contented amateur chorister married to painting-restorer James, who, after 25 years of marriage is both taken and taking for granted. They make the fatal error of befriending the young and attractive Kate, the mistress of their late friend who's not even cold in his grave before Kate drips poison into Eleanor and James Croxley's marriage. She tells Eleanor of her attraction to James, who is easily flattered after a quarter of century of seeing the same woman naked; he is easily seduced by Kate's brazen charms and advances in a restaurant where sex is the only dish on the menu. Oliver Cotton as Jim, James's selfish and bastardly psychological counterpart, goads him on until resistance to a mid-life crisis is futile, posing the somewhat clichéd question – "Why can't some people ever say no?"
Annabel Scholey's Kate is a ruthlessly provocative brunette who tramples over the lives of her so-called friends as effortlessly as she glides the Duke of York's boards in killer black stilettos. Turned on by carnal danger and alluring husbands away from their wives, she relishes the secrecy and lies on which her relationship with James depends. Not at all likeable (but then she isn't meant to be), she isn't the type of girl men marry and, recognising her place as a "bit on the side", all she can do is wreak as much devastation as possible, whilst convincing herself that she is sexually liberated and making her own choices. Discovery is all too inevitable but, rather than detracting from the plot, the predictability builds necessary tension.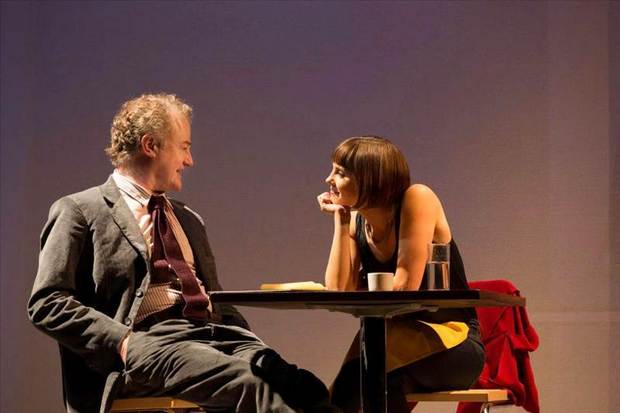 Sian Thomas plays Eleanor's gloating friend Agnes to perfection, and with a friend like that it's not difficult to understand why Eleanor admits that it's the humiliation rather than the treachery that gets to her most. Samantha Bond snipes from the sidelines as Eleanor's stronger inner self as she battles to stand up for herself and offer James an ultimatum – the "you can't have your cake and eat it" kind. Eleanor, undergoing a sort of grief for the failure of her marriage, loves James no less as a result of his shortcomings – and doesn't he know it. When the dust has settled, Kate has the nerve to suggest they all remain friends and voices the idea of a threesome – lapped up by the perverted middle-aged James (and men in the audience) but alas, stretching Eleanor's self-proclaimed open-mindedness to the extreme.
Despite James finding Kate lacking in sensuality and no competition to his own wife in the bedroom, and asking himself "was it worth it?" he still finds any excuse in the book to get away from his now paranoid wife in order to continue the affair – a double bluff ending which reaches the ultimate finale with Eleanor's desperate cry for help.  A production of true class, everything from Hildegard Bechtler's revolving red sofa, Laura Hopkins' mirror-image costumes, to the dramatic score of St Matthew Passion, are considered and add emphasis to the polished, if slightly stereotypical characterisations. Director David Leveaux evokes a reality into this black comedy that might be uncomfortable for audience members who have had their own experience of infidelity or young couples clenching their fists in fear of ever turning out like that.
Passion Play at the Duke of York's Theatre until Saturday 3rd August 2013. Performance time approximately 2 hours and 20 minutes including a 20 minute interval. For more information and to book tickets visit the website.