Noel Coward created the role of Garry Essendine in Present Laughter, partly as a self-caricature, partly to provide himself with one humdinger of a role. By turns, charming, monstrous, witty and utterly amoral, Essendine gives the right actor the chance to dazzle. And, boy, does the Old Vic have the right actor.
Andrew Scott (Moriarty, Fleabag's hot priest) is clearly having the time of his life as Garry, whipping himself up into a frenzy of self-righteousness, clambering over furniture and people, face contorted, pouting and leering, arms waving and jerking, and running (I kid you not) on all fours across the stage. His fury results from his almost entirely self-created problems within his group of close friends whose inter-dependency would give a psychoanalyst a field-day. Fortunately, Coward is no psychoanalyst, just an acute and quizzical observer of human nature.
The Old Vic's production, directed by Matthew Warchus, has taken a few liberties with the original play, written in 1939, the most obvious being a sex change for a couple of the roles. So, Garry's love interest (well, the one that causes the most problems – there are several) is now a man rather than a woman. One of Garry's problems is that, as the leading matinee idol of the day, everyone keeps falling in love with him – flirty debutantes, aspiring playwrights from Uckfield and a whole host of others whose letters are read out by his secretary Monica (Sophie Thompson, quite brilliantly acerbic).
There's little point in explaining the plot – just think French farce meets the wittiest of bons mots among a group of bohemian luvvies. The entire play takes place in Garry's louche teal-coloured flat, littered with empty champagne bottles, its centrepiece a frequently used circular daybed. As relationships get ever more complicated, characters are hidden in spare bedrooms or offices, complex ploys with coded telephone messages become cries for help and all the while Garry becomes increasingly appalled by the circus he has set in motion and can no longer control.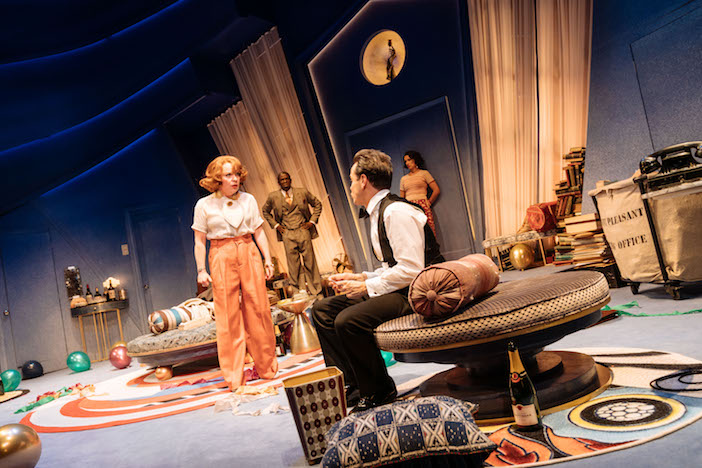 The evening doesn't entirely belong to Scott. Joshua Hill as Fred, Essendine's valet, greets each of his employer's conquests with the same knowing smile. Liza Sadovy, is both the gloomy Scandinavian spiritualist housekeeper and puts in a hilarious cameo as Lady Saltburn complete with bath-chair and drip. Luke Thallon, as Roland Maule, is terrific as the would-be playwright and angry young man who crumbles into hero-worship. Sophie Thompson is drolly superb as the long-suffering secretary/mother figure to Scott. Indira Varma as Liz Essendine, Garry's not-so-estranged wife is a cool operator, her surface polish not quite disguising her feelings in the bitter-sweet ending.
In the end, though, it is Scott's night. He plays the vainglorious celebrity actor to the hilt and clearly loves every minute of it. It's a must-see.
Present Laughter runs at the Old Vic until 10th August 2019. For more information and tickets, visit www.oldvictheatre.com.
Photos by Manuel Harlan.