Currently showing at the Playhouse theatre in London's Embankment is the revival of Simon Callow's one-man marvel, The Mystery of Charles Dickens.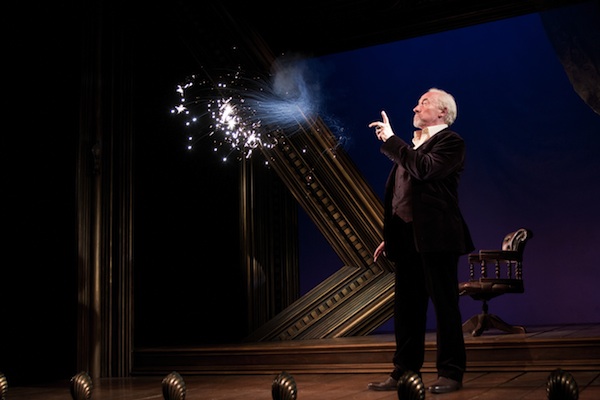 Written by Peter Ackroyd, the play distills the 1000 pages of Ackroyd's biography, not to mention 58 years of one of literature's most prolific and energetic writers, into ninety minutes of utterly engaging theatre. Callow single-handedly takes the stage, not as you might think playing Dickens, but – with little more than a burgundy velvet suit and an antique chair – walks us through Dickens' life, and not simply by summarising the key milestones;  what makes this production so spirited is that Callow inhabits key characters from Dickens' works to illustrate the journey through the great man. Forty-five of them, to be exact.
Opening originally in 2000, Callow has revived the play in this the bicentenary of Dickens' birth. A fitting tribute, really. One evening before curtain up, Al Senter and I popped down to the stage door to have a brief chat with the man himself – Callow, that is, not Dickens. Here, for Arb-TV, he gives us a toe-dipping account into the play, and what we might see on the stage and learn about the man…
httpv://www.youtube.com/watch?v=6k5M3RiDtjE
The Mystery of Charles Dickens runs until Saturday 10th November. For more information and tickets, visit the website.