Despite her tragic bad luck, there is always something chipper about Charity Hope Valentine. She may get dumped and duped and left high and dry and low and soaked by every one of her love interests, but when you watch Sweet Charity, usually, there is an unassailable chirpiness at its heroine's core – knock her down and somehow, sometime, she'll pick herself up again, her optimism repeatedly tested but never fully shattered.
So what's striking about seeing Anne-Marie Duff play this taxi dancer in Sixties Chicago at the Donmar Warehouse is that whilst there is clearly an indefatigability about her and a desire always to see the good in people and situations, that desire borders onto desperation in a far more poignant way than normal. Never fear, Duff has contagious amounts of fun with the role (high kicks, winks to the audience and huskily delivered gags abound) but her Charity is not just a bit fidgety, her physical awkwardness hints to a real form of anxiety, and her quest for real love does not come across simply as the idealised plight of some over-excitable schoolgirl, but as the desolate hunger of someone deeply ill at-ease with themselves. Charity has an armour – she has to in her job, where she and her fellow dancers "defend themselves to music" against the punters – so she is witty and wry and hugely good fun, but the sadness at her core is far more apparent from Duff than you get to see very often. On the flip side of that, when Charity is on a high, Duff revels in gaiety like her life depends on it. And that's not always a piece of cake, with Josie Rourke's direction requiring Duff to sway on a swing above a giant ball pond to deliver her very first number. That takes some abdominals, at the very least, and she belts out some impressively juicy mid and low notes throughout it.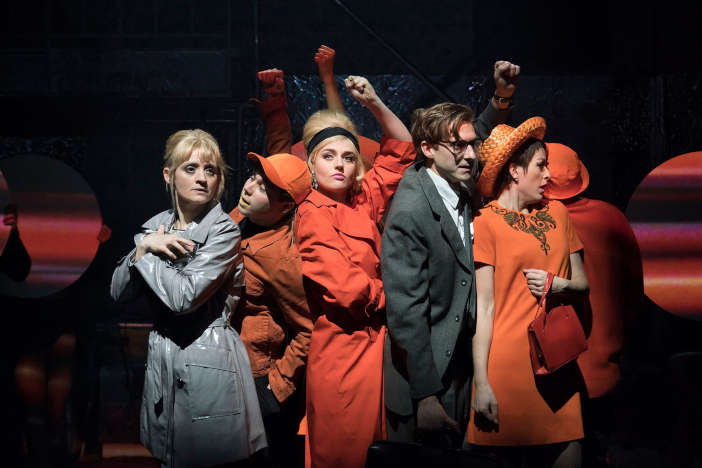 First performed in 1966, Sweet Charity's book is written by Neil Simon with music by Cy Coleman to Dorothy Fields' lyrics. It was made famous by the 1969 film starring Shirley MacLaine in the title role and Sammy Davies Jr as Daddy Brubeck – his performance of 'Rhythm of Life' stalwartly standing the test of time. And since this is director Josie Rourke's final production as the Donmar's artistic director, she isn't letting that fabulously enigmatic (and downright silly) role of hippy preacher of an underground new-age church movement go to waste, using her last hurrah to have some fun and turn Daddy into a cameo opportunity. First up is Adrian Lester, who lunges onto stage with feline suavity to shimmy his silver sequined top with glee. It's a shame that you only get him for the one song as his everybody was gagging to see more. Beverley Knight, Clive Rowe and others will perform the role later into the run.
This is hugely stylish Sweet Charity. The original choreography was by Bob Fosse and has been updated here by the award-winning Wayne McGregor, who is resident choreographer at The Royal Ballet and recently worked with Rourke on her first feature film, Mary Queen of Scots. Along with the largely monochrome aesthetic inspired by Andy Warhol's 'Factory', the result is incredibly slick. 'Big Spender' has occasional Cabaret silhouettes with girls draped over chairs and ladders, but their physical dominance as they stamp and squat on the revolving stage makes the number exhilarating. In some ways seeming like dolls on a conveyer belt, unable to move from their allotted positions, they compensate for any powerlessness by asserting their strength and tenacity all the more during the number. There are particularly stirring performances from Debbie Kurup and Lizzie Connolly (Charity's best friends and fellow dancers). Arthur Darvill seems made for the role of Oscar, Charity's jittery new beau, and it is a joyous moment suddenly to see Stephen Kennedy (as the vaguely sketchy club owner, Herman) come alive in the final moments, in his fabulously raucous rendition of 'I Love To Cry At Weddings'.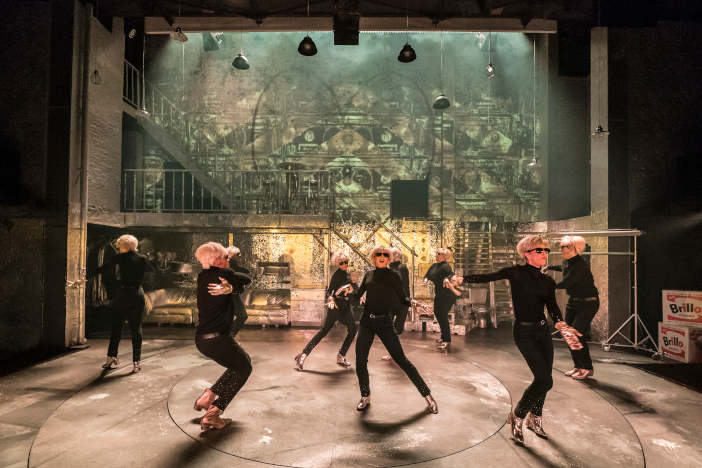 Sweet Charity seemed an incongruous choice for the Donmar, firstly because of the venue's size: it is miniscule and you are practically in the show yourself you're so close to the stage. That makes the whole song and dance of this particularly rousing, and if you're looking for the band, they're in the bar – not bunking off but because there's literally not space for them anywhere else; they play live but the sound is piped in. Secondly, the Donmar is what you might call a 'serious' theatre – its productions tend to be significant, weighty, sometimes experimental or just, generally, more highbrow than you imagine Sweet Charity to be. But perhaps they should try more musicals – they work in the space and if future artistic directors can imbue such fun, such flair and such sensitivity into them as Rourke has, then they'll be onto a sure-fire winner.
Sweet Charity at the Donmar Warehouse until 8 June 2019. Running time approximately 2 hours 40 minutes including interval. Production images by Johan Persson. For more information and tickets please visit the website.