The inaugural production of Bill Kenwright's The Classic Comedy Theatre Company and the team behind The Agatha Christie Company, The Classic Thriller Company, and The Classic Screen to Stage Theatre Company, Ten Times Table, the famed British comedy playwright Alan Ayckbourn's 1977 satire, is currently at Theatre Royal Bath during an extensive UK tour.
Written during the winter of 1976 when Ayckbourn's Yorkshire theatre company were finding a new home – transferring from the first floor of the Scarborough Public Library to the equally incongruous ground floor of the old Boys' Grammar School, the "interminable series of repetitive (and largely non-productive) committee meetings to finance and facilitate the move" inspired the playwright to compose Ten Times Table. "Up till then, I had had little to do with committees. Little by little, their procedures and protocols began to intrigue me. And particularly the people involved and the way they used these procedures….Apparent strong men weaken. Non-entities inherit the floor. Silent men gabble on inarticulately and to no point…Ten Times Table is a study of the committee person."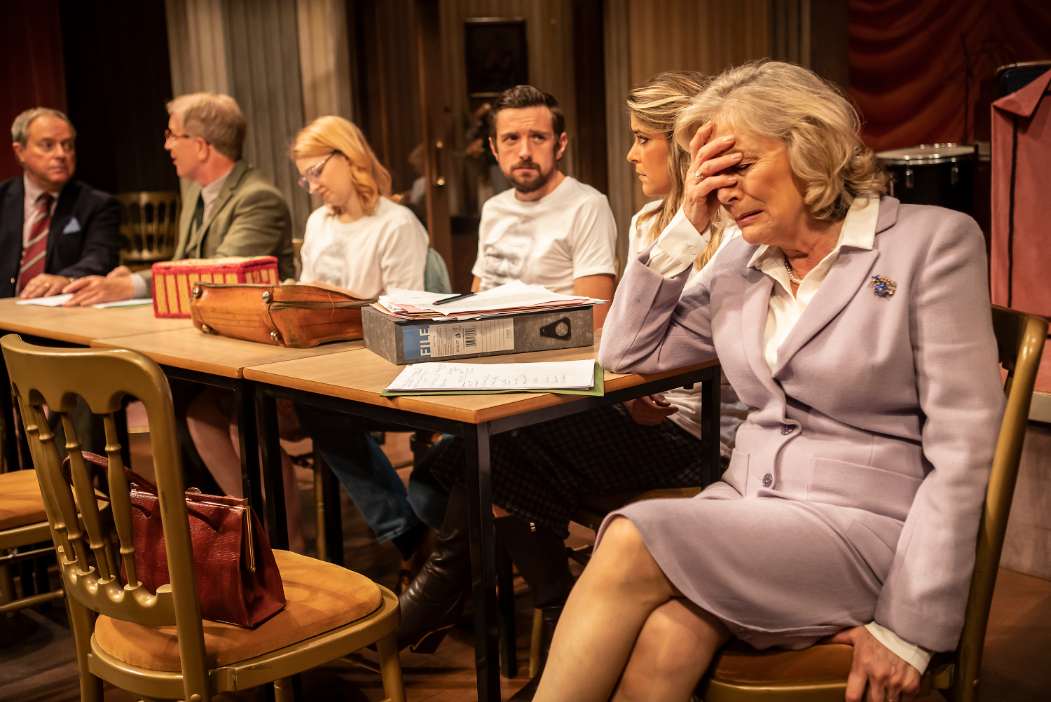 Set entirely in the faded ballroom of The Swan Hotel (designer Michael Holt) over a seven month period and featuring the largest number of characters Ayckbourn had then written for a single play, the audience are abruptly introduced to the various committee members who are planning the first Pendon Folk Festival. Some are overwhelmingly keen to hear the sound of their own voice, such as fur-coat wearing Helen (Deborah Grant) and the 'Marxist' teacher Eric (Craig Gazey), while Phillipa (Rhiannon Handy), Eric's partner, would prefer not to say boo to a goose. Chairman Ray (Robert Daws), after coming up with the concept of marking an historic event in the village which took place 200 years ago, The Massacre of the Pendon Twelve, is a rather indecisive peacemaker when proceedings turn increasingly raucous, with high pitched pleas that his associates calm down. A battle of personalities ensues and you wonder how this lot will manage to stage anything.
You have to hand it to Ayckbourn, he conjures up the worst memories of tedious, time-wasting meetings, filled with waffle, dumb ideas and sniping from the sidelines. I'm just not sure that makes for an enjoyable night of theatre. Ayckbourn was composing Ten Times Table over Christmas 1976 when he realised on Christmas Eve night that, just 48 hours from the deadline, he didn't know where he was with it and discarded around half of what he'd written; a dramatic act which resulted in him rewriting the play and sacrificing his Christmas Day dinner for poached eggs. Alas, this drama does not transfer itself to the play and we wonder if perhaps the best was discarded. Ten Times Table chunters along like a train to Scarborough itself, taking its passengers somewhere they are not particularly inclined to go.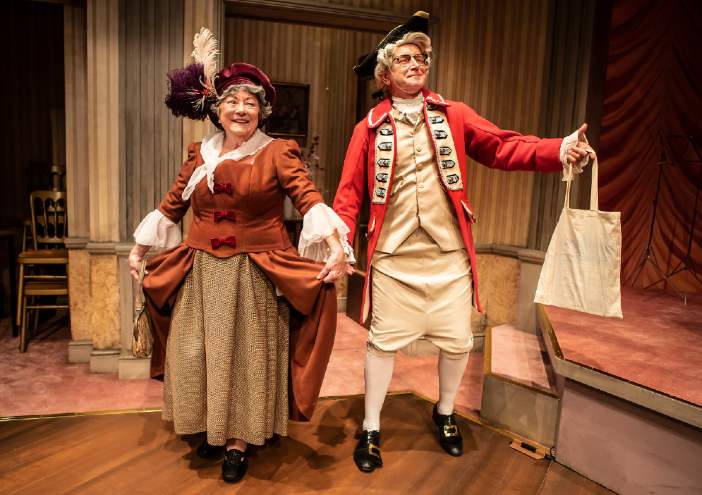 The billing of Ten Times Table as 'hilarious' demands something of a leap of faith from the audience, although time and again there are cast members who generate a warm response. Gazey is a delight as the lefty Eric who clashes with Ray's outspoken, snotty conservative wife Helen, while Elizabeth Power shines as the octogenarian secretary whose wonderfully selective hearing causes frequent ripples of laughter, so too her unabashed glee when the meetings conclude and the suggestion of a drink at the bar prompts her to exit in a far more sprightly fashion than she entered on the arm of her son Donald (Mark Curry). Robert Duncan also delivers an entertaining performance of the slurring alcoholic business man, Laurence, who, with whisky glass in hand, doesn't bring much to the party except his irrelevant marital troubles.
Directed by Robin Herford who worked with Ayckbourn in the '70s, there is nothing to fault with either the staging or the acting, but simply the play itself which, for most of us, will be something to be endured rather than enjoyed. Whilst the themes are distinctly charming in their parochial Britishness, and the satire still resonates to a certain degree due to the consistency of human nature in its ghastly, back-biting pettiness, there is very little plot, nor are the characters likeable enough to make us yearn to see more of them. Dare I say that it would not have been any loss to British theatre if Mr Ayckbourn had simply paused to enjoy his Christmas dinner in 1976.
Ten Times Table at Theatre Royal Bath until Saturday 7th December 2019. Production images by Pamela Raith Photography. For more information and tickets please visit the website.