Mike Bartlett's new play is, like his last, Charles III, written in blank verse. This is not only surprising for a contemporary playwright, it is also surprisingly effective, immediately imbuing the language with a rhythm and power.
But we're in cod-Shakespeare territory here. After all, our "hero" is Donald Trump and, while the script is driven by those powerful blank verse rhythms, the language itself is decidedly 21st century American.
The premise of the play is certainly plausible. Set two years in the future, the election for the next US president (the 47th) is approaching and the leaders of both parties are throwing their hats into the ring. There is Joe Biden, unexpectedly with the backing of Kamala Harris, going for a second term for the Democrats. And Ted Cruz is heading up the Republicans. All he needs now to be the winner, he believes, is the endorsement of Donald Trump.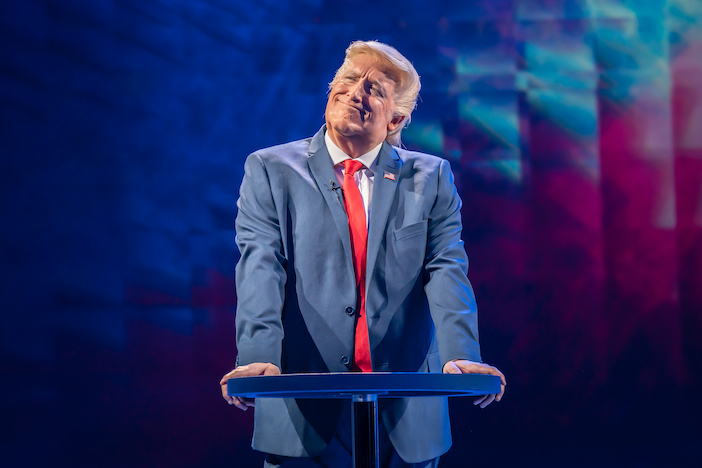 Trump is, of course, the first on stage – a circular space that in Miriam Buether's set becomes a prison, the White House, a round table for a council of war – and in this first instance, a golf course. Up pops the flag for the green and in comes Donald in his buggy. To say that Bertie Carvel is convincing as Trump does not begin to do him justice. Carvel is unrecognisable. Of course, there is the make-up, the fat suit, that wig, but the actor simply becomes the ex-president, capturing perfectly his every gesture, facial expression, that extraordinary, slightly effete voice. He is also mesmerising – this is a performance that hooks you from the word go.
He begins with a suitably enough with a soliloquy addressed directly to the audience with more than a hint of Richard III. He has been in exile on the golf course now for four years and he looks his liberal audience (we are at the Old Vic) straight in the eye. "I know, I know. You hate me. So much, right?"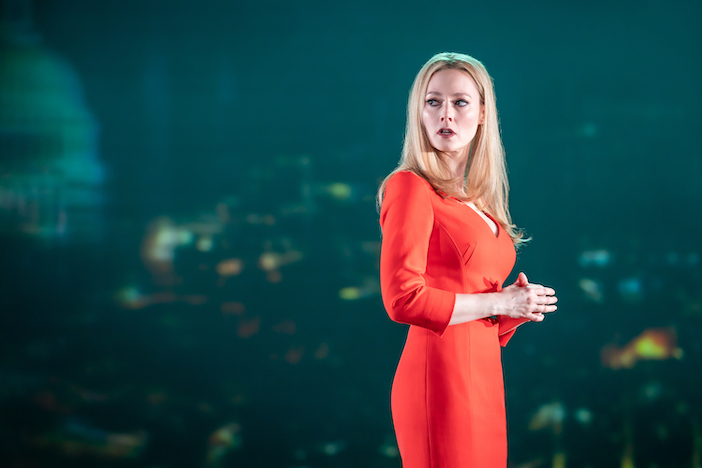 And then his three eldest children arrive and we switch to Lear territory: whoever loves him best will be his heir. Donald Junior (Oscar Lloyd) and Eric (Freddie Meredith) fail. Ivanka (an icy, designer-clad Lydia Wilson superbly out-finessing everyone throughout) Cordelia-like has "nothing" as the answer to her father's question. She becomes not only his chosen heir but his VP running mate. Because – although he promises Ted Cruz his support – when it comes to the Cruz election rally, the Donald switches to Julius Caesar, demolishes Cruz in an "honourable man" speech and announces his own candidacy. Banners unfurl from the theatre's boxes – "America Rules" is the new slogan – ticker tape falls on to the audience and we're off into an election circus that teeters on the brink of the surreal before tumbling right in.
I'm not going to give you too many spoilers here but highlights include Biden (Simon Williams) running mad and sleepwalking like Lady Macbeth, at the thought of having to face Trump a second time. There is mayhem on the streets (featuring the QAnon shaman), a dilemma for Kamala Harris (a formidable Tamara Tunie), betrayals, blindings (more Lear), prisons and deaths.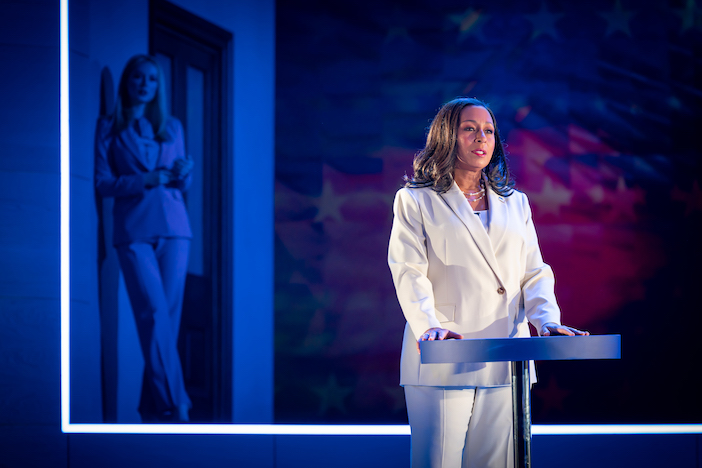 All pretty pacy then. Bartlett treads a fine line between high politics and farce. For me, the politics were a little too predictable and over-egged. Kamala is just a bit too saintly – given how little we really know about her in the UK, perhaps she was the blank canvas Bartlett needed to paint a picture of Trump's moral opposite. The Trump supporters don't get a voice to explain why they vote for him and are just a vile, unruly mob.
But even if Bartlett could at times have dug a little deeper, this a play of real significance, and at times it's very funny indeed. Of course, it's Bertie Carvel's night and it's worth seeing for his performance alone – chilling and hilarious by turns, this is surely award winning stuff.
The 47th runs at the Old Vic until 28 May. For more information and tickets, please visit www.oldvictheatre.com.