Anthony McCarten's new play at the Young Vic is called The Collaboration but its premise is that this more contest than co-operation. It's the idea of Bruno Bischofberger (played by Alec Newman with the thickest of Swiss accents): you put together two artists (he is agent to both of them), one a new discovery on a meteoric rise, the other world famous but with his powers already in decline. After all, "Painters are like boxers, both smear their blood on the canvas."
And so, though neither of them is very keen on the idea, Andy Warhol and Jean-Michel Basquiat meet. They are cautious, critical, suspicious of each other. Neither is particularly appreciative of the work of the other either: Basquiat can turn out a best selling canvas in a few hours but Warhol finds his approach messy and uncontrolled; Andy himself meanwhile hasn't picked up a paintbrush in 20 years (he has people to do that for him) and Basquiat thinks his work is repetitive and formulaic. Somehow, though, there is not only a collaboration but a tentative friendship, a recognition that despite all the differences there is something the two have in common.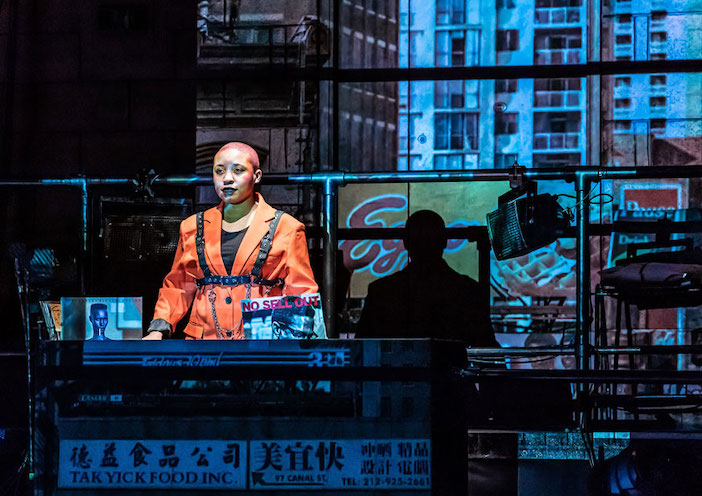 Even before the play begins, director Kwame Kwei-Armah is taking the audience back to the 80s. DJ/VJ Xana has the auditorium throbbing with volume and pulsing with lights – maybe a nod in the direction of Warhol's own legendary Studio 54? As Warhol, Paul Bettany in white wig and black polo neck eerily channels the artist, arch, reticent, polite, terrified of mess and germs (was Warhol OCD?) and, when he finally loses it in the second act, vulnerable and isolated.
Jeremy Pope as Basquiat again looks the part and is the perfect foil to Bettany's name-dropping prima donna. He bounces around the stage, as unable to control his own body, it seems, as his compulsion to paint – even on a fridge if nothing else is available.
While the first act is a pretty slow burn, the second finally catches fire. Pope and Bettany are compelling and Anthony McCarten has got far enough under the skin of the two artists to convince you that you know what makes these two men tick. What the play doesn't tell you is that both were nearing their deaths at this stage: Warhol from cardiac arrest after surgery, Basquiat from a drug overdose. And, certainly, an atmosphere of last days hang over the second act, Warhol at one stage revealing his broken body (after his shooting by Valerie Solanas), Basquiat drawn ineluctably towards the needle and the spoon.
Nevertheless, they do collaborate – even though as Basquiat bitterly observes "we're not painters, we're brands". And this begs the question about the value of art. Is it just about monetary value? Is there any really power or message, as Basquiat believes. Or is Warhol right and it's just "all about surfaces now"?
As the lights fade, the bidding on the collaboration project can be heard. It rises to $98 million.
The Collaboration runs at the Young Vic Theatre to 2nd April. For more information and bookings, please visit www.youngvic.org.
Photos by Marc Brenner