It's a familiar trope. The unconventional, do-good teacher arrives in a town set in its ways, shakes things up a little, captivates the impressionable minds, falls out with the establishment and ultimately wins the day by nurturing some bright, untapped talent. There's even a word for it, Bildungsroman. But where Dead Poets, Dangerous Minds, Jean Brodie et al sought to tread, Emlyn Williams, arguably, got their first.
You'd be forgiven for not recalling the name. An actor and playwright most active through the 1930s and '40s, he is largely forgotten to today's audiences, but this play, and this production, could see a posthumous resurgence of his oeuvre.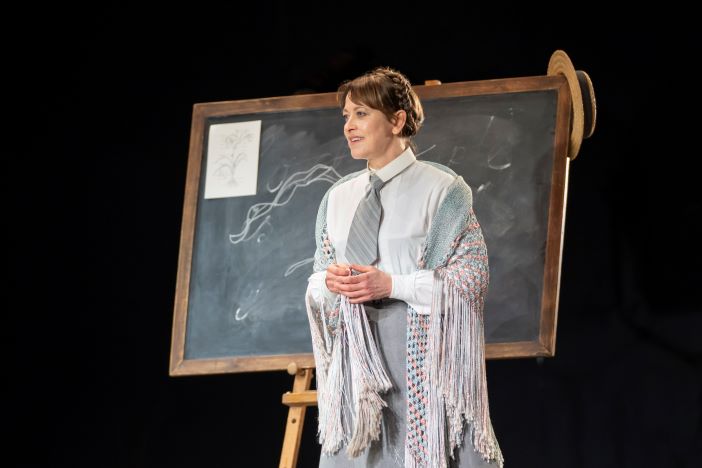 A semi-autobiographical piece, the story follows Lily Moffat, who arrives in a small Welsh mining community with noble intentions to start a school, finds bright potential in young miner, Morgan Evans, and proceeds to nurture his star to betterment, while both upsetting and rallying the villagers the process. So far, so familiar. Premiering in 1938 at the Manchester Opera House, where Williams himself took the Evans role, it went on to Broadway and enjoyed several revivals thereafter, drawing various names, including Bette Davis, Katherine Hepburn and Deborah Kerr in the leading role.
But it's been nearly 40 years since it was last staged. If Williams had fallen out of favour for audiences and impresarios wanting something fresher, more dynamic, director Dominic Cooke has brought the script right up to date, principally by inserting the playwright himself into the action. As Williams, Gareth David-Lloyd, pomaded to the hilt, pads intensely among the cast, interjecting the action with stage directions – and occasionally rewriting as he goes.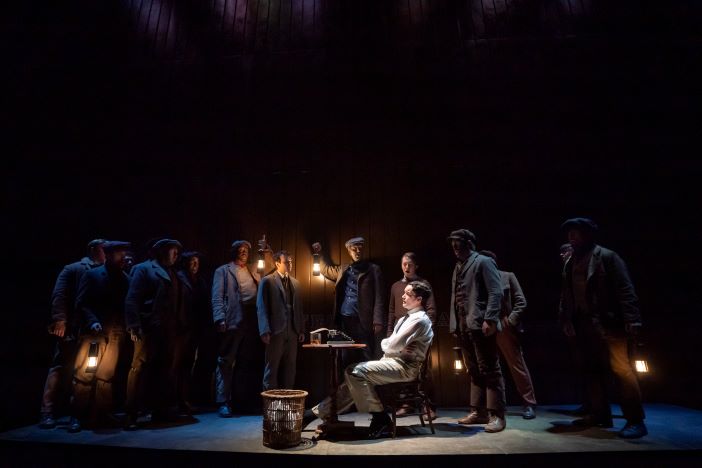 It may feel like a gimmick, but it energises the action, turning dated societal references into points of humour, giving opportunities to subvert and propel the narrative. Just like, well, stage directions. But, far from simply reviving a dated story, it's equally revealing; highlighting just how contemporary Williams was in his character studies and storytelling. It's testament, too, that Cooke's direction omits a set in the first half, save a few props, only revealing the full set in the second once we're invested in the narrative. Perhaps most stirring, however, Cooke has added a chorus of miners, who provide mellifluous harmonies to heighten the moment, underpinning emotion with murmuring plainsong and, on occasion, closing in on Williams to give us a glimpse into the agonising creative process.
Nicola Walker, stepping into some illustrious shoes as Miss Moffat, is spellbinding, stirring the lines with such conviction she could motivate the whole auditorium let alone a single pupil. She and Morgan, an equally compelling Iwan Davies, might arguably be the only straight parts amid an ensemble of caricatures, but that's not to belittle Williams' take on the supporting parts. Far from just offering exposition or comedic wallpaper, his drive the narrative, with notable turns from The Squire (a suitably hammy Rufus Wright, in an entertaining departure from his more serious TV roles), and Jo McInnes as the prickly Mrs Watty; the action even turns on the self-interest of the village waif, Bessie, given an appropriately irksome performance by Saffron Coomber.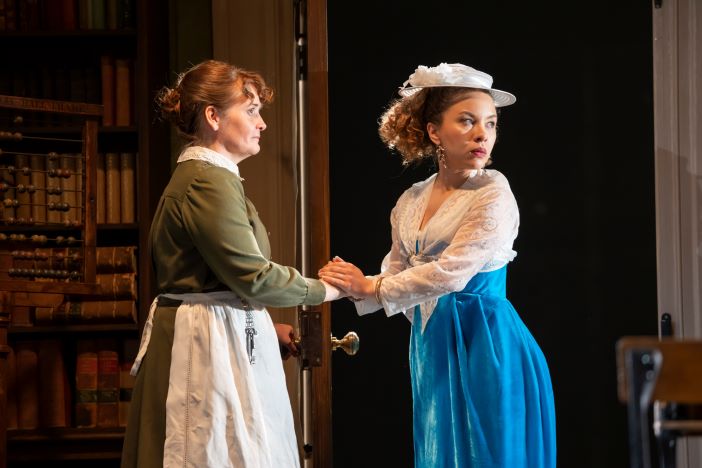 "It's different," a voice said behind me at the interval. And that it is. Bringing back a forgotten playwright with a familiar plot device to audiences more attuned to endless revivals of Coward and Rattigan is no mean feat, and to bring it back with such a freshness and relevance, little wonder The Corn is Green has received sterling reviews across the board – and rightly so.
The Corn is Green runs at the National Theatre until 11th June. For more information and bookings, please visit www.nationaltheatre.org.
Photos by Johan Persson