The Anthony Banks stage production of The Girl on the Train, based on the hit 2015 psychological thriller novel by Paula Hawkins, 'arrived' at Theatre Royal Bath on Monday for a whistle stop week-long run before continuing an extensive UK tour. Made into a Hollywood film in 2016 starring Emily Blunt as the complex heroine Rachel Watson, whilst the film transferred the drama to suburban New York, the stage version follows the original British setting, complete with references to Waitrose and Bargain Booze. You get the sense that the audience consists of punters who aren't regular theatre-goers, proving that the broad appeal of adaptations such as this are vital for the future of British theatre.
Samantha Womack leads the cast as the dishevelled, greasy-haired Rachel, a woman whose alcohol dependence – as illustrated by the countless empty bottles of wine and spirits lying around in the opening scene at her grotty apartment – is causing her to have regular memory black-outs. Her life has taken an increasing nose dive since failed IVF prompted the break-up with her husband Tom (Adam Jackson-Smith) who is now married to Anna (Lowenna Melrose), with whom he committed adultery. Tom still drops in on Rachel to check she's alright, further adding to her humiliation and low self-esteem. James Cotterill's costume and revolving set design is crammed with detail that draws us in, while Womack delivers a desperately convincing portrait of a woman who has lost everything. Or almost.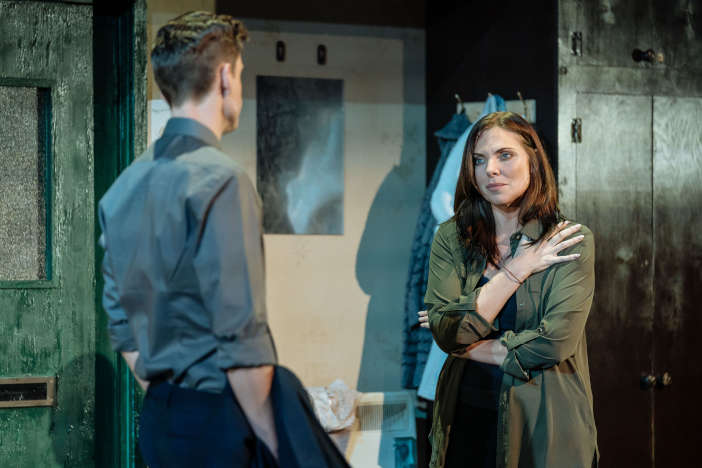 Tom and Anna not only live at the same house Rachel once inhabited, but have a new baby, something the childless, isolated Rachel naturally finds difficult to comprehend. It seems everyone has the perfect life apart from her, something ever more relevant in this deeply unhealthy alcohol-fuelled age of voyeuristic and aspirational social media scrolling. A couple of doors down from her old house, which she passes on the commuter train to work every day, Rachel begins observing and obsessing over another young couple – making up names for them and fantasising about their lives. She sees the blonde Meghan (Kirsty Oswald), whom she has called 'Jess', on the terrace with her husband and then, on another occasion, with a mysterious Asian man who kisses her just before she goes missing.
Was Meghan cheating on her husband? And who was that man? All that Rachel has observed might unravel the mystery of her disappearance. Or does Rachel herself have something to do with it? She can't remember her precise movements on the night of Meghan going missing, nor how she got a cut on her head and blood on her hands, matters of concern to D.I. Gaskill (John Dougall) who is investigating the case. Avoiding alcohol in the hope of recalling vital information, Rachel goes about trying to piece everything together for herself, claiming to Meghan's husband Scott (Oliver Farnworth) that she was a friend of his wife. Revealing that she saw Meghan from the train window embracing another man, Scott works out that this was his wife's therapist Kamal Abdic (Naeem Hayat), prompting Rachel to book herself a 'session' in order to glean more. Womack and Hayat's meeting is conducted facing the audience, with chairs at either side of the stage, a clever device which allows us to study their body language in compelling detail – Rachel, all the while, clutching a water bottle containing neat vodka.
Integral to this slick Simon Friend, Amblin Partners and Josh Andrews production is Andrzej Goulding's ingenious projection design, allowing for gripping, fast-paced modern storytelling and the audience to experience the confusion of Rachel's flashbacks and the dizzying landscape speeding past the train window. Turns out Rachel lost her job six months ago but was still taking the same morning train, transfixed by Meghan's life in order to escape her own. We're all in suspense when Gaskill announces that Meghan has been found dead at the close of the first act, although this play might make you think twice about ordering a large vodka in the interval. The twists and turns continue, keeping us on the edge of our seat throughout. Without giving you spoilers, The Girl on the Train arrives at a climatic destination with electrifying energy and an audience that are absorbed right up until the murderer is revealed. Don't 'delay' in seeing it when it calls at a theatre near you, for sheer entertainment it's just the 'ticket'.
The Girl on the Train at Theatre Royal Bath until 13 April 2019. Running time approximately 2 hours 10 minutes including an interval. Production images by Manuel Harlan. For more information and tickets please visit the website.