Make no mistake, it's epic. It's a trilogy in its truest sense; three stories, three parts, and wrapped into one three-hour (occasionally more) production. And, like most epics done well, it can suck you in, it engages you. You want more.
The Lehman Trilogy tells, of course, the story of the bank that broke America and prompted the economic collapse of 2008. Opening with a newscast of this announcement, we're in an office boardroom as a janitor clears away filing boxes. But what we don't know are the origins of this moment – the very origins – and we go way back to 1844 as Henry Lehman arrives off the boat into America, charting his and his brothers', Emmanuel and Mayer, story, from Alabama cotton merchants to the New York bankers who helped build America, and whose successors brought it down again.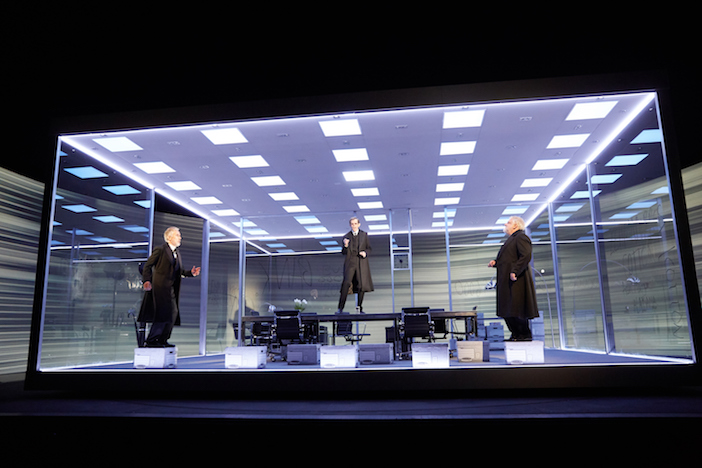 While Sam Mendes, with his team, undoubtedly takes credit for the production and the stagecraft, much of the praise for this being as engaging as it is must sit with the writer, Ben Power. It's not a new play, but it is the English language premiere. The original, written by Stefano Massini, opened in Paris in 2013, and has since had significant traction in Europe. The genius of this production, however, is in the adaptation, and not simply from its original language. The original featured 18 characters in the story but, as Power was working on the text, a new dramatic conceit emerged, and the parts became whittled down, until it arrived at just three. And it is they – Simon Russell Beale, Ben Miles and Adam Godley – who make this as compelling as it is.
A cast of three to play a multitude of characters requires some skill, and each take on a variety, from collective narration (it's almost entirely delivered anecdotally in the third person) to becoming wives, associates and colleagues, even children, with some spectacular turns and scene-stealing; Adam Godley's montage of suitable wives for Philip Lehman is sublime, for example, with Russell Beale's own turn as fast-talking savant Philip equally exceptional.
Mendes's direction is, as you'd expect, inventive, and conjures the cinematic from the stage; a revolving 'office' set of steel and glass (which failed on the night, twice) allows the scenes to change seamlessly as the characters walk through the story; props of nothing more than filing boxes are used to create height, depth, make chairs, a piano, even a Hackney carriage. It's prop-making 101, done cleverly. Behind this a wraparound screen provides the backdrop in grainy black and white (at least for the pre-colour era), often accompanied by a single piano soundtrack (a la silent era films) and additional sound design adds much of the weight to create a near cinematic experience.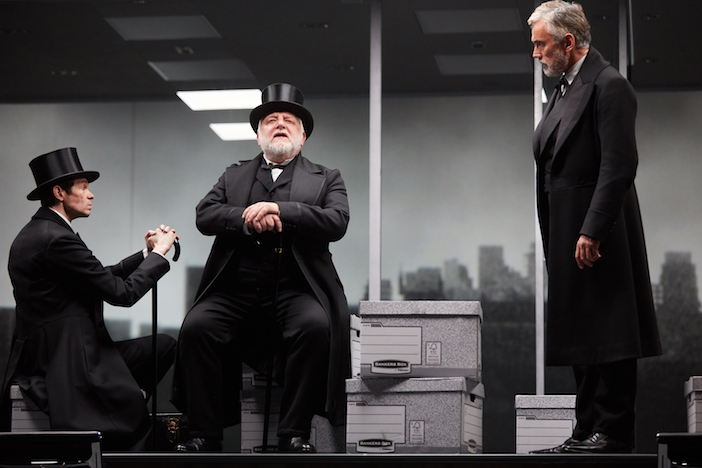 But it's the performances that carry the show; that these three can retain three hours of lines, constantly talking, talking in the third person as narrators and as individual characters, complete with expression and artifice, and all the while with impeccable timing, is extraordinary.
And all this is made better by failing tech. On the night, the rotating set failed twice, adding a further half hour to an already epic play. That the audience cheered the actors on to continue – and continue they did, barely breaking their rhythm – shows not only how compelling the play is, but how superlative is this cast. It is a masterclass in performance.
The Lehman Trilogy runs at the Piccadilly Theatre until 31st August 2019. For more information, and tickets, visit www.atgtickets.com.