Stella Feehily's new version of Claudio Tolcachir's acclaimed The Omission of the Family Coleman , first performed in Buenos Aires in 2005, interprets the original Argentine family play with comedy as dark as Guinness. Currently running at Theatre Royal Bath's Ustinov Studio, this soap-opera style absurdist drama features thought-provoking themes of familial conflict and differences that will prompt a wry smile from most of us, never mind how similar or dissimilar our own relations. Having won several prestigious awards including the Ace Award for Best Argentinian Play and the Best Original Play Award at the Fiesta Nacional del Teatro, this version (translated from Spanish by Roser Batalla) is Dublin-set and revolves around three generations of a dysfunctional lower-class Irish family, united (or not) in times of crisis, and seamlessly adapted for this British premiere, part of the Ustinov's exciting season of 'UK Premieres from the Americas'.
Anne Kent is magnificent as the mischievous matriarch grandmother who has helped to rear, and continues to support, her daughter Mary's four grown-up illegitimate children; the result of drunken nights, with a different father every time. Mary continues to lead by example, with vodka kept in a plastic bottle and her sole concern that of trying to find a light for her morning cigarette. The highly-strung business woman Veronica (Natalie Radmall-Quirke), whom we meet later, is the only child fortunate enough not to have been brought up in this exhausting, dissolute atmosphere, having been raised by her father from the age of three, who chose to leave behind her autistic brother, Marko (Rowan Polonski).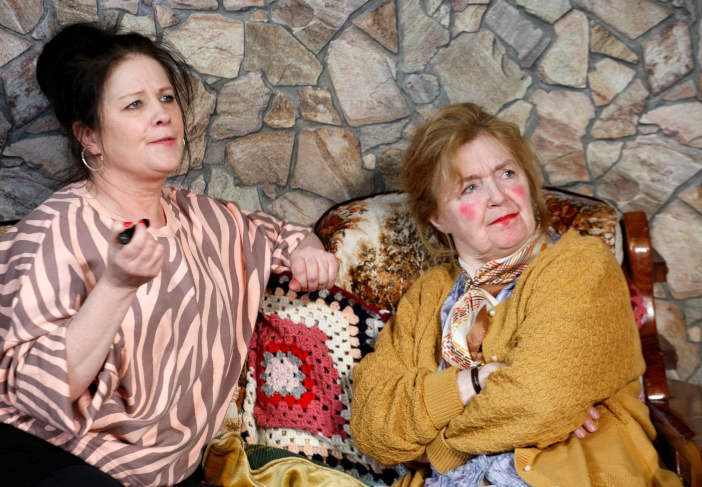 Marko's brutally honest conversation has no 'off' switch, and boasting of having worn the same pair of socks for two years, he has to be manhandled by his mother, Mary, in order to be persuaded to remove his filthy clothes for a shower. Polonski, who has performed at the RSC and Trafalgar Studios, is a revelation to Ustinov audiences, with averted eyes and outbursts of social anxiety so convincing that we feel ashamed for laughing. The grimness and slovenliness of the family's way of life is brilliantly conveyed by Tim Shortall, with a hideous patterned carpet that even finds its way onto the walls. The intimacy of the Ustinov Studio lends the overall tone that of a fly-on-the-wall drama, although the quality of this production is worthy of the main house and, hopefully, a West End run.
Alcoholic, drug addict, depressive Damian (David Crowley) is meanwhile the lost-soul twin brother of Gaby (Evanna Lynch), who keeps her head down by working as a seamstress in the corner in the hope of escaping just some of the arguments and tussles going on around her. Taking the family's clothes to the laundrette when the washing machine breaks down, Gaby appears to be the only one with any common sense or feelings of responsibility and she is perhaps the most likeable and empathetic character as a result, certainly Lynch's and Kent's powerful charisma make them the most appealing. The Ustinov's Oliver award-winning Artistic Director Laurence Boswell clearly relishes directing a text that is filled with so many rich characters and sub-plots, with an emphasis on the more tragic moments which showcase the craft and layering of Tolcachir's work.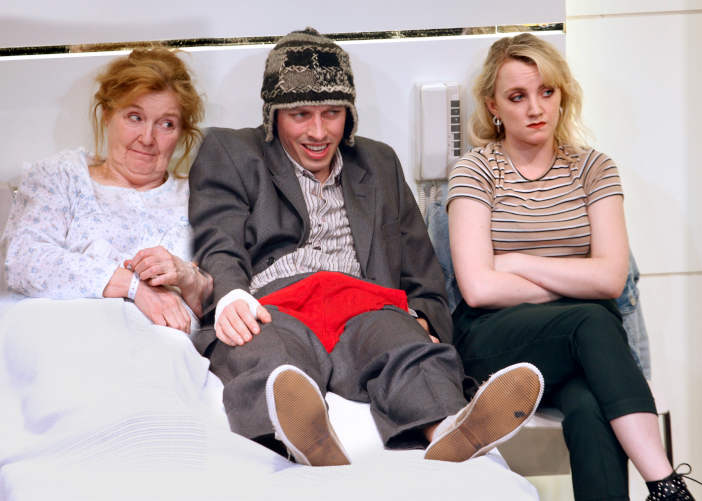 The successful buckled-loafer and trench-coat-wearing Veronica is obviously resented when she pops over for tea. Married to Patrick, whom we never see, she shelters her husband and two young boys from her veritable lunatic asylum family and, politely leaves the shop-bought Swiss roll the family sourced especially for her visit, preferring to drink mineral water from her own bottle. With Marko, who consumes said cake with gusto, referring to Veronica's boys as 'midgets', and having earlier fabricated that they had died in an accident, we can understand why she has compartmentalised her life.
When granny, whose birthday has been forgotten, takes a turn and ends up in a private hospital paid for by Veronica, we anticipate the rest of the family taking advantage. Radmall-Quirke's Veronica looks like she's about to snap when her mother and siblings embarrass her before the suave doctor Edward (Robert Mountford), whom she obviously knows a great deal better than she should. Unpaid bills and no hot water mean 'ma', brothers and sister all march in to use granny's en suite and order themselves a hospital lunch – things must be desperate. From beginning to end The Omission of the Family Coleman entertains and surprises, with some scenes verging on the slapstick, not least when Veronica gets flustered, trips over granny's now vacant hospital bed and spills the contents of her handbag on the floor. In the end Veronica is not altogether unlike her loose mother, who wastes no time in blackmailing her daughter into living with her on discovering that she's nothing if not a chip off the old block when it comes to the opposite sex.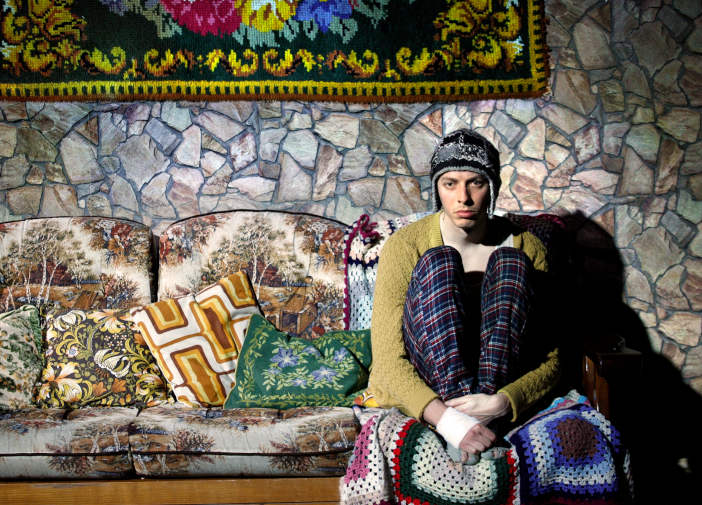 The finale is wonderfully ironic. No longer having her mother to hold things together, Mary can't wait to live in Veronica's big house and become a proper grandma to her two 'midget' sons. Damian has done everyone a favour by scarpering who knows where (with a rucksack filled with who knows what), Gaby decides to move in with Veronica's understanding driver, Finbar (Patrick Moy) who has been supporting her throughout granny's illness, but it's Polonski as the vulnerable Marko who steals the show when his family flee the nest one by one. As he sits cradling his knees, alone in the once-chaotic living room in the final scene, not knowing that he is suffering from cancer, we can't help but wonder if perhaps it's a happy ending after all.
The Omission of the Family Coleman at the Ustinov Theatre, Bath until 27th April 2019. Production images by Simon Annand. Running time approximately 2 hours 20 minutes with an interval. For more information and tickets please visit the website.