Theatre Royal Bath's small but dynamic Ustinov Studio is once again showcasing American playwright Will Eno, following the 2017 production of his highly acclaimed (or over-hyped depending on your view) The Open House. The Realistic Joneses, directed by Simon Evans, leaves one equally impressed by the acting on display but dumbfounded that such a work has ever managed to inspire anyone. It opened on Broadway in 2014 following its 2012 premiere at Yale Repertory Theater and was the last show that Laurence Boswell programmed in his nine-year spell at Bath's Ustinov Studio. Deborah Warner will take over as artistic director of the Ustinov come the autumn and it will be interesting to see if her tastes differ.
Those who saw The Open House may have déjà vu with The Realistic Joneses; the first being set entirely in a living room while this slow burner is set in a neighbourhood back yard connecting two couples, both of whom happen to be called Jones, while the husbands, Bob (Corey Johnson) and John (Jack Laskey) are coincidentally suffering from a serious degenerative neurological condition causing spells of blindness and lapses of mental concentration. The audience might be forgiven for experiencing a touch of the latter too, or would almost certainly if it weren't for strong performances that are able to hold our interest long enough to be ultimately disappointed by the play itself.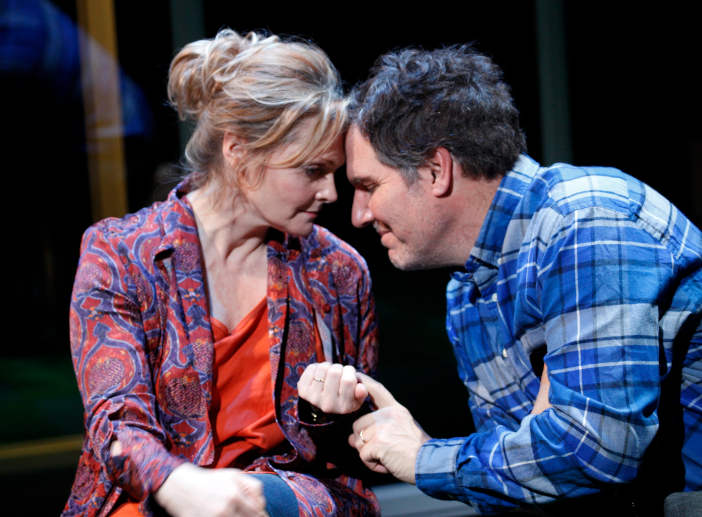 There isn't much of a set (design by Peter McKintosh) save for sliding doors, an artificial lawn, a starry sky backdrop and some cardboard boxes which are moved around during blackouts to convey new scenes. Both plays have rambling dialogue, which, however naturalistic struggles to deliver clarity, as does the overall theme. After all, 'life' is a big subject and no amount of star-gazing helps the four melancholic, flailing characters dealing with their own despondency enlighten us as to why we are the richer for having spent an evening with them. As with The Open House, this play is performed without an interval, although on this occasion at least the cast absorb me enough to not have been tempted to walk out if I had been given the opportunity.
Sharon Small gains our sympathy as Jennifer (a role played by Toni Colette in the Broadway production) who unsuccessfully tries to get Bob to open up about being diagnosed with an incurable illness, while Clare Foster is wonderfully childlike as Pony, the younger wife who can't handle her husband John's deterioration due to her own insecurities. The younger pair have just moved in and there is an awkward 'getting to know you' meeting of the two couples, which Bob finally concludes by announcing that it's time for him to go to bed. The plot, like the dialogue, rambles on as if the writer wasn't entirely sure where he was going to end up. He admits that the first thing he started with was the title. May I suggest he start with the story in future?
When John experiences a seizure a short time later, Pony runs to her unlikely best-friend neighbours and Jennifer has to step in. Laskey, who undoubtedly has the best lines as John and does the maximum with them, reaches out to Jennifer when he bumps into her in the local supermarket on the premise that he is supposed to be on a job fixing the broken freezer. Or is he just stalking her? There is a sense that both husbands fancy a bit of wife-swapping, but this, like so many other potential threads of the plot, leads to a dead-end.
Eno, despite saying that he has "never really taken to Chekhov" but is "coming to understand him a little more" nevertheless mentions the great Russian as one of the main inspirations driving this work, and might be accused of having an over-inflated idea of his talent (so too the Ustinov Studio) if he believes his contribution to theatre is worthy of even a fleeting comparison. Where Chekhov holds a subtle but dazzling mirror up to humanity, from the mundane everyday to the exquisitely beautiful and profound, Eno merely tries to mirror Chekhov's understated but philosophical portrait of human nature – and fails. Where once we had caviar now we must satisfy ourselves with lumpfish. It might look deceptively similar, but refined palates know the difference.
The Realistic Joneses at Ustinov Studio, 1 Saw Cl, Bath BA1 1EY until 7th March 2020. For more information and tickets please visit the website.