The highly anticipated Theatre Royal Bath Production of The Score starring Brian Cox is a lavish affair looking at Johann Sebastian Bach's relationship with Frederick The Great, a new drama by actor-turned-playwright Oliver Cotton and directed by Olivier-Award-winning Trevor Nunn. Undoubtedly Theatre Royal Bath's major production of the year and one they are hoping will transfer to the West End, but are the grandiose period sets and star cast enough to redeem Cotton's befuddled composition?
Set in 1747 during the Silesian Wars, we find the 63-year-old Bach, recognised as one of the leading composers of his day, in his modest home in Leipzig in Saxony reluctant to make the arduous journey to the Prussian court in Potsdam; an invitation from Frederick which he has already put off several times. A deeply religious man, Bach must reconcile the bloodshed of his neighbours with going cap in hand to the Prussians for a music commission in order to earn his living. His wife Anna, played by Nicole Ansari-Cox (Brian Cox's real life wife) not only coaxes and persuades but begs and turns on the waterworks as she sets out the consequences of slighting the king. Whilst Anna's part in the drama is a minor one, the pair's natural connection offers a tender insight into Bach's home life.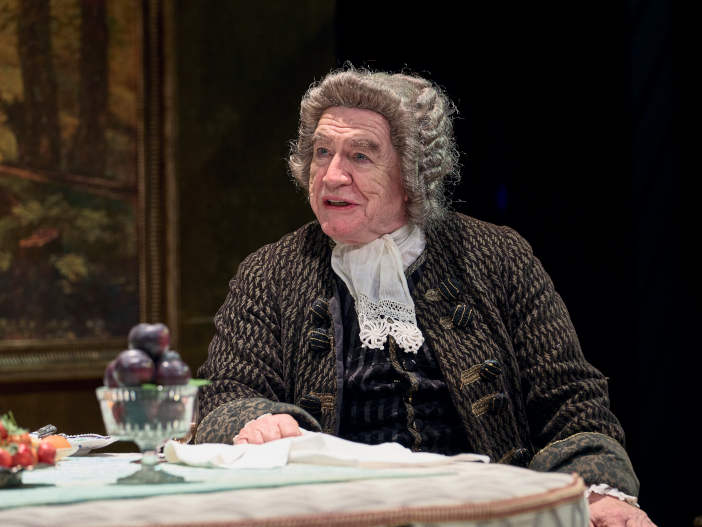 Despite years walking the boards and starring in countless films, Cox is now experiencing a new kind of fame since his role in HBO hit series Succession and it is he whom most of the audience have come to see. Cox, known for being outspoken, presents Bach as a passionately moral, larger-than-life genius, booming out his feelings one moment and making sarcastic quips the next. Conveniently, his luggage already stands ready to the right of the stage, and off he goes, although we don't meet the king until just before the curtain falls on the first act. Whether this is to offer suspense is unclear, but as with all historical plays, Cotton is challenged with providing the audience with so much context.
Matthew Burns is admirably cast as Bach's son, Carl, who is working as a court musician, yet being paid far less than his colleagues Quantz (Christopher Staines), Benda (Benedict Salter) and Graun (Eric Sirakian) who are so arrogantly dismissive of the elder Bach's reputation as Europe's foremost composer that they and Frederick join forces in a wager against Carl who backs his father to complete their 'impossible' musical challenge. A standout performance is given by Doña Croll as Emilia, the servant who has been at court since Frederick's father's reign and who is the ultimate beneficiary of the winnings which neither Carl nor Bach want to touch after an episode that was designed to humiliate the great composer.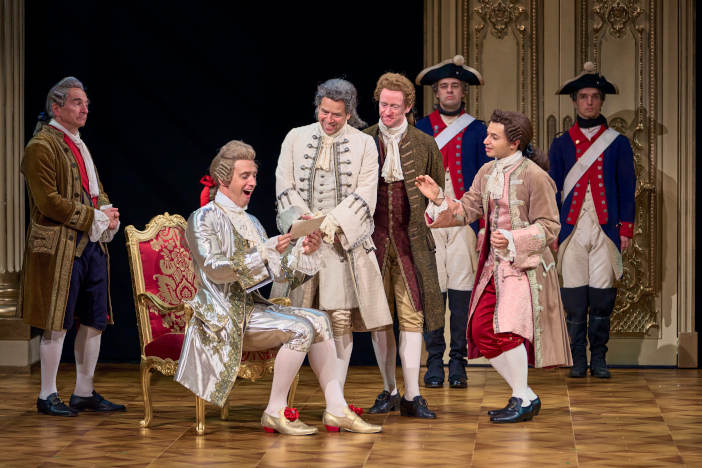 Karen Large's costumes coupled with Robert Jones's revolving sets, with 18th century furnishings, harpsichords and drop-down portraits, are almost worth the price of the ticket alone; taking the audience from Leipzig to the royal court of Potsdam and back again effortlessly, while the play itself could be said to be equally as changeable due to the dramatic shift in Cotton's dialogue and tone during the second half when the audience go from being bystanders to witty court scenes, not least Bach's introduction to the flamboyant Voltaire played by Peter De Jersey, to a battle of wills between Cox's moral Bach and Stephen Hagan's merciless and war-loving King Frederick II; a confrontation that sees both actors reach red-faced fever-pitch.
While Cox's rich tenor voice has its place, it is the actor's gentler delivery that allows the nuances of the composer's character to shine forth. When Bach gives a harrowing account of a blind girl raped by Frederick's soldiers, only to meet with a royal shrug and "these things happen," we are reminded of how history so often mirrors the present, and in light of current world events Bach's deep humanity takes on an added poignancy, so too the ultimate futility of Bach's attempt to get the atheist Frederick to see the light and curb his desire for land at the expense of innocent civilians.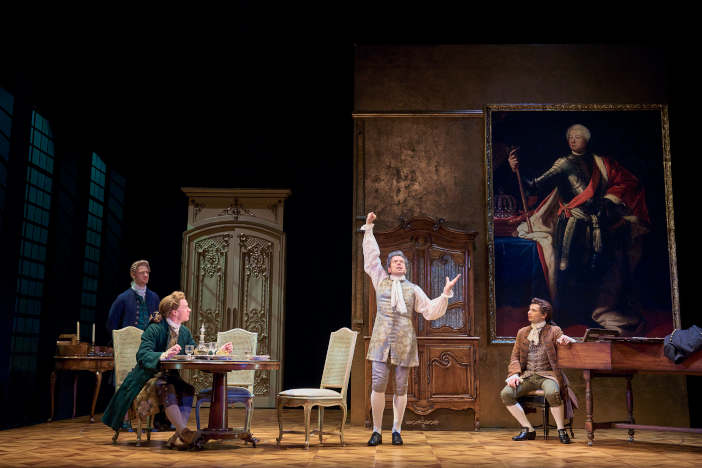 If the opening of the drama is a confusion of light-hearted wagers, sounds of cannon fire and musical technicalities the majority of the audience won't understand, the final scenes verge on the preachy and sanctimonious, something Nunn must rein in if he's to make the whole work feel cohesive. Having gifted Frederick a portfolio of arguably his greatest works, completed just before a risky eye operation, Bach claims to see clearer without his sight, though the same cannot be said of Frederick who leaves the music untouched for years, perhaps fearing the profound spiritual message conveyed within the score.
The Score at Theatre Royal Bath until Saturday 28th October 2023. For more information and tickets please visit the website. Production images Manuel Harlan.