If, like me, you enjoyed the absorbing Netflix drama, The Two Popes, in which Anthony Hopkins and Jonathan Pryce delivered an acting tour de force, you'll be eager to see the original play on which it was based (formerly known as The Pope), currently on a UK tour, having premiered in 2019 at Royal and Derngate Theatre in Northampton. It certainly felt like a spiritual experience to be back at the beautiful Theatre Royal Bath for the first time since the pandemic, and this high-class production promised to be a highlight of their autumn/winter season.
Directed by James Dacre and starring Anton Lesser as Pope Benedict XVI and Nicholas Woodeson as Cardinal Bergoglio (the future Pope Francis), roles both are reprising from the Northampton premiere, Anthony McCarten's behind-the-scenes play offers a brave and fascinating insight into life at The Vatican, framed around a unique moment in the history of the Catholic Church. Even the most difficult subjects and controversies to hit the Church in recent times have been handled sensitively and, in what is a showcase for the talents of both stalwart actors, we see the relationship between one-time rivals develop into an unlikely friendship.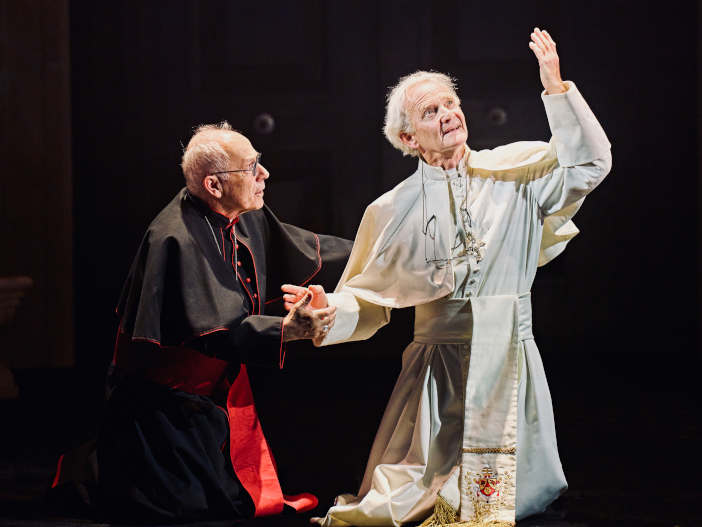 Questioning why he no longer hears God's voice, the Pope jokes that he's in need of a "spiritual hearing aid", only to find the answer to his prayers in the wisdom of the popular Cardinal Bergoglio, forward-thinking in his views of matters such as divorce and homosexuality, issues overshadowed by the deepening scandal of widespread sexual abuse of minors by priests. The Church is in crisis and is haemorrhaging followers as a result, and yet the Pope, rather than tackling the systemic corruption head on, shies away from his duties and his responsibility, preferring to watch a detective show on TV for escapism. Weary of his role, he admits to a horrified Sister Brigitta (Lynsey Beauchamp) that he is re-evaluating his role and considering becoming the first Pope to resign since 1294.
When the Cardinal, who wishes to retire, is invited to the Pope's summer residence, Castel Gandolfo in Italy, he hopes that he will finally receive the Pope's blessing. Little does he suspect that the Pope himself is thinking of doing the same and has him in mind to take over. Despite sharing a religious faith which has sustained them both throughout their lives, the two men of the cloth are opposites in pretty much every other way. Pope Benedict is a scholar and a traditionalist who prefers to spend his evenings quietly studying, writing, playing the piano and drinking Fanta, while Cardinal Bergoglio's passion is to watch football, dance the tango, listen to ABBA and enjoy a glass of wine. As he says himself, "I'm Argentinian, football and tango are compulsory."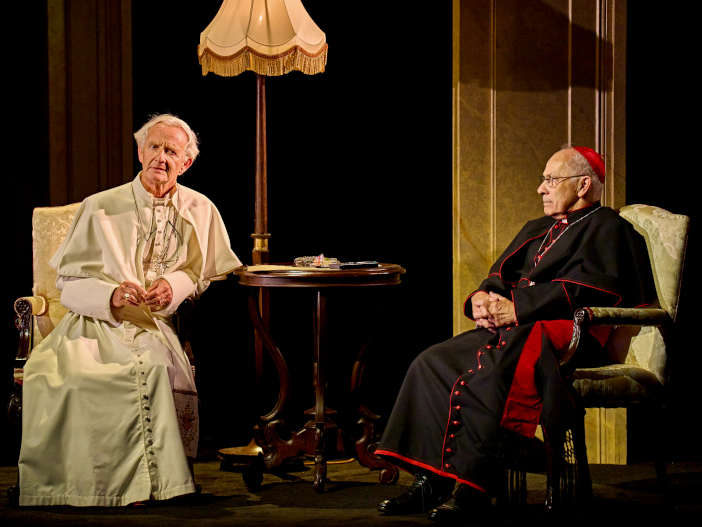 While Lesser gives a sympathetic and, at times, amusing portrayal of a man who never imagined he would become Supreme Pontiff and the figurehead of a faith with more than a billion followers, Woodeson's enthusiastic Cardinal is a far more likeable character, and whilst McCarten's script is witty throughout, the latter's gift for comedy lifts the entire performance, especially during the second act when, after hearing the Pope's confession in an empty Sistine Chapel, and his desire to abdicate the role in the Cardinal's favour, he lies practically kicking and screaming on the floor as his dreams of retiring vanish forever.
With Lynsey Beauchamp playing Sister Brigitta in the Vatican City and Leaphia Darko the young novice Sister Sophia who works alongside the Cardinal Bergoglio in Buenos Aries, The Two Popes cannot be called a two-man play, yet the supporting roles in this production do little to convince you that it should be otherwise. Darko pushes Sister Sophia's awkwardness and fervour to such extremes as to become as wooden as a Holy Table, no matter how much we pray Woodeson's style might inspire her to ease up a little, while Beauchamp, who pleads with the Pope to uphold Jesus's own lifelong dedication to humanity is a weak preamble to the rapport we thankfully see later between Lesser and Woodeson.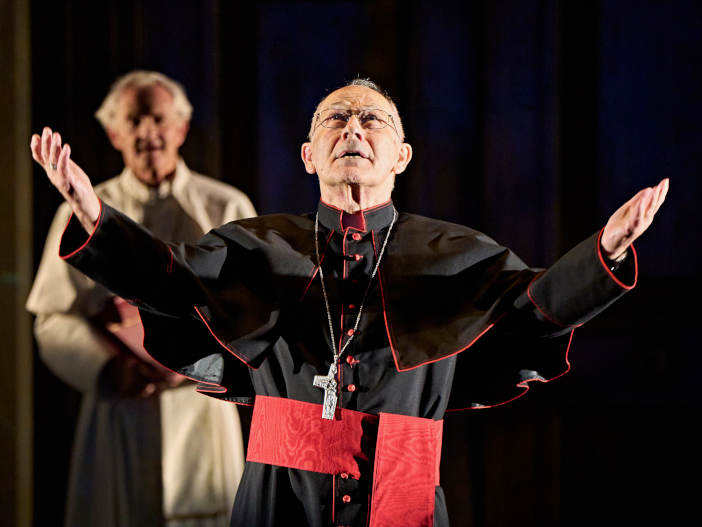 To use a football euphemism, the fact that most of us would probably have preferred more time in the company of the Cardinal and Pope rather than the sisters, makes it a game of two halves, a problem successfully addressed by director Fernando Meirelles when it came to adapting the play for Netflix, bringing the emotional intensity of the story to the forefront by focussing solely on the two leading men and their unfolding relationship. Nonetheless, it is an immersive production which, with set designs by Jonathan Fensom, video and projections by Duncan McLean and music by Anne Dudley (reminiscent of Debbie Wiseman's soundtrack to the BBC adaptation of Wolf Hall in which Lesser and Jonathan Pryce starred), offers atmosphere and a glimpse into the mysteries of The Vatican with this nuanced portrait of two guilt-ridden Catholic leaders who find God through communing with each other. It's testament to the fine acting on display that the lady in the audience beside me began praying and shot to her feet in an ovation come curtain call, almost as if she believed that Woodeson really was the new Pope and should be cheered accordingly.
The Two Popes at Theatre Royal Bath until Saturday 29th October 2022. For more information and tickets please visit the website. Production images by Manuel Harlan.