I first encountered Friedrich Dürrenmatt's 1956 tragicomic work Der Besuch der alten Dame translated as The Visit or The Old Lady Comes to Call while studying German A-Level. Fast forward 13 years and the surrealist unambiguous rural German setting has been transported to 1950s post-depression era slum town America, the plight of a woman wronged by the patriarchy feels more relevant than ever in a post #metoo era and after much anticipation has had a heavy dose of Tony Kushner.
The production value of this performance is vast. The Olivier is not inconsiderable and this production packs it in. The revolving stage plays host to an almost functioning train station, a pinewood forest, a cortege, an ever-evolving town on the way up, a car, and not to mention the cast and company of at least 30. It is certainly impressive but at times overwhelming, and perhaps even unnecessary – the team of stagehands must barely have a chance to catch their breath, let alone have any space backstage. Vicky Mortimer's steampunk-esque gothic design complete with exposed metal walkway suspended over the stage is stylised and chic, creating vast contrast between the drab Slurry inhabitants and the monochromatic oeuvre that verges on the grotesque when the fabled Claire Zachannasian and her entourage arrives.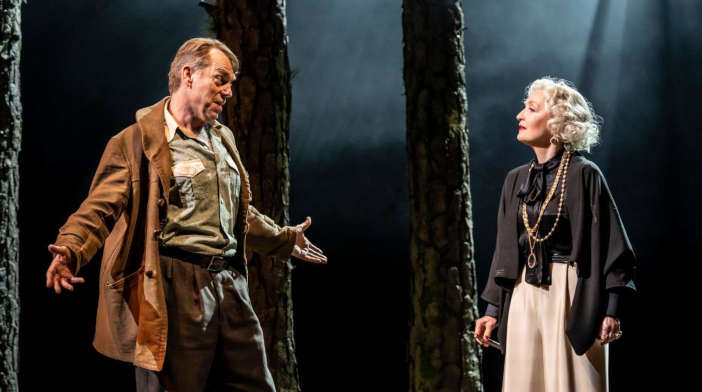 Lesley Manville steals the show as the titular 'old lady' whose immense fortune sees her return to her childhood hometown to seek revenge on her childhood lover (Hugo Weaving as Alfred Ill) in exchange for a princely sum. She appears in a puff of smoke on a previously defunct train platform, a glamorous vision in black and white, adorned with riches a sinister butler and a seventh husband (whom she promptly dismisses). There is an 'other worldly' element of the absurd to her appearance, made all the more strange by the entrance of her henchman who carry her in a sedan style chair, and her two vaudevillian eunuchs Koby, Roby, Boby, Loby, Doby; their entertaining rhyming names elicit some laughs but it's certainly not comfortable. Each is simply a caricature to Claire, human life is disposable and not least that of Alfred, her childhood lover, whose denial of her child's paternity triggered both the downfall of her existence in Slurry and provoked the beginning of her desire for revenge.
However, it is much more nuanced than this, thankfully, and the way in which Manville's character evolves and unravels her past trauma is both bleak and evocative. Hell bent on revenge and closure, at whatever cost, we're not sure whether to sympathise, pity or fear her; the black and white aesthetic it seems actually has some shades of grey. In her shadow, Hugo Weaving's Alfred as the foil for greed and desperation falls slightly flat. Granted his character is a trope of the everyman scapegoat, but there is a distinct lack of drama and jeopardy at the most pivotal moments.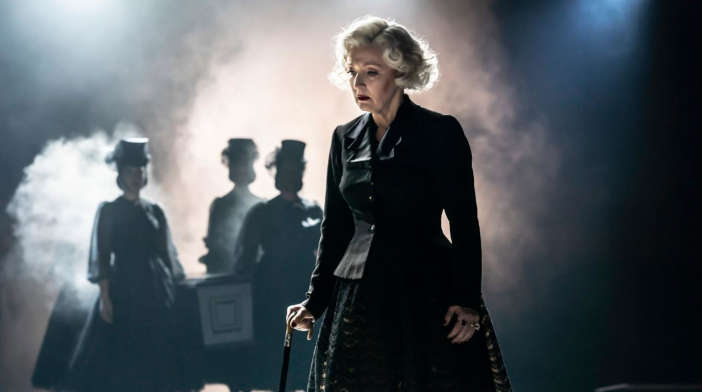 The original Dürrenmatt script is not short, but this production feels at times sluggish and soporific. At 3 hours 30 minutes with two breaks, it is simply too long, and feels oddly directionless when Manville is not on stage. It becomes a somewhat nebulous beast which loses tension and cohesiveness between the large cast meaning the key tipping points in the relationships between Claire and Alfred, and Alfred and the villagers are found wanting. That's not to disregard an inspired segment in the forest between Manville and Weaving which has flashes of greatness both in performance and direction, but this feels like a small morsel in quite a self-indulgent feast.
The Visit at the Olivier Theatre until 13th May 2020. Running time approximately 3 hours 30 minutes including two intervals. Production photography by Johan Persson. For more information and tickets please see the website.