Based on the 1935 RKO film of the same name, this much anticipated 'World Premiere' production, directed by Matthew White, has finally hit the West End after an extensive UK tour. Tom Chambers, 2008 winner of BBC Strictly Come Dancing, and Summer Strallen spent countless hours and weeks under the guidance of choreographer Bill Deamer before successfully filling the shoes of Fred Astaire and Ginger Rogers.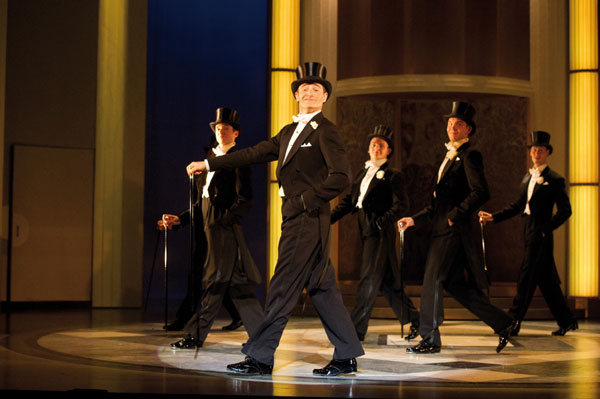 Chambers reprises Fred Astaire's role Jerry Travers – an American tap dancer – and wowed the audience by pulling off a knock 'em dead 'Puttin' On the Ritz' routine, originally devised by Fred himself. Travers travels to London in order to star in producer Horace Hardwick's new show and whilst practising a routine awakens Dale Tremont (Summer Strallen) on the floor below. Filled with comic and contrived misunderstandings, wooing, and romantic serenades – it isn't Travers gifting Dale the entire contents of a florist shop but his passion for dancing that literally sweeps her off her feet. How could any girl fail to gasp on seeing Tom dance Astaire's most famous routine 'Top Hat, White Tie and Tails'? Was the fellow ever an 'amateur' I wonder?! It was all looking pretty darn impressive when he appeared to get rather carried away on a foot slide and almost 'slid' into the front row. I expect the audience would have 'lapped' it up!
With music and lyrics by the unforgettable Irving Berlin, a cast of 31 and a 15 piece live orchestra this is one show guaranteed to make you go home with a spring in your step. The Hollywood/Art Deco inspired sets designed by Hildegard Bechtler including a hotel bedroom, private plane, and an English band stand are simply dazzling as are the flowing costumes and blistering dance routines. It doesn't matter that the plot is as thin as Melba toast – the romance and Wooster-like wit is amusing enough to hold the attention throughout. Memorable one-liners include 'last week I went to a funeral and I caught a bouquet' and 'a man is incomplete until he's married – after that he's finished!'
With the dawn of the 'talkies' era film studios lost no time in commissioning high budget musicals loaded with memorable routines and songs. It didn't take RKO long to realise that the partnership between Fred and Ginger was nothing short of box office dynamite when they first took to the silver screen together in 1933 in Flying Down to Rio. Having already starred in three successful films together before Top Hat it understandably became RKO's biggest hit of the 1930s – earning the studio $3.2 million.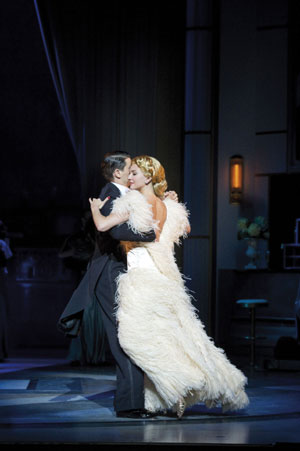 Fred and Ginger remain one of the most popular movie partnerships of all time and went onto star in a further six films. They are also remembered for working alongside composer Irving Berlin who scooped an Oscar for Best Original Song for 'Cheek to Cheek'. Top Hat may have only had five songs but what songs! All of which went onto become hugely popular in the music charts of the time. The film also carried away the crown of Best Picture 1936 and is still regarded as one of the best musicals ever made. Fred Astaire's choreography is technically gruelling and requires smooth lines, poise and precision.
Jon Morrell's costumes are not only faithful to the film but are a visual sensation that captures the glamour of the era and emphasises the agility of the performers. In the film the 'Cheek to Cheek' scene had to be re-shot dozens of times due to the ostrich feathers on Ginger's dress malting and getting in Fred's face. But despite Fred declaring the dress reminded him of 'a chicken attacked by a coyote' Ginger, who took a keen interest in the costumes, stood her ground, determined to wear the dress 'come hell or high water.' Although Fred and Ginger had a difficult relationship their professional dedication and on screen charisma was never in question – Fred later nicknamed Ginger 'Feathers' gifting her a gold feather for her charm bracelet after shooting, accompanied by a ditty parodying Berlin's famous song:
Feathers — I hate feathers
And I hate them so that I can hardly speak
And I never find the happiness I seek
With those chicken feathers dancing
Cheek to Cheek
Standout performances include Martin Ball as Horace Hardwick, hilarious Ricardo Afonso as Tom's love rival Alberto Beddini and Stephen Boswell as Horace Hardwick's butler Bates. Tom Chambers may not have the best voice in the world, but he makes up for it in sheer enthusiasm which is more than can be said for the chemistry he has with Summer Strallen – that unique yet indescribable spark of magic which seems to elude them. Every other element of this production is technically superior to rival musical Singin' in the Rain and looks certain to captivate the West End for many weeks to come. Dare I say it?….Hats off!
Information: Aldwych Theatre, London, WC2B 4DF. Tickets £15-£65. Booking line (24 hours) 0844 847 1712. Website.