Chekhov plays, with or without a samovar, aren't everyone's cup of tea. Yet, if you find a good production such as Theatre Royal Bath's outstanding Uncle Vanya, there is nothing more life-affirming – rather like a fine brew. One of the most anticipated productions of Artistic Director Jonathan Church's Summer Season, if you don't like this Chekhov you probably won't appreciate any.
Starring Rupert Everett in the title role, who is also making his directorial debut, we are thrust into Vanya's thankless every day existence on his family's rural Russian estate, with blisteringly vivid portrayals which succeed in drawing out the text's cynical, droll humour. Everett's acclaimed stint playing Oscar Wilde, both on stage and in the biopic, The Happy Prince, has imbued his acting style with a certain flamboyancy which offers a uniquely colourful portrayal of Vanya compared to other interpretions I have seen, and this is light relief considering how much complaining and whinging goes on. Casting legend Celestia Fox (of Merchant Ivory glory) has united a harmonious ensemble who convey this expansive family drama with just the right amount of light and shade.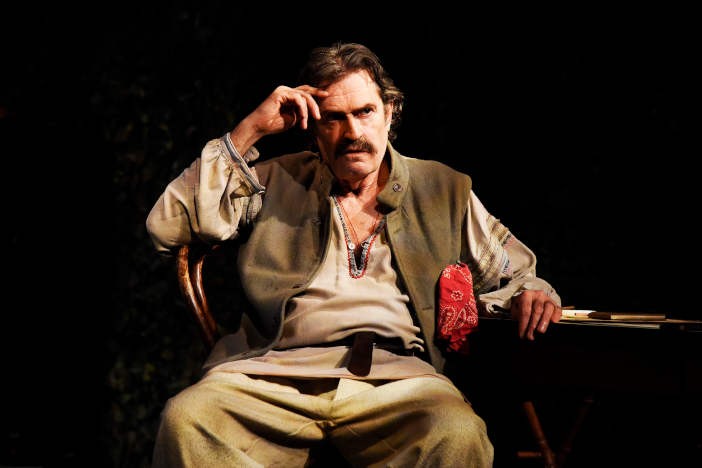 As in most Chekhov works, pretty much all the characters are disillusioned with their lives in one sense or another, and one imagines that the playwright intended his audience to question their own affairs as the story unravels, and indeed the futility of longing or regret if one isn't courageous enough to change things. A new version especially commissioned by Theatre Royal Bath from leading playwright and screenwriter, David Hare, his adaptation brings a welcome freshness to the work, with age-old philosophical questions which resonate like a drum. It's important to remember that whilst we are viewing this as a period piece, Uncle Vanya was very much a modern play when it was first premiered in Moscow in 1899 following a series of provincial runs.
With evocative music by the great Gabriel Yared, an atmospheric set design by Charles Quiggin and costumes by Fontini Dimou, we find an unkempt Vanya sleeping off drink on a couch and thereby neglecting his estate duties in the opening scene, long ago having relinquished his claim on the land in favour of his niece Sonya (Katherine Parkinson). Vanya's exhausting brother-in-law, Alexander Serebryakov (Michael Bryne) who was married to his late sister, has moved in with his beautiful young wife Yelena (Clémence Poésy) who stands wearily by as her husband changes the routines of the household, including dining hours, due to his obsessive work schedule. He's also a hypochondriac who calls for the doctor, Mikhail Astrov (John Light), whenever he feels so much as a twinge, though he dismisses the doctor's diagnosis and takes no notice of his advice.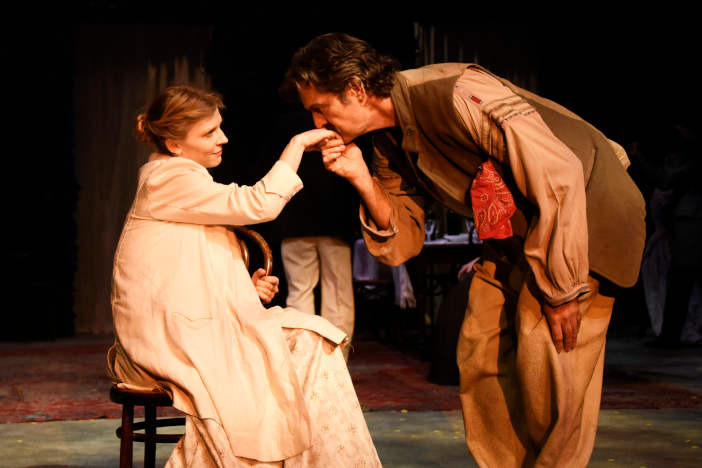 Vanya, who is besotted by the cool Yelena (who denies that she is calculating) simply cannot understand how she has thrown her life and beauty away on such an unappreciative, self-absorbed husband. She meanwhile tries to improve her strained relationship with her step-daughter, Sonia, who is roughly her own age yet considered plain by comparison made more dreary by her unrequited love for Dr Astrov, who has so far rejected her attentions. Poésy and Parkinson are utterly absorbing in their opposite roles of unhappy wife and spinster, with strong support from Light who illustrates his weakness of character by continually numbing his frustrations with vodka.
Yelena offers to ascertain the Astrov's true feelings towards Sonia, but in so doing finds herself the revealed object of his devotion and passionate turmoil, something Vanya discovers unexpectedly, reinforcing his own loneliness and ennui. Vanya is no longer able to suppress his emotions when Serebryakov suggests selling the estate he has spent a lifetime managing with little reward, and the second half delivers an abundance of Chekhovian angst and despair, touching on the hysterical. Only the old estate hangers-on, such as Marina (Ann Mitchell) Telyegin 'Waffles' (John Standing) seem not to question the point of their existence, and appear all the happier for it. Uncle Vanya is a clever reflection of the human condition and the Catch-22 of dissatisfaction, while this sumptuously staged revival of one of Chekhov's most notable works reminds us why we go to the theatre.
Uncle Vanya at Theatre Royal Bath, Saw Cl, Bath BA1 1ET until 3rd August 2019. Running time approximately 2 hours 5 minutes including interval. Production images by Nobby Clark. For more information and tickets please visit the website.