With Dry January upon us and Valentine's Day around the corner, the new Theatre Royal Bath production of Who's Afraid of Virginia Woolf? is the ultimate way to deter you from either alcohol or marriage. A brilliant piece of irony right there. If you're after an absorbing, witty and deeply uncomfortable portrait of a couple, then it's fair to say that Edward Albee's 3-act darkly comic masterpiece, first staged on Broadway in 1962 and currently being revived at Bath's Ustinov Studio, can't be topped as an immersive experience.
Rather like marriage itself, this three-hour drama is not so much a commitment as an endurance test, but with such a flawless production directed by the legendary Lindsay Posner, one that is truly unmissable, all the more so due to the intimacy of this 126–seat venue that makes you feel like you're one of the ill-prepared guests of what proves to be a pretty grim house 'party'. Fasten your seatbelts folks, you're in for a bumpy ride.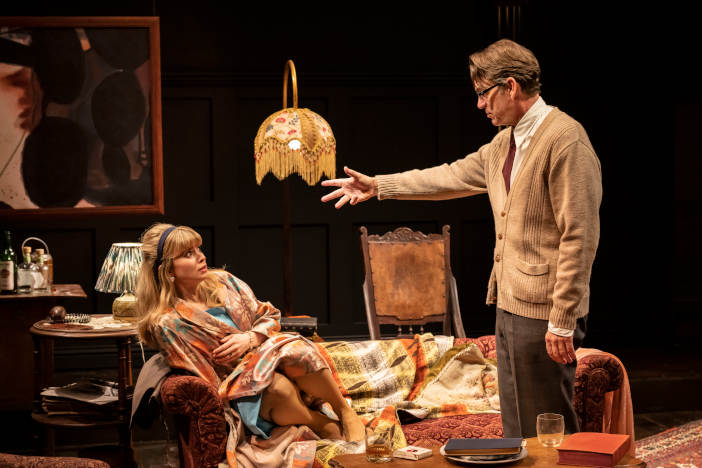 An immediate success from the start, Who's Afraid of Virginia Woolf? scooped the prestigious Tony Award and New York Drama Critics' Circle for Best Play 1963, but became known internationally and committed to classic status thanks to the 1966 film adaptation written by Ernest Lehman, directed by Mike Nichols and starring arguably (if you'll excuse the pun) the most famous couple in the world, Elizabeth Taylor and Richard Burton.
Offering curious Taylor/Burton fans an intriguing glimpse of how the twice-married (and subsequently divorced) pair might carry on behind the closed doors of their Hollywood mansion, the image of Elizabeth Taylor as the repulsively drunk and aggressive Martha hurling abuse at George (Burton) like the sharp-tongued equivalent of Babe Ruth is one that has been scorched onto my brain, despite the fact that it's twenty years or more since I last saw it. "I swear…if you existed I'd divorce you…I haven't been able to see you for years…you're a blank, a cipher."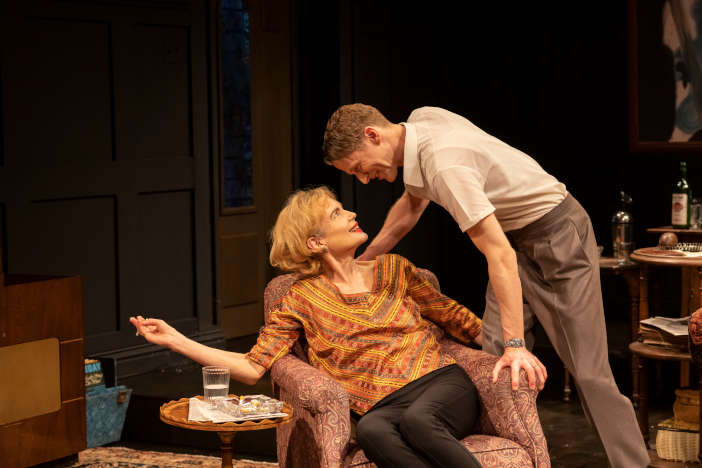 Any actors stepping into the shoes of Taylor and Burton would be understandably daunted at taking on such iconic roles, and yet Elizabeth McGovern (unrecognisable as the elegant and unflappable Lady Cora in Downton Abbey) and Dougray Scott's own particular chemistry as Martha and George enables us to forget any previous incarnations from the opening scene in which they stumble into their New England college-campus dwelling, with an atmospheric set by Paul Wills that is as marvellously dishevelled as Martha's hair, with empty spirit bottles peeking out beneath an armchair that allow us to surmise the couples' chaotic lifestyle and Martha's abject housewifery.
Already half-cut from her 'daddy's' party welcoming a new influx of teachers, we soon understand that Martha is the daughter of the college president, and that George is a history professor who has failed to take over, not only his own department, but the college itself, prompting Martha to taunt and berate her husband, whilst further infuriating him by praising the ambitious young newcomers she has just met, who will no doubt take over from her father when he retires. Despite it being past 2am, Martha has invited a young couple (the new biology teacher and his wife) to join them for, you guessed it, drinks. The introduction to Honey (Gina Bramhill) and Nick (Charles Aitken) encourages the audience to further identify as humble bystanders to proceedings, while the fact that the entire drama takes place in the living room over the course of one evening/early morning, heightens the angst created by Martha and George and gradually reaches concert pitch as they spit venom at one another as effortlessly as they gulp their liquor.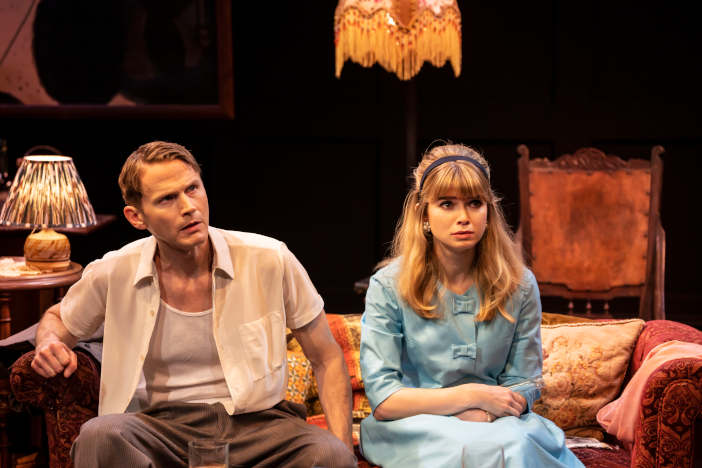 Deteriorating with each passing minute, Bramhill as Honey is note-worthily impressive at conveying her character's descent into drunkenness, knocking back her constantly refilled glass of brandy with sleepy eyes and soon rushing out to vomit, thus providing Nick with the chance to reveal to George that he married Honey when she claimed to be pregnant, only for it to have turned out to be a false alarm. The man-to-man chat between these opposites who find themselves at the start and finishing posts of marriage is only fractionally less awkward to watch than when Martha seductively dances with a surprisingly keen Nick, observed by an apparently ambivalent George. McGovern's yo-yoing between anger and mirth offers a glimpse of her younger self, while Dougray Scott delivers a nuanced and sympathetic portrayal of cardigan-wearing George, whom we sense is about to lose it at any moment, especially when Martha raises the taboo subject of their grown-up son. The nuggets of information we are drip-fed throughout greatly contributes to the tantalising undercurrents of tension, but its the delivery from this superb cast that makes us care to learn more.
If you're a fan of Virginia Woolf and have some kind of idea that the play has something to do with the writer you'll be sorely disappointed – the title refers to the Disney song sung by Martha and George, "Who's Afraid of the Big Bad Wolf" in which they substitute the lyrics for the English author's name; "Who's afraid of Virginia Woolf, Virginia Woolf, Virginia Woolf…" Albee has spoken of this being central to the play's theme examining how the couple prefer to live with illusions rather than face the Big Bad Wolf of reality. The couple's consumption of alcohol aids their unwillingness to be 'present', whilst fuelling the fire of old resentments that have built up over the course of their twenty-three-year marriage.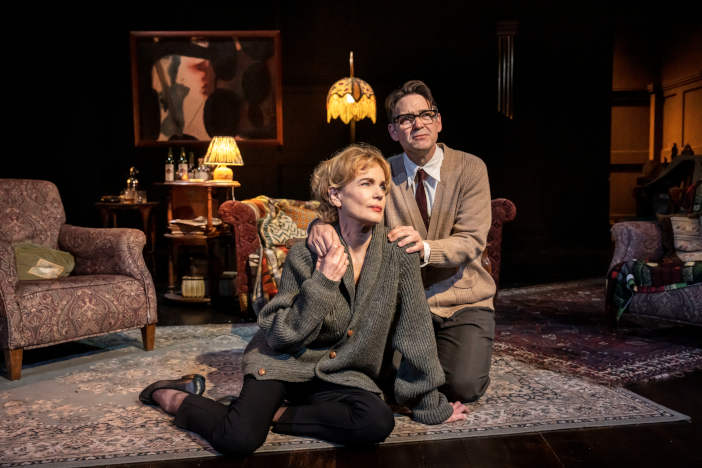 Just as Albee intended, audiences, having been steeped in the gin, brandy and bourbon-soaked world of Martha and George, will leave the theatre feeling a little traumatised, moderately exhausted, but above all, utterly invigorated. This stellar ensemble have accomplished an electrifying portrayal and it's impossible not to spend the next few hours or days pondering on its themes of conjugal bliss (not). Worryingly, there's a bit of Martha or George in all of us and depending on what your own home environment is like this play might be divorce-provoking never mind thought-provoking. On the other hand you might breathe a deep sigh of relief that yours bears no resemblance to the tortuous example given by this troubled fictional couple and you can sleep easy.
Who's Afraid of Virginia Woolf at the Ustinov Theatre until Saturday 11th February 2023. Running time 3 hours 30 including two intervals. For more information and tickets please visit the website. Production images by Johan Persson.