With writers still home-bound, hotels closed and planes grounded, when it comes to travel, in our bid to bring the destination to you, we're turning our hand to other, vicarious methods – such as the pleasure of food…
This week, we have what amounts to a splendid evening in via an enviable dinner, courtesy of high-end resorts and spas, Six Senses. With its emphasis on sustainability, emotional hospitality, wellness and design, infused with a touch of quirkiness, it's the ideal fit for the Arb; a degree of indulgence but with a nod to the virtuous.
Of course, being spa-oriented, healthy, delicious and nutritious food is a key part of the Six Senses' experience; food that is homegrown, seasonal and sustainable, and this is embedded in its Eat With Six Senses philosophy. Each resort has a different food offering according to what's growing in the ground or on the trees. Organic gardens allow for most dishes to be made with the freshest produce free from chemicals and plastic packaging.
As part of their 'At Home With Six Senses' initiative, chefs and bartenders from Six Senses resorts around the world have put together a selection of their favourite food and cocktail recipes to try from the comfort of your own kitchen – and while you may not have blue crab and Ventozelo Gin to hand at home, we can always improvise. If not, we can but live vicariously and be transported to these splendid destinations by virtue of these tasters – and give us something to look forward to when this madness is all over.
The Made in Douro cocktail – Six Senses Douro Valley, Portugal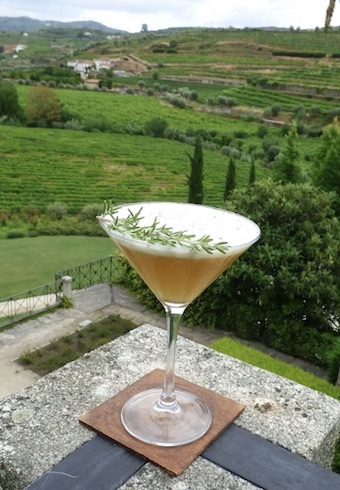 Kicking off with an aperitif, it's always a good time to enjoy Six Senses Douro Valley's Made in Douro cocktail, which is a favourite of Chief Bartender David Pinto. All ingredients are either produced in-house or by nearby Douro wine estates (quintas). When mixed, the cocktail is fresh with citrus hints and aromas and a little spice from the black pepper (one of the most sought-after ingredients when Vasco da Gama arrived from India back in the late 15th century).
Ingredients:
30ml Ventozelo Gin
30ml Vista Alegre 10 Years White Port
30ml homemade cordial of orange and pepper mint
25ml homemade rosemary syrup
30ml lemon juice
2 dashes of homemade orange bitter
1 egg white
Decoration: rosemary and black pepper
Method:
Add all ingredients to a cocktail shaker with ice
Shake and serve in a martini glass topped with rosemary and black pepper
Stir-Fry Omani Seafood with Crunchy Vegetables – Six Senses Zighy Bay, Oman
People say that it's impossible to grow crops in the desert, but with the organic garden on site at Six Senses Zighy Bay, and organic farm nearby in Dibba, nearly 40 different crops are grown including vegetables, salad ingredients, herbs and edible flowers. Menus are tailored around what crops can grow the best including dates harvested from 1,300 date trees in the resort. Just a few steps along the shoreline is the traditional fishing village of Zighy. Executive Chef Michele Mingozzi focuses on freshness so is always up early to select ethically-caught fish and seafood, which he magics into the Stir-Fry Omani Seafood with Crunchy Farm Vegetables in Light Soya, Date Juice and Lemon Confit.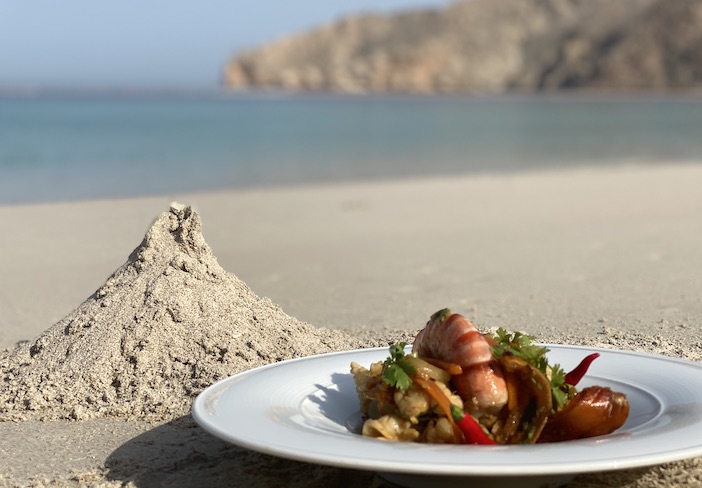 Ingredients (serves two):
120g Lobster Tail shell on
50g calamari
100g Blue Crab
50g baby carrots
50g white radish
50g turnips
30g spring onion
20ml date Juice
20ml lemon juice
30 ml light soya sauce
5g each of white pepper & chili Flakes
1 tsp each Garlic and Ginger chopped
2 tbsp sunflower oil
2 tbsp fresh chopped coriander
30 ml Lemon Oven Confit Chopped – (Slowly cook a whole lemon overnight at a temperature of 120 degrees Celsius)
Method:
Carefully wash the seafood and cut into 25-gram chunks
Wash and peel the vegetables, slice them into large Julienne slices
Stir-Fry on a high heat the garlic, ginger and lemon in the oil, then add all the vegetables and cook for 3 minutes to keep them crispy
Add the seafood and season with the dried chili and stir-fry for other 5 minutes
Finally add the date juice, soya sauce and lemon juice and cook until the liquid reduces and glazes the seafood and the vegetables
Add fresh chopped coriander and serve with steamed basmati rice
Banana & Mango Tapioca Pudding (Chè Chuối) – Six Senses Ninh Van Bay, Vietnam
At Six Senses Ninh Van Bay in Vietnam, the resort's organic garden, extends over 20,000 square meters and grows more than 40 different types of herbs, fruits and vegetables. In 2019 alone, nearly 4,000 kilograms of fresh produce were harvested. Mangoes and bananas are particularly ripe and juicy this time of year inspiring Executive Chef Ozgur Bozgurt to share his favourite Tapioca Pudding (Chè Chuối), which is both dairy-free and vegan.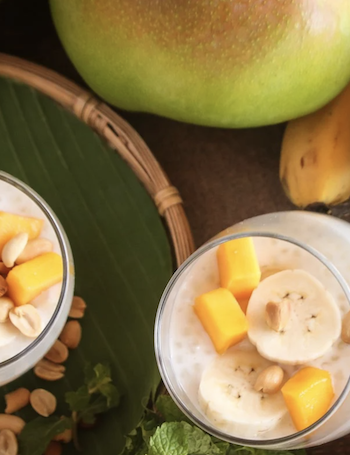 It's best eaten relaxing on the suspended hammocks by the main jetty listening to the waves lap effortlessly on the beach.
Ingredients:
100 g sago (tapioca)
300 ml coconut milk
500 ml water
100g sugar
200g fresh banana
200g fresh mango
100g roasted peanut
Method:
Put the pearls in a medium soup pot with 500g of water, bringing to a boil for 15 minutes
Add the coconut milk and cook on a low heat for a further 10 minutes until the pearls turn softer and become more translucent
Add the sugar and stir gently, letting the mixture simmer for 5-6 minutes more
Remove the pudding from the soup pot and let it cool before dividing into serving glasses
Add 1-inch banana and mango slices and sprinkle some roasted peanuts on top
More easy-to-follow cooking and cocktail classes are streamed live via Six Senses Facebook and Instagram channels as part of At Home With Six Senses. Check out @SixSensesHotelsResortsSpas and @SixSensesSpas for the weekly schedule. For more information about Six Senses resorts and spas, including more details in their At Home programme, please visit www.sixsenses.com.