What on earth, you might think, would a luxury car brand – perhaps the luxury car brand – be doing designing a whisky decanter?
As bizarre as it sounds, it makes perfect sense. Aston Martin, after all, know exquisite design – the DB5 is a thing of timeless beauty. And Bowmore, producer of exquisite whiskies, like any distillery wishing to showcase what is perhaps their finest expression, would want to present it in something far more than just a fancy bottle.
And what they've created is, indeed, something far more than just a fancy bottle.
Bowmore ARC-52 is the story of ground-breaking Aston Martin design effectively exhibiting one of Bowmore's oldest ever whiskies in sculpture. A striking decanter, unlike anything ever seen before.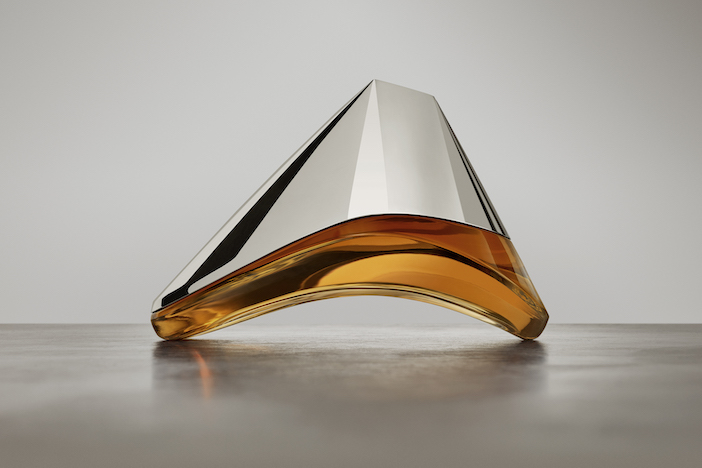 In its physical form, this is an ingenious object; half Bowmore, half Aston Martin, travelling in two directions at the same time, but inspired by a single mutually defining principle: balance.  It is this concept of balance which defines every aspect of ARC-52.  Taking the same approach to achieving balance and optimal form when designing an Aston Martin, the same can be said of creating the definitive single malt whisky.
"We set out to produce something which hasn't been seen before," says Marek Reichman, Chief Creative Officer, Aston Martin, "capturing our uncompromised design principles and the magnificence of the whisky.  I believe that what we have created is truly a piece of sculpture.  We've harnessed heritage and innovation in perfect balance."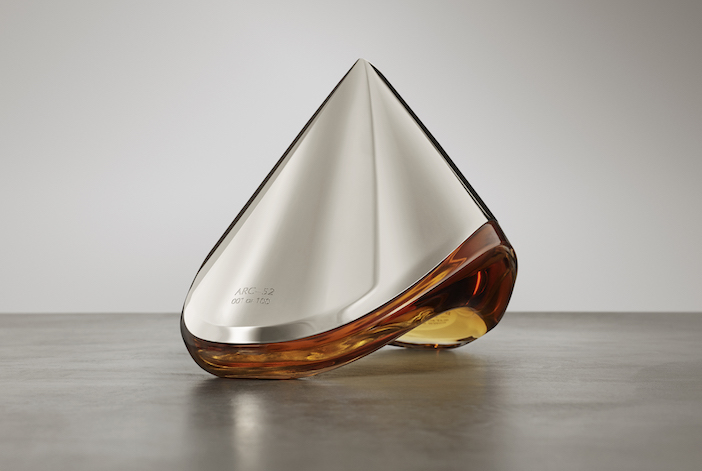 The result is something rather extraordinary. From the meticulously engineered, bespoke magnetic key which releases the striking aluminium top almost by magic, whilst maintaining the sleek, clean lines to the individually, hand blown glass, this is design on a different scale. And it plays with the whisky within; the colour, light and intensity, changing from different angles, giving it an ethereal, almost metaphysical quality. It literally comes alive in the decanter.
And what of the whisky itself? Assuming you're inclined to drink it. Matured for a remarkable 52 years in a marriage of two cask styles, and in two exact parts – half for an American Oak Hogshead and half from a European Oak Butt, this is a single malt that promises depth, complexity and, of course, is perfectly balanced by bringing together these individual styles in equal parts. The result is the classic Bowmore character that crescendos with herbal and medicinal notes combined with exotic fruits, praline and butterscotch to finish.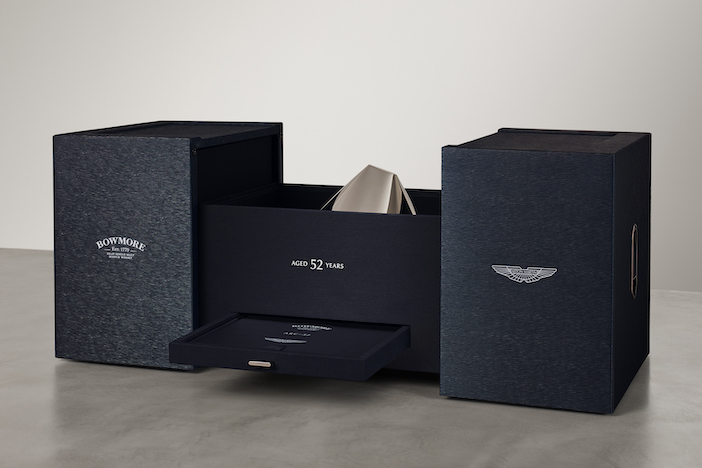 "Working with Aston Martin," says Ron Welsh, Bowmore's Master Blender, "continues to inspire and show us a different way of working, with absolute precision, and has allowed us to create what, in my opinion, is the best Bowmore over 50 years old that I've ever tasted."
In a limited edition of 100, at an eye-watering £65,000 each, the ARC-52 is more akin to purchasing a work of art, and rightly so. But for those who might not be able to part with that amount of money without remortgaging their houses, the two brands have collaborated to provide something more accessible, but no less appealing. A range of the classic Bowmore 10, 15 and 18 year-olds in limited edition Aston Martin bottles (albeit exclusively for the Duty Free market).
Following the success of the inaugural release in 2021, this latest collection celebrates the coming together of Bowmore's whiskies with the timeless design of Aston Martin highlighting three different cars pivotal to the evolution of their range.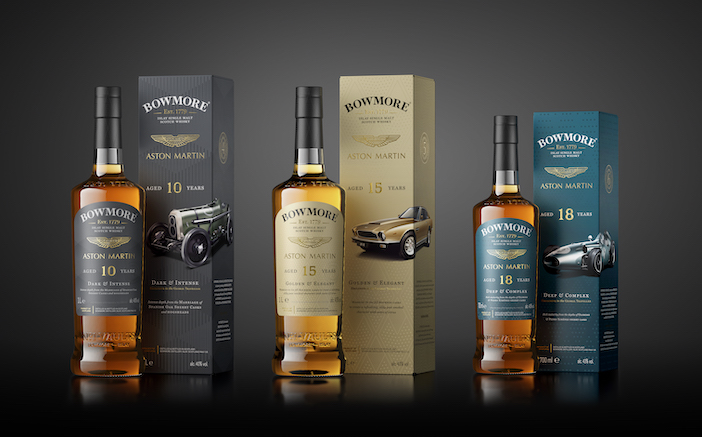 With this series, the existing Bowmore 10, 15 and 18 Year Old single malts provide the inspiration to Aston Martin's design experts to select car designs and their stories which align with the distinctive character of each of the whiskies.
The 1922 GP 'TT2', a car designed singularly to take part in the French Grand Prix in 1922, celebrates certitude, commitment and vigour which reflects the defining depth accelerated by the selection of Sherry Oak casks for the maturation of this 10-year-old spirit. Driven by intrigue and intensity, uniting bold flavours of Seville orange and spices, it's as punchy as its mechanical counterpart.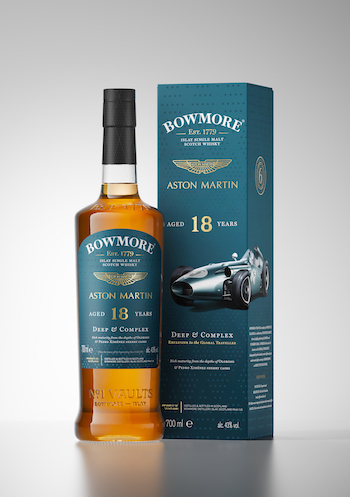 With a shared desire for refinement and elegance, the Aston Martin AM V8 and Bowmore 15 Year Old define true sophistication in every aspect; the V8 symbolised a definitive chapter of signature styling for Aston Martin with truly elegant lines and shapes bringing much distinction and flair, while Bowmore's 15 Year Old, with its silky citrus, salty-sweet vanilla and honeycomb, itself embodies the epitome of elegance and refinement.
Finally, the 18-year-old. The DBR4 truly captured Aston Martin's game-changing ambition to enter the highly competitive arena of Formula One. This engine-revving ambition sits perfectly alongside the complexity of Bowmore 18-year-old, of bitter sweet orange and peat-smoked coffee, driven by highly performing Oloroso and PX Sherry casks, for a sip of race-winning depth and complexity.
Brand partnerships may be nothing new, but in the shape of the ARC-52 and the combination of cutting-edge engineering and craftsmanship from two of Britain's finest brands, we may have just reached the pinnacle of the partnership offering.
The first in a new inspiring Series, just 100 decanters of ARC-52 will be available in key global markets including UK, Germany, Netherlands, USA, Canada, China, Singapore, and Global Travel Retail at an RSP of US$75,000/£65,000 (ex VAT/duty) from late Summer 2022.
The Designed by Aston Martin exclusive travel retail range goes on sale from August 2022, starting at $59 USD for the Bowmore 10 Years Old, available across leading airport outlets in Duty Free worldwide.