You might know "Middle Eight" as a musical term – the section (usually in the middle, oddly enough) of a song that breaks up the repetition of verses and choruses by bringing in a new element or two. It's the surprise moment, the new idea.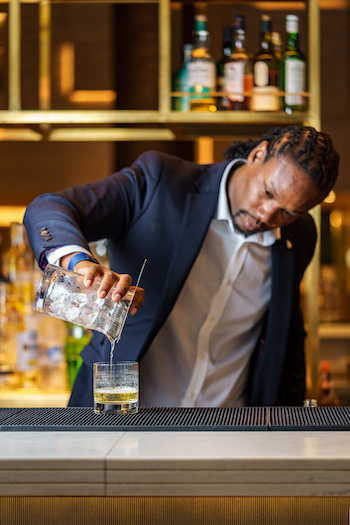 At Middle Eight in Covent Garden, they have conjured an appropriately surprise moment at their bar with a new cocktail menu invented by their Head Mixologist Maurice Lawrence (formerly of Sketch and No Fifty Cheyne). He's called it "A Sip of Theatre" and, if you're going to the theatre you're ideally placed – Middle Eight is next door to the Connaught Rooms, round the corner from the Royal Opera House and a stone's throw from Drury Lane.
The bar itself looks out through floor-to-ceiling windows on to Great Queen Street, and it's a stage set for Lawrence who promises that "every sip is a performance" when it comes to his creations. There is, of course, quite a long list of classic cocktails you can try but he's tailored a few specials of his own that owe a lot to his personal story going right back to his childhood in Jamaica and his arrival in Britain as a child.
So, first up, I had to try Tropic Tommy, Lawrence's take on the classic Margarita – but in this case inspired by his mother's chicken with lemon, thyme and habanero pepper. What? The ingredients include vanilla, habanero chilli, thyme-infused Olmeca Tequila Blanco, mezcal, lime and pineapple. It's served with a sprig of thyme on the top of the glass and smells deliciously herby. Don't be deceived, though, it also has a real chilli kick – this one is definitely for sipping!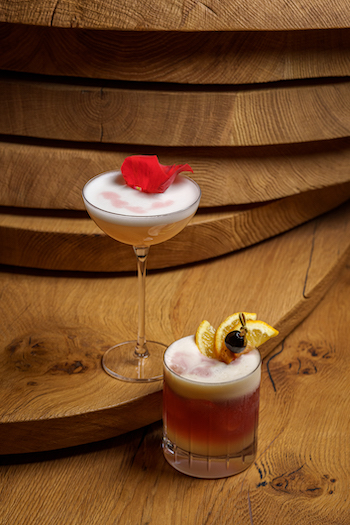 Very different was the Vanilla Spice Mule (Kraken Black Spice Rum, vanilla bitters, cinnamon and citrus topped with ginger beer). This one is disarmingly gentle and pretends to be quite innocent (believe me, it isn't) and is a homage to Lawrence's grandmother's ginger cake. In the meantime, the Major patriotically chose the Artist King, inspired by the recent coronation. It was also an inevitable choice given there was coffee in there: coffee and cinnamon infused Laphroaig Scotch whisky, maple sweetened masala chai tea, dark cacao and lemon juice and clarified with whole milk. Smooth, slightly sweet and delicious, declared the Major. His second choice, Grape Nut Sour, lived up to its name but with the sour undercut by the richness of cognac and sweetened by a topping of frothy egg white (a vegan alternative is available).
For a pre-theatre (or post-theatre) drink, it's ideal but the bar itself is within the Sycamore Vino Cucina restaurant, just in case you fancy a bite to eat as well. If it really is a nibble with a drink you're after they have "cicchetti" (literally "little nothings") which include fried green olives stuffed with sheep's milk labneh and herbs – quite delicious.
We also shared a wonderfully oily carpaccio of beef with artichoke and rocket. It's light authentic Italian food all the way through the menu (our roasted salmon with lentils and spatchcock chicken with charred baby gem lettuce both the epitome of healthy Mediterranean fare).
Light, classy, quiet jazz in the background – a nicely laidback addition to theatreland.
'A Sip of Theatre' is available now at Middle Eight, Covent Garden. For more details, including opening times and the full menu, please visit www.middleeight.com.