Two months in and it's starting to bite, isn't it? We've read every book we own, and discovered a new-found respect for primary teachers; we've exercised to within an inch of our lives, exhausted the walking routes within a 3-mile radius and baked everything in the cupboards, not to mention developed a deeply visceral yearning for just getting away.
By the time the evenings come around, saturated by screen time, and reduced to a state of pencil-chewing anxiety with the one thing in the news, it's little wonder we're all turning to – jigsaws.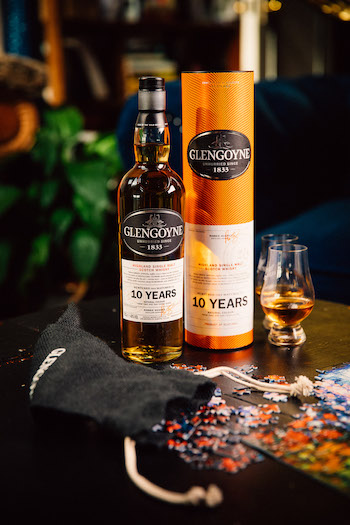 But here's a very Arb-oriented way of joining in the latest craze sweeping the nation as we hunker down. Glengoyne, purveyor of fine Highland single malts, has created a limited edition jigsaw puzzle, designed as the perfect companion to a good dram.
At a time when puzzles are flying off the shelves (demand is higher even than during the festive season, would you believe) – this one-off jigsaw comes with any whisky purchase of Glengoyne and is the perfect way to pass time – perfect, in fact, accompanied by a scotch renowned as Scotland's slowest distilled malt. An unhurried approach to whisky, then, ideal for an evening or two of gentle contemplation, destressing and downtime.
Created to celebrate the brand's unique connection to time, the 500-piece puzzle features a special painting by Scottish artist John Lowrie Morrison ('Jolomo', as he signs his work), entitled "Spring Blossoms at Glengoyne Distillery". In a career spanning more than five decades, dozens of shows, high profile commissions and even the subject of a BBC documentary The Man with the Golden Brush, Jolomo has a personal connection, too, to Glengoyne, having spent weekends painting at the distillery during his student years attending the Glasgow School of Art.
The picture for this jigsaw, as with much of Jolomo's work, is full of vibrant, high key colour, rich, thick impasto oils invoking a tantalising glimpse of bucolic splendour – not to mention a painful amount of deep blue sky sweeping across the top half, every jigsaw-doer's greatest nemesis.
I'm told it will take approximately 4-6 hours to complete, giving me plenty of time to enjoy the scotch. Fresh green apples, creamy toffee and a hint of nuttiness, it is arguably the taste of distilling slower than anyone else in Scotland, of barley dried by air – never peat – and of hand-selected sherry casks crafted from European and American oak.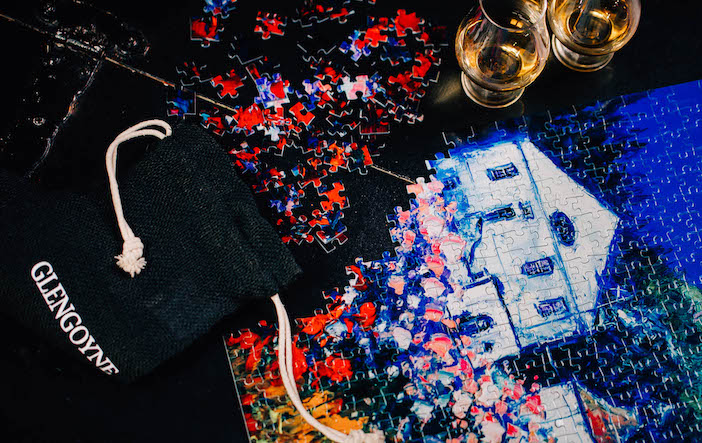 And so, with the little nest of vipers tucked up in bed for the evening, the schooling done for another week, the round-the-clock virus newscasts are tuned out and Netflix bingeing exhausted, with supper cleared, I pour a generous dram of Glengoyne 10, tip the tableau pieces onto the table and settle in for a screen-free Friday evening.
Right, let's start with the corners…
The "Spring Blossoms at Glengoyne Distillery" puzzle will be available for £10, while stocks last, with any 70cl bottle of whisky purchased through the brand's online shop (glengoyne.com). A donation of £1 from each purchase going to drinks charities The Drinks Trust and The Ben – which both provide care and support for those who work in the drinks industry.
Those lucky enough to also find one of 10 golden jigsaw pieces up for grabs in their order will also win a pair of tickets to a Glengoyne Wee Tasting Tour, redeemable once the distillery re-opens to visitors.